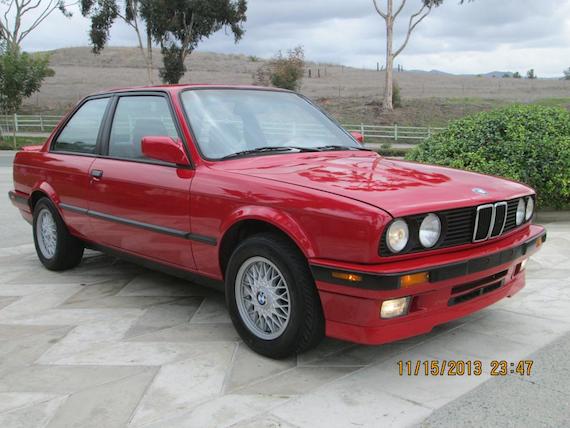 Rarely a week goes by at GCFSB that we don't feature an E30 BMW 3 series. These compact Bimmers weren't the first 3 series to appear but popularized the idea that you could combine a healthy dose of luxury and sportiness in one neat, tidy package. To this day, this has been a template emulated by manufacturers the world over. So what is it about these eighties icons that makes them so appealing? This 1988 325is is a good place to dissect that question because outside of the M3, it is one of the most popular models amongst the fan base.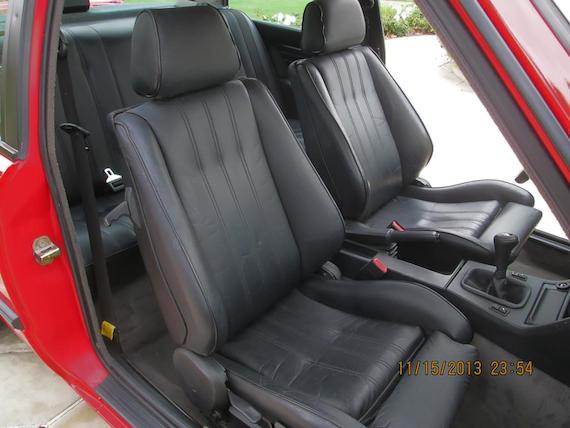 Year: 1988
Model: 325is
Engine: 2.5 liter inline-6
Transmission: 5-speed manual
Mileage: 85,742 mi
Price: Reserve auction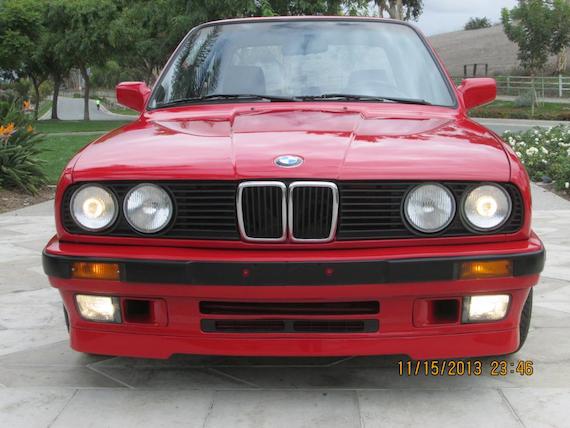 DESCRIPTION

For sale is a 1988 BMW 325IS with only 85k original miles. Comes with a clean carfax, title and books and manuals. All services are up to date with the most recent work completed within the last 200 miles. In excellent mechanical condition for a 25 year old car. Excellent specimen of this make and model. One of the nicest cars I've had. Runs and drives as good as it looks! Very hard to find in this condition.

Please contact me with any questions prior to bidding. Bid with confidence, serious bidders only please!

History: Hard-core BMW enthusiasts will fondly recall the year 1988, as this was the first year the original E30 M3 was sold in the United States. Originally built to take on Mercedes' Cosworth-tweaked 190E 2.3-16 in FIA Group A racing, the M3 employed a 2.3-liter four-cylinder capped with a twin-cam four-valve head that was essentially one of the big six four-valve heads with two fewer cylinders. Dropped into a modified 3 Series two-door body shell (the flared fenders, more steeply raked rear window and higher trunk lid meant only the hood was left untouched compared with more plebian 3 Series coupes), the Bosch fuel-injected "M Power" four was rated at 192 hp at a wailing 6,750 rpm when it finally got to North America.
"This is not a car for yuppies," wrote Car and Driver on its first exposure to the U.S.-spec M3. "This is a car for us. In case you haven't noticed, BMW's U.S. lineup has blossomed to include a dazzling array of leather-lined hot rods that beg to be flogged through the twisties and hammered on the superslabs." Stirring the five-speed manual transmission, Car and Driver blasted that 2,857-pound M3 to 60 mph in just 6.9 seconds, blitzed the quarter-mile in just 15.2 seconds with a 92-mph trap speed and screamed to a 141-mph top speed. With an as-tested price of $34,810, the M3 was at that time (and remains for many purists) the ultimate BMW 3 Series.

CAR DETAILS

ENGINE
It has a 6-cylinder 2.5 liter engine. The engine runs excellent. There are no leaks. All service and maintenance has been done and up to date. Complete major service:
timing belt
tensioner pulleys
water pump
thermostat
all drive belts
cam and crank seals
plugs
oil and filter
fuel filter
air filter
flushed cooling system and added new coolant

TRANSMISSION
It has a BMW 5 speed transmission that goes into all the gears with no issues. Has a 4.10 LSD.

INTERIOR
It has factory original black leather interior with not cuts or tears. The carpets are clean and not soiled. Crackfree dash.

PAINT AND BODY
The body is in great shape with Red paint. BMW IS spoilers front and rear. On the rear trunk spoiler there is a very, very faint (very hard to see) hairline paint seperation.

WHEELS AND TIRES
Brand new tires all around 205/60R14. 14″ wheels are BMW BBS basketweaves.

ELECTRICAL AND ACCESSORIES
It has the factory A/C system that works great and blows cold. Alpine AM/FM/CD player. Ellipsoid headlights.

EXHAUST
Brand new Boysen factory BMW exhaust system (see photo).

SUSPENSION AND BRAKES
New front and rear brakes with new sensors. Factory suspension in excellent condition.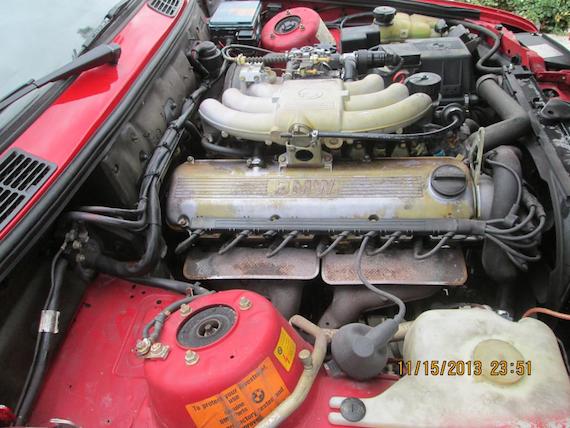 Having driven a 325is like this daily, I can firmly say that it's one of my most favorite cars in which I've ever spent time behind the wheel. The handling can be a bit twitchy at the limit if you aren't careful, but the 2.5 liter engine has great torque and revs willingly towards the limit. I'm curious that this car has an April 1988 build date yet has the later, slimmer bumpers, as 1988 would mark the final year for the aluminum crash bumpers. Some investigation as to whether this car had the bumpers replaced at some point would be in order. If everything checks out and there are no surprises, a 325is like this should pull somewhere around the $10,000 to $11,000 mark given what we've seen here on GCFSB as of late.
-Paul