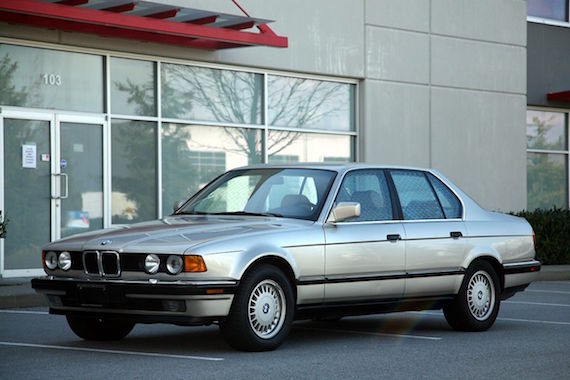 You don't see many E32s on the road anymore. Most have been consigned to the junk yard by now. That's a shame. With this generation 7-series, BMW hewed close to the guiding principles that served it well back in the day, when it offered cars with simple, unfussy styling and a brawny but somewhat subdued road presence. The V12-powered 750iL was marvelous when running right but monstrously expensive to fix when it broke. The "entry level" 735i, on the other hand, was powered by the notoriously robust, inline six M30 engine. Displacing 3.4 liters, it's the same motor that found its way into the 535i and 635CSi of the same period. With about 208 hp on tap to move around a car weighing about 3,500 lbs, it was no performance behemoth. But it certainly cost less to run than its larger-engined siblings. That makes this nicely kept 735i the perfect candidate for use as an interesting daily driver.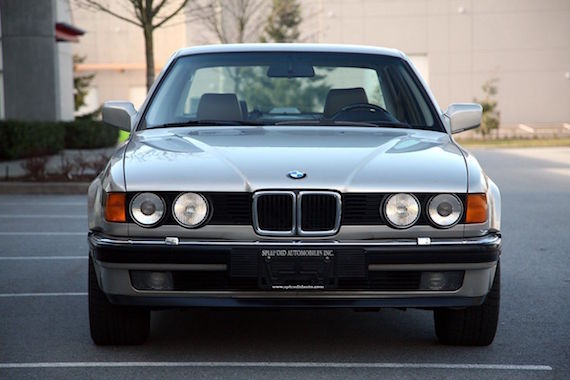 Year: 1988
Model: 735i
Engine: 3.4 liter inline-6
Transmission: 4-speed automatic
Mileage: 68,900 mi
Price: $5,000 Buy It Now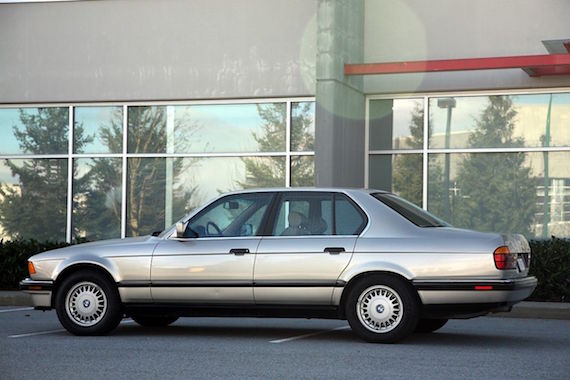 This is a well preserved 1988 BMW 735i, which has covered only 111,000 Kilometers (68,900 Miles) since new. One owner only! It was originally sold in Vancouver, BC and has been serviced at the local BMW dealer initially and at one shop for the rest of its life. Going through the service file – it is impossible to list all services performed, but it is clear that the owners were dutiful and all the car needed was addressed in a timely manner. During our rigorous reconditioning process it received pretty much complete front suspension, new battery, etc. Everything works, AC blows cold. It has Limited Slip Differential, Heated Seats, Lumbar Supports, Sky Bag, Etc. This being the short wheel base model, it is equipped with standard shock absorbers in the rear, and it does NOT have Self Leveling Suspension. The car is currently registered in British Columbia, Canada. It drives great – powerful and smooth. As it can be seen from the photographs, it is excellent, well-preserved condition. Perfect?? – no. No 30 year old car ever is, but it is very, very nice.

The interior is very clean, no cracks on the dash. The leather is soft and supple, the wood trim in fantastic shape. It has all the usual power options plus rear power seats and sunshade. It is equipped with Limited Slip Differential. Pre-wired for CD changer. All electrical accessories work – power windows, mirrors, sunroof, etc.

Complete safety and mechanical inspections were performed on this vehicle as part of our reconditioning process. This vehicle is fully operational and can be driven anywhere

For more information, or to schedule viewing appointment in Vancouver, please call Splendid Automobiles Inc. (604) 516-6002

Independent party pre-purchase inspection at your expense prior to bidding is welcomed and encouraged.

A NOTE TO OUR USA CUSTOMERS: As this vehicle is over 25 years old, it is exempt from US EPA and DOT compliance requirements. It is fully admissible to USA and NO modifications are required. We can assist you with shipping arrangements worldwide. Canadian residents are required to pay GST, BC residents pay PST and GST. No tax will be collected from non-Canadian residents.

We ship worldwide.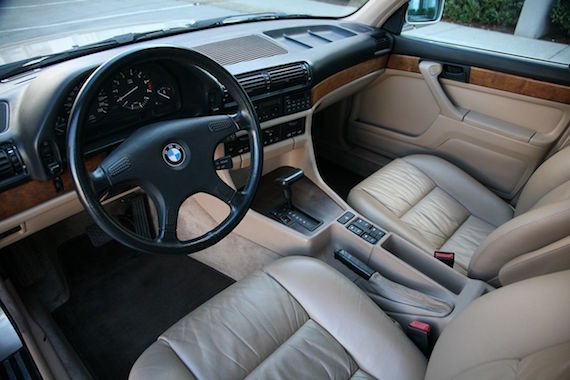 Many BMWs of this era have fallen victim to failing paint, sagging headliners, ripped seats and broken plastic interior parts. But this car looks remarkably clean – an impression, no doubt, aided by the neat photography in the ad. The seats look good, the paint appears to shine nicely and the dash is free of cracks. The electrical accessories are all said to work properly and apparently the car drives fine – though the ad is short on details about mechanical condition and service history. An in-person inspection is advisable.
It's a shame it doesn't have a manual transmission – rather improbably, some of these 735s came with three pedals from the factory. Still, if it drives right and is as good as it looks in the pictures, at $5,000 (or best offer) this could be quite a good buy for those looking for a comfortable, long range cruiser with a bit of 80s BMW panache.
– Craig