Warning!
This post is in our archives. Links in this post may have been updated to point to similar cars available to bid on eBay.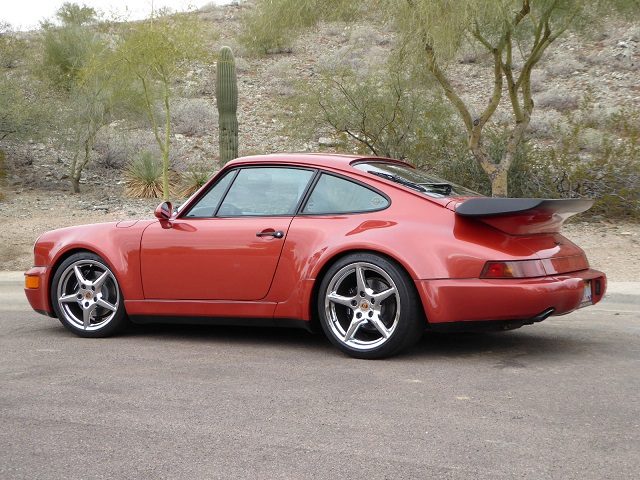 As promised, more 964s. Yesterday I featured the extra spicy Turbo 3.6 and today we'll step back just a little to the original 964 Turbo. So I guess it's 3 chilies on your Porsche menu rather than four. I'll start by saying that I don't feature these turbos perhaps as much as I'd like, but that is mostly because so many of those I come across are more or less the same. So many of them are Black or the occasional Guards Red with a Black or Tan interior and the mileage will be typical. There is nothing wrong with those cars per se, it's just that once we've looked at one there isn't as much to excite me for the next one.
Here we will look at two that do not come in one of those very standard colors. Ok, so the first one is still red, but Coral Red Metallic is much more rare, in fact I don't know if I've come across any 964 in this color let alone a Turbo. So it's different and different is good in this case. Let's look: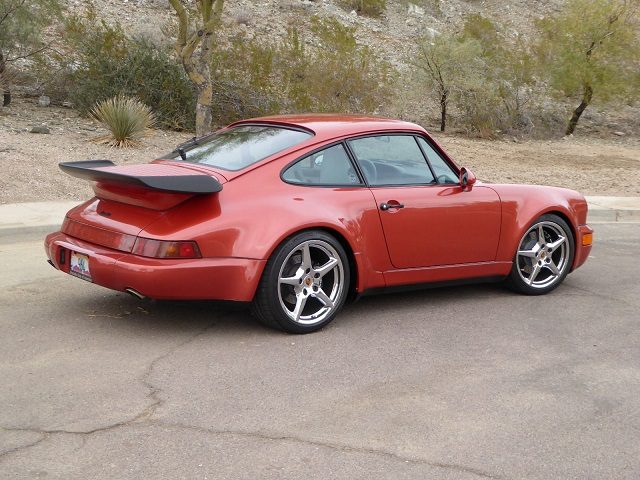 Year: 1992
Model: 911 Turbo
Engine: 3.3 liter turbocharged flat-6
Transmission: 5-speed manual
Mileage: 44,000 mi
Price: $159,964 Buy It Now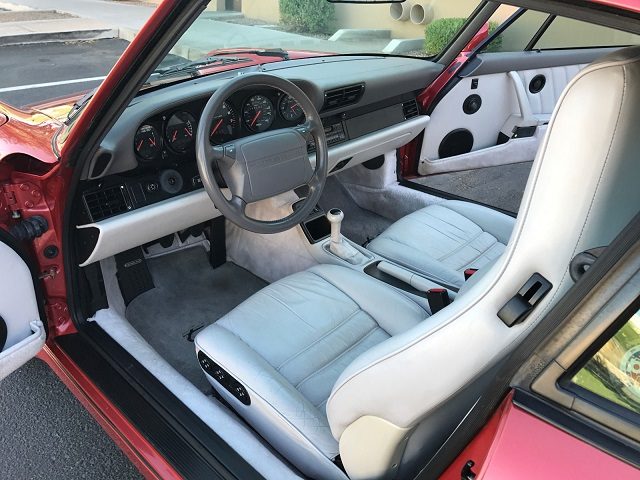 Unique and stunning CORAL RED metallic over supple light grey leather explain why this car is a full concours winner. Carfax clean and meticulously maintained for the last 9 years by the same owner, all systems in this car work perfectly and all accessories are included (owners manual, tool kit, unused spare, pump and original tire bag).
Professionally lowered to euro specs using H&R springs and fitted with chromed 18 in. 997 wheels (original springs included and 17 in. wheels available). Only routine maintenance and minor repairs, the car is otherwise untouched with the exception of a bypass pipe (original resonator included). All original parts were kept to allow a restoration to fully original.
The extensive optional quality leather is soft and clean and free of tears or punctures. The carpeting must be seen to be appreciate and full 5 pc set of Lloyd mats are included.
The car is easy to drive and runs smoothly, without gurgles, vibrations, rattles or other anomalies. This is a rare and disappearing example of the classic Porsche air cooled rear engine, high torque, rear wheel drive that made the marque famous as a true drivers car.
Contact seller for link to high res pics.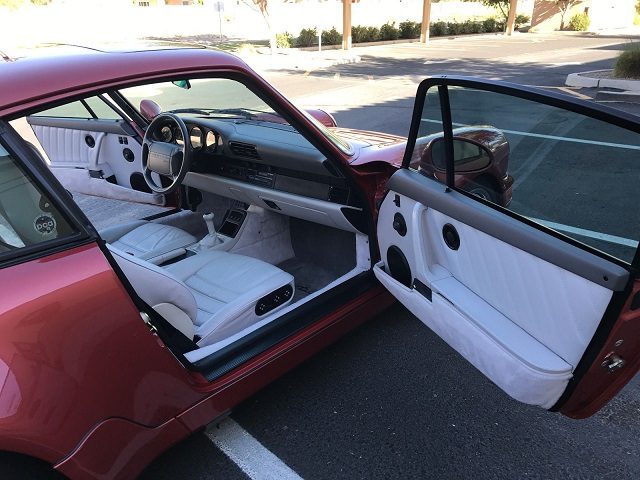 This is a very pretty Turbo in an intriguing color combination. The exterior looks fantastic and while the seats show a bit of wear there's nothing too bad and certainly no rips or tears present. Sadly, we don't get that many pictures of the car, but I'm sure the seller has more by request from prospective buyers. I even like the wheels though I'm not typically a fan of chrome nor of thin 5-spoke designs. They look good here. A set of 18″ Speedlines certainly couldn't go wrong either. For those who care about such things, it sounds like the originals come with the car as well. All in all, this is one of the better 964 Turbos I've seen. The mileage is even pretty low. As these things go it's priced accordingly and I will be curious if it can reach this sort of asking price.
For our next Turbo we'll turn to this Amethyst Pearl example located in France. The price is a decent bit lower, but it has a few more miles and doesn't appear quite as original.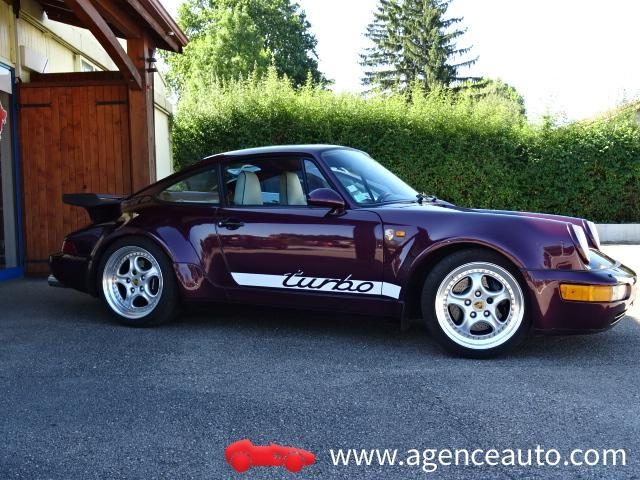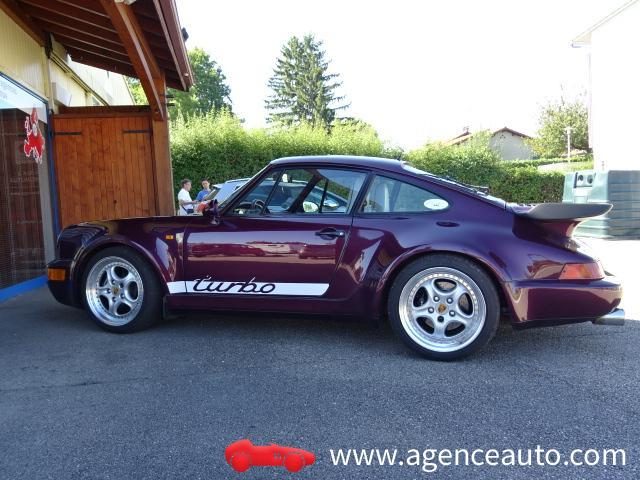 Year: 1991
Model: 911 Turbo
Engine: 3.3 liter turbocharged flat-6
Transmission: 5-speed manual
Mileage: 123,848 km (~ 77,000 mi)
Price: €99,900 (~ $114,000)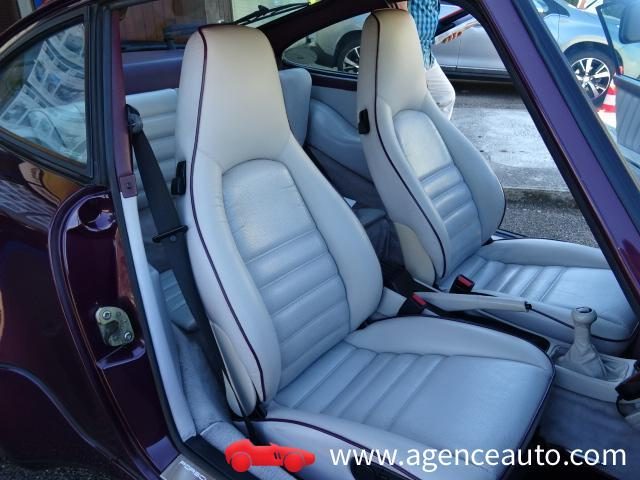 CARNET / HISTORIQUE CLAIR / + DE 18000 EUROS DE FACTURES / DERNIÈRE RÉVISION DU 04/ 2016 4153 EUROS / TABLEAU DE BORD LOUPE DE FRÊNE / SELLERIE BI TON CRÈME ET BORDEAUX / DIFFÉRENTIEL AUTOBLOQUANT 40% CODE 220 / ÉCHAPPEMENT INOX / JANTES TRAMONT EN 18′ DE LA 3.6L / VÉHICULE DANS UN ÉTAT IRRÉPROCHABLE 0 DÉFAUT INTÉRIEUR ET EXTÉRIEUR

(Translation: Logbook / Clear history / More than 18,000 Euros in receipts / Last service 04/2016 for 4,153 Euros / Wood dash / two-tone creme and bordeaux interior / 40% self-locking differential / stainless steel exahust / 18″ Wheels from the Turbo 3.6 / Vehicle is in a irreproachable state with zero faults to the exterior and interior)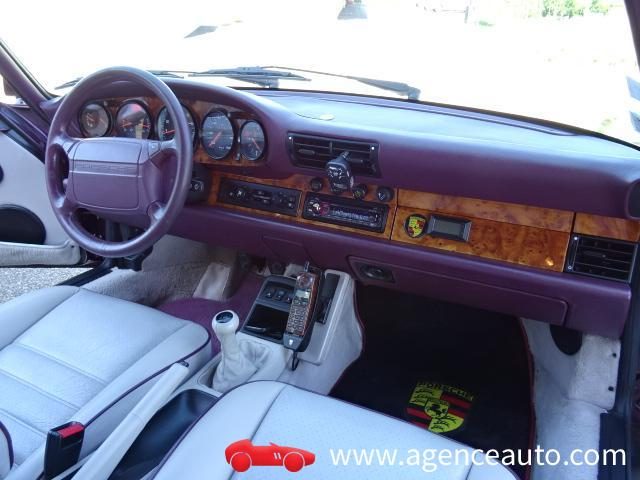 For an unusual color we actually see Amethyst with some frequency on the 964. It's a really attractive and eye-catching color that has just enough purple that you know it's outside the norm, but it's not so purple that you feel the need to look away. This particular Turbo has continued the exterior theme into the interior and I'm not sure I am quite as much a fan of it there. The light grey seating works well with the exterior on its own, but I think I'd prefer the dash and steering wheel in a more standard black. But hey, at least we can't call this one boring and since my primary complaint with which I began this post was that too many of these Turbos were the same then I can accept this one for its unique qualities. I can't say I have any specific knowledge of this dealer so a decent bit of legwork is in order, but if you really wanted this color combination this makes a potentially worthwhile start.
Of these two the Coral Red Turbo is definitely my favorite though it is priced a good $40K higher. For US buyers the cost of importing the Amethyst Turbo might negate that higher cost, but it's certainly the more unique looking of the two. Either way it's nice to see two of the more unusual colors in these great 911 Turbos.
-Rob