I saw this very low miles and original example on Roadfly today. Every time I see a really nice one, I envision how nice my e28 535i would be with a stick and nearly 300hp!
Take a look at this 1988 BMW M5 For Sale on Roadfly: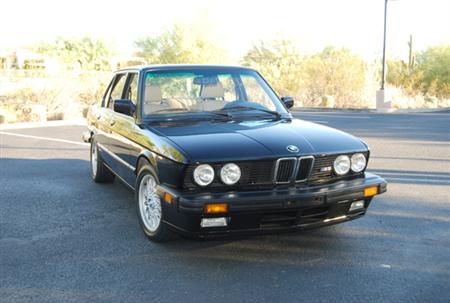 VERY LOW MILES. Beautiful example of the Rare 1988 E28 M5. Only a small number were built and only a small number remain. You are not likely to find a better example of this M5. Excellent Condition. Original. Unmodified. Gloss Black. Excellent Interior. Factory BBS Wheels. Yokohama AVS tires. Custom M5 logo mats.
In the U.S., the e28 M5 really is more rare than the e30 M3. Can you imagine what a 44k mile e30 M3 would have for an asking?!
dc