The owner of this fine car contacted me about posting his car for sale, and though I usually focus on cars for sale available in the U.S., I would never say no to an Alpina! Check out his 1999 Alpina B12 for sale on his own micro-site: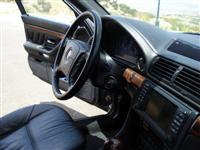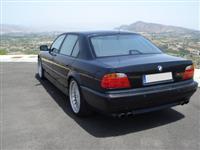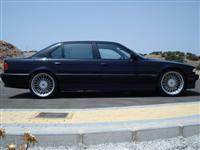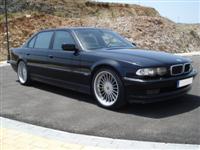 quote from seller's for sale website:
The B12 6.0 E-KAT is the fastest Alpina ever to be based on the BMW E38 7-series and also features the largest and most powerful engine in its history. In order to achieve the healthy 430hp (DIN), the 6.0 litres engine is fitted with light Mahle aluminum pistons, reworked camshafts, intakes and exhaust, BOSCH Motronic M5.2.1 fuel injection and various other features. Torque in this V12 engine rises to 600 Nm, 500 of which are available at only 1700 rpm.

Alpina Switch-TronicThe E-KAT part of the nomenclature represents the exhaust systems with steel catalyst that greatly lowers emissions without having a large impact on performance. All this power is sent to the wheels (wrapped in 245/40ZR20 tyres up front and 275/35ZR20 out back) through the only available gearbox, the Alpina Switch-Tronic unit developed in conjunction with ZF.
The BMW e38 really is a fine platform and I can only imagine what the Alpina version brings to the table. According to the Alpina Archive website entry on the B12, it'll do a standing quarter mile faster than a Ferrari 355!
Good luck with the sale Simon!
dc