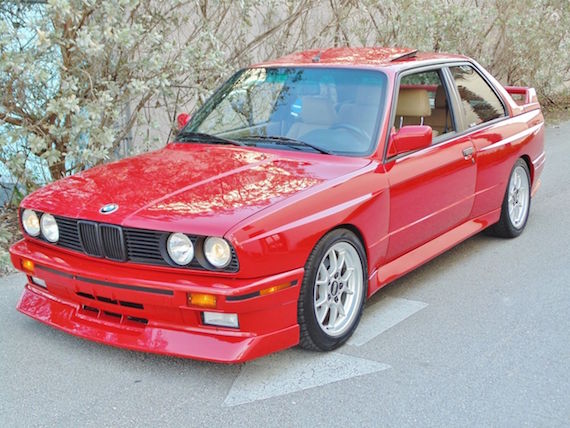 Unless there was a surprising flaw in the engine, I'm not sure why you'd pull it and rebuild on a 76k-mile E30 M3 other than the fact that it's likely to take a car that's in the top 10% of the market and make it a little more elite. Probably not going to lose you money, as it's hard to top an M3 this clean with a brand-new engine in a seller's market. Along the lines of the rebuild, it's not entirely original with BBS RKs, an Evo lip, and a Momo steering wheel. It's all nice, though I think it'd be even better without them. It doesn't matter what I think, however; the enthusiast with this kind of cash can make whatever choices they want.
Year: 1988
Model: M3
Engine: 2.3 liter inline-4
Transmission: 5-speed manual
Mileage: 76,700 mi
Price: $51,500 OBO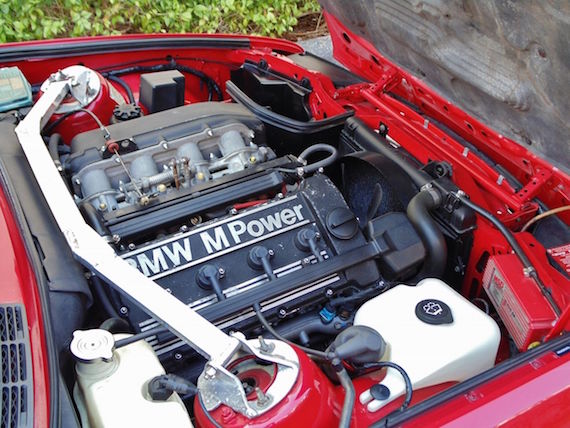 1988 BMW E30 M3

The fact is that it has a race breed engine, the fact that is the "Ultimate Driving Machine" the Bavarians have ever put out, it's unmatched number of victories in DTM road racing a par to none, and the fact that is far more rare then its successors making this one of the most overall wanted BMWs EVER produced with only about 16,000 total were ever made, and just over 5,000 sold to the U.S.

This 76k Actual mile M3 is turn key and ready to be driven from Miami to California. With almost 13k just recently spent this is the ideal e30 to own! Completely Rust and Accident Free this is a no stories car with matching VIN tags…

The exterior of the car is mint! No real flaws in the paint, very light aging for a 27 year old car. The only exterior mods are the Evo front lip and BBS RKs… gives it a very nice OEM+ look that is very reversible. As for the interior it is absolutely mint! The leather is in great shape, the dash is free of any cracks, and there is no real signs of wear on the inside. It does have a aftermarket headunit, period correct VDO gauges, period correct MOMO wheel, an E36 M3 shift knob with a short throw shifter.

It recently went through a mechanical restoration. Engine was pulled and rebuilt, new clutch and flywheel, all new seals, new guibo, and new polyurethane suspension bushings, new H&R springs and H&R sway bars, new brakes with stainless steel lines, new Cold air intake, new MSD ignition, and the A/C has been retrofitted to R134 and blows ICE COLD.

These E30 M3s are getting very hard to find in this condition, these are cars that were typically mistreated, wrecked, or left outside to rot and usually need a serious amount of money to get them back on the road. Don't pass up this opportunity to own one BAD*SS piece of BMW Motorsports history.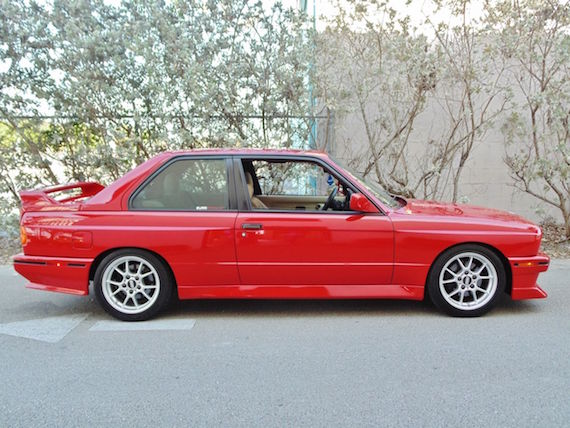 $50k for an E30 M3 that should clearly be a driver makes my head spin. A car nearly identical to this dominated my dreams for many years, all shiny red with box fenders and cattle catcher front spoiler. But these extreme icons of 80sness are now irreversibly shaded by the hype. Yes, I would have loved to own and drive this car, but they were more enticing when they were attainable. At $50k, it's hard to imagine anyone driving this car for fear of it losing value, unless they bet on values climbing faster than miles can depreciate it. The betting and craziness distract from what we could've once focused on: check out this gorgeous legend that's as good as everything you've heard!
-NR