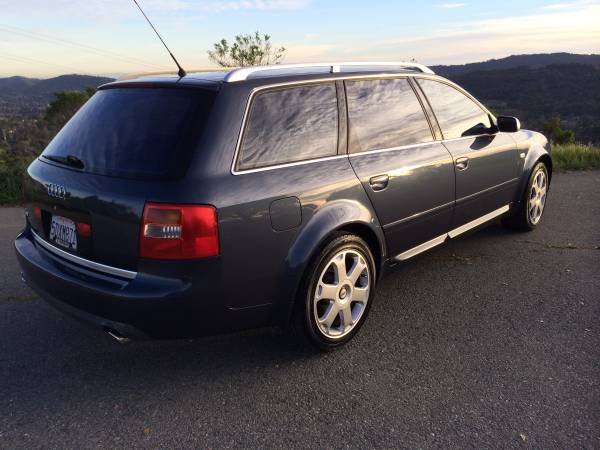 If the Coupe Quattro John sent in earlier wasn't really the Audi I'd choose to build or buy, the S6 he found certainly was the opposite. Last week I wrote up a clean S6 6-speed converted car. It was lovely in just about every detail, but there were a few niggles that I would have done differently. Enter today's S6; in 2003-only Aqua Blue Pearl with the optional Alcantara seats, this stunning S6 is just about perfect in my book and just like the silver car features a 6-speed swap: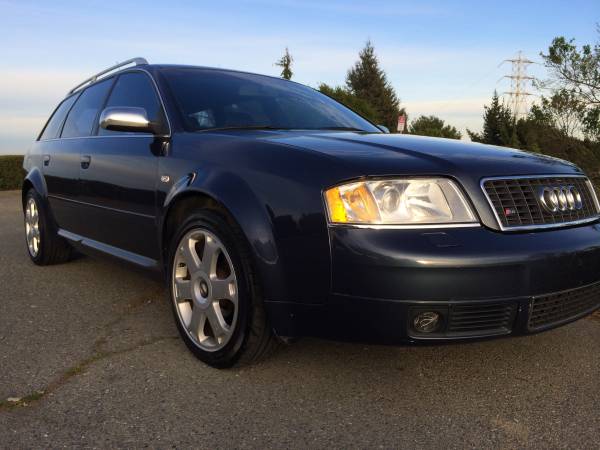 Year: 2003
Model: S6 Avant
Engine: 4.2 liter V8
Transmission: 6-speed manual
Mileage: 105,000 mi
Price: $15,500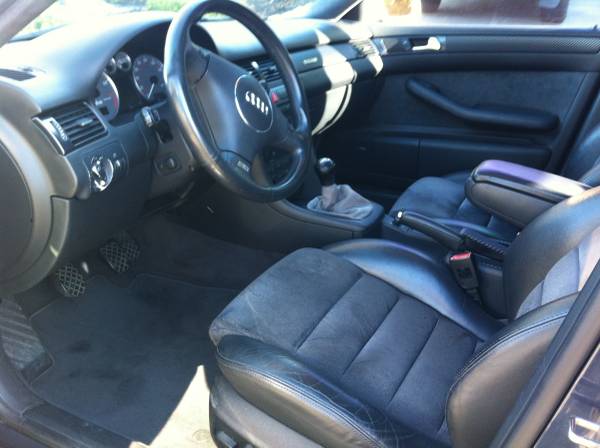 Up for sale: 2003 S6 Avant with 6-speed manual. 105k miles. Very clean. 2nd owner, California car since new.

6-Speed transmission installed Jan 2013 @ 90K.
New fuel tank and pump February 2015 (factory recall)
New Valve cover and cam gaskets/seals 11/14.
Transmission flushed & inspected 10/14.

Exterior color is Aqua Blue Pearl effect, with charcoal alcantara interior. Well maintained inside & out. Paint is in great condition, with exception of a few small door dings, and bumper nicks/scratches. The interior is in great condition as well, with wear on typical areas (headlight switch, door switch, AC control buttons). Interior trim wrapped in 3M dry carbon.
Timing belt and all components were done with transmission swap. Brakes have ~75% left. Stock wheels w/ Dunlop SP Sport 235/45/17 tires with good tread (~70%). Imperfections include cracked rt. foglight lens, air bag light, window tint (some scratches), rear driver side window rolls up slowly, passenger headlight lens a bit wavy from restoration (doesn't affect light output at all).

Most mileage has been highway (both my commute and previous owners were relatively long, highway)
Have all service records.

If you're interested, please email me through craigslist. I can also send interested parties many more photos.

Hope she finds a great new home, She will be missed!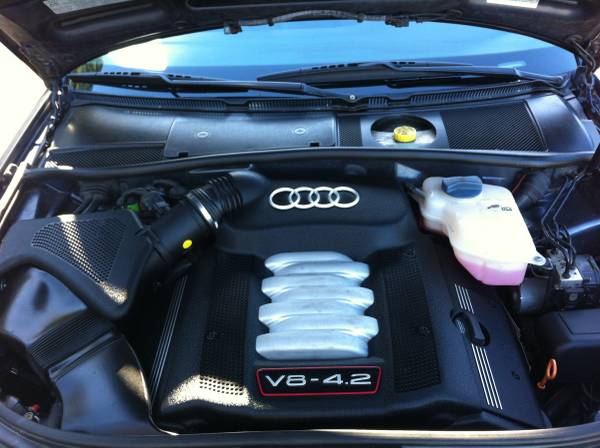 While I'm not surprised that the seller is asking towards top-dollar for this sleeper performance wagon with the desirable transmission swap, I was a little surprised to see that the cracked fog light wasn't replaced with that premium. It seems minor, but it's a fairly easily correctable fault that in my mind I'd rectify in order to show both my attention to detail and that the car was correct, justifying the top-dollar ask. Despite that, the color is perfect, the OEM wheels are always great to see, and with lower miles this car has plenty of life left to haul through. Could you get more wagon for this amount of money? Only Audi's own S4 Avant comes close, and with the documented engine issues they seem to be experiencing it would seem that the S6, while a touch less sporting, is a better and stealthier option to travel with your family in style.
Thanks again to John for a great spot!
-Carter