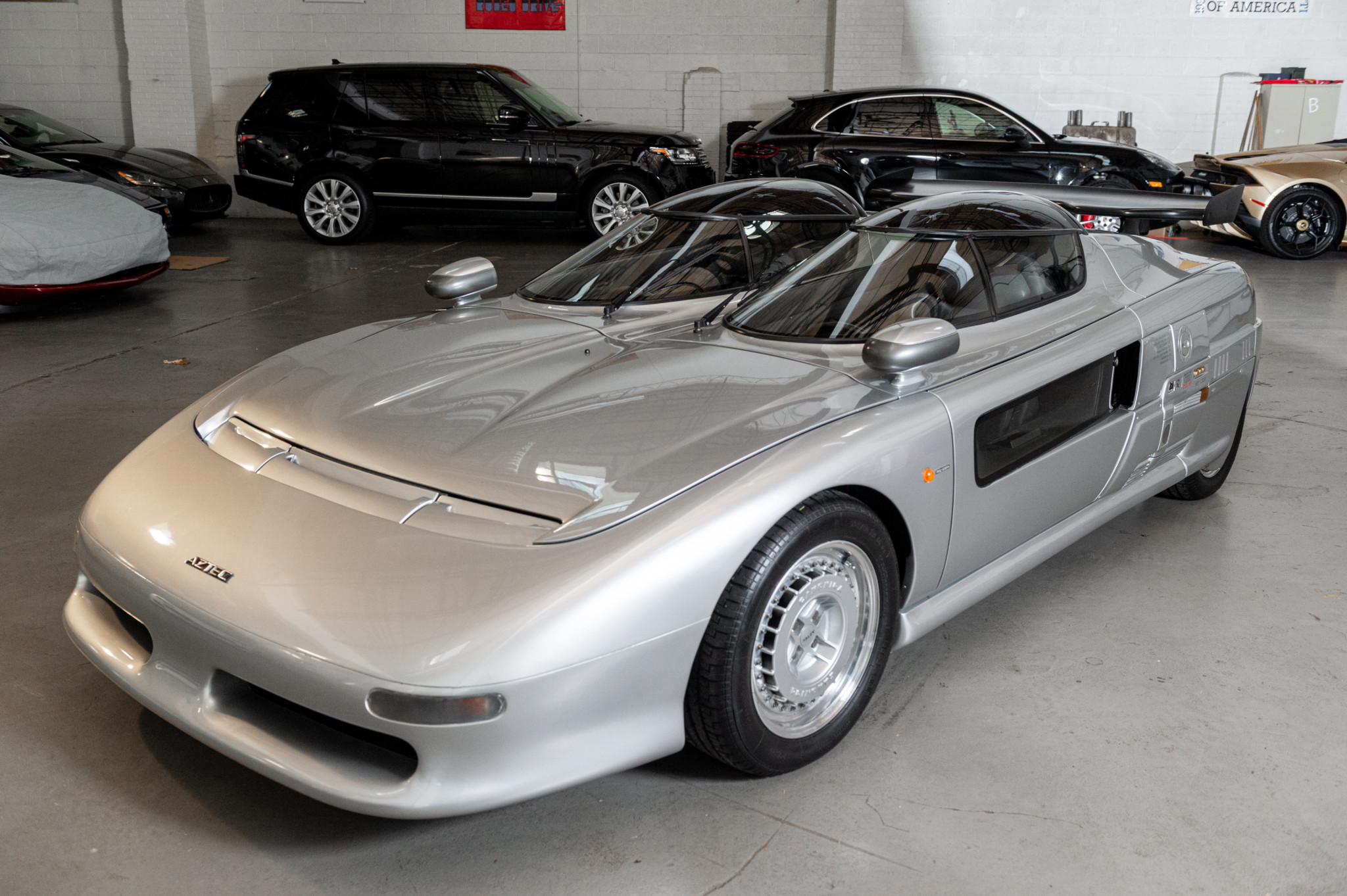 I have a lot of respect for Bob Lutz and Chrysler in at least one way; in 1989, they came out with the Viper concept, and because of such an overwhelmingly positive response, said that it was going to go into production as is. Of course, that wasn't true and when the production Viper arrived the next year, it was a lot less hard-edged than the original concept. That's true of nearly every concept car that goes into production; they're outrageous for the shows, then watered down for public consumption.
Apparently, no one told that to Giugiaro's Italdesign when they decided to take their hybrid Audi/Lancia/Spaceship directly to the market. Giugiaro's company had long been pioneers of advanced and cutting edge designs, but they really outdid themselves with the Aztec. As if taking inspiration from some of the best futuristic designs from the 60s and 70s, the Aztec looked part jet fighter, part rocket ship, and part Star Trek communicator. Indeed, it wouldn't be surprising at all to have someone like Mark Hamill or Harrison Ford pull up in an Aztec at a movie premier; it was as otherworldly and futuristic as both Hollywood and the sets of Star Wars and Blade Runner. But even if there were more wild designs that you might have seen on the show circuit in 1988, Giugiaro – with the aid of some hefty backing from Japanese capital – was crazy enough to produce road going versions of these cars. What was not surprising, then, was that there was a market for them – though, admittedly, it was as limited as the daily drive-ability of the car. If the complete lack of practicality didn't cool prospective buyer's desire to own one, surely the $225,000 entry price did. A bit of an oddity to see anywhere but on posters, there is one for sale today on Bring a Trailer: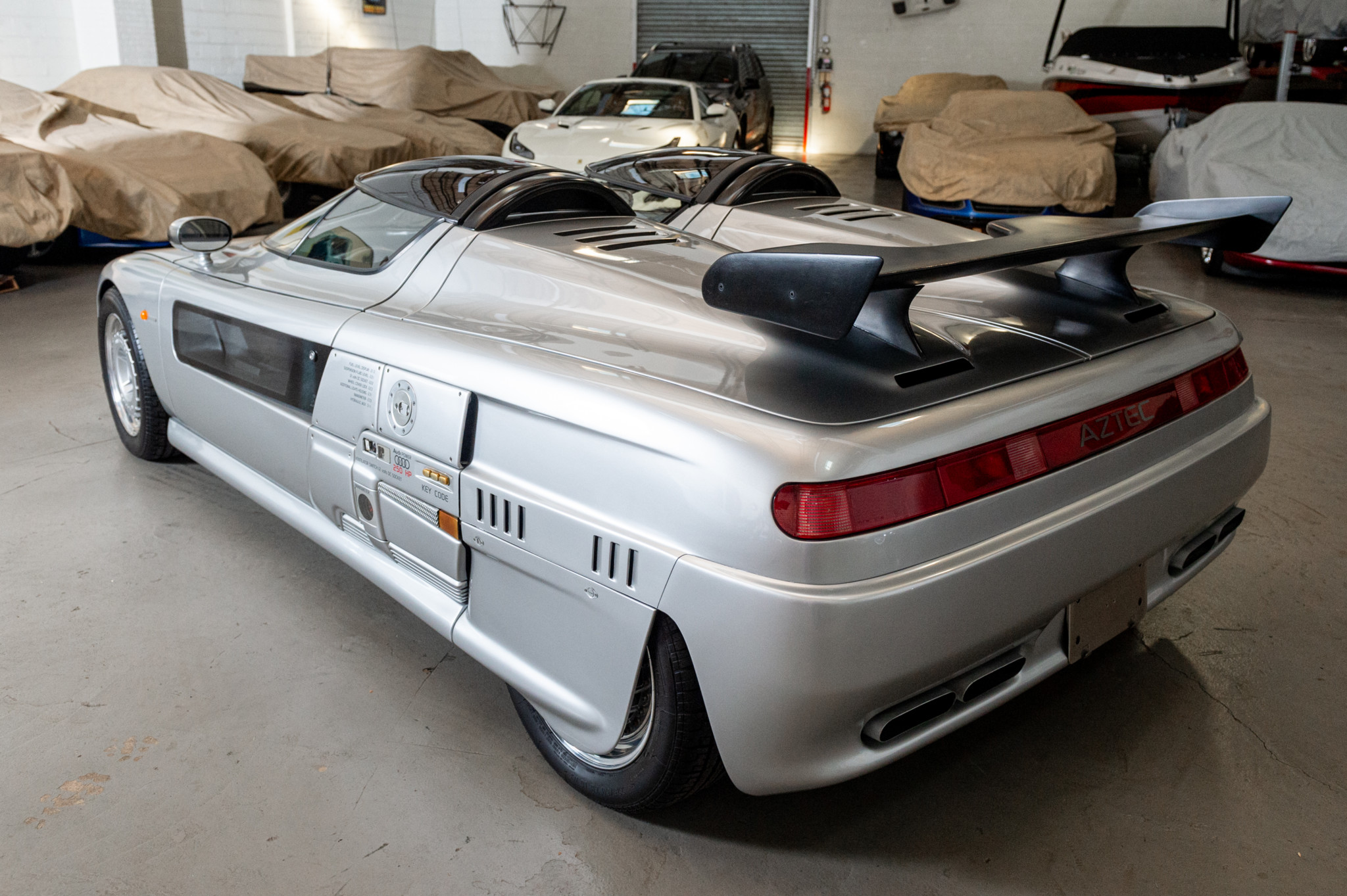 Year: 1988
Model: Aztec
VIN: ZA9T1P03A00D50012
Engine: 2.2 liter turbocharged inline-5
Transmission: 5-speed manual
Mileage: 250 mi
Location: Clifton, New Jersey
Price: Auction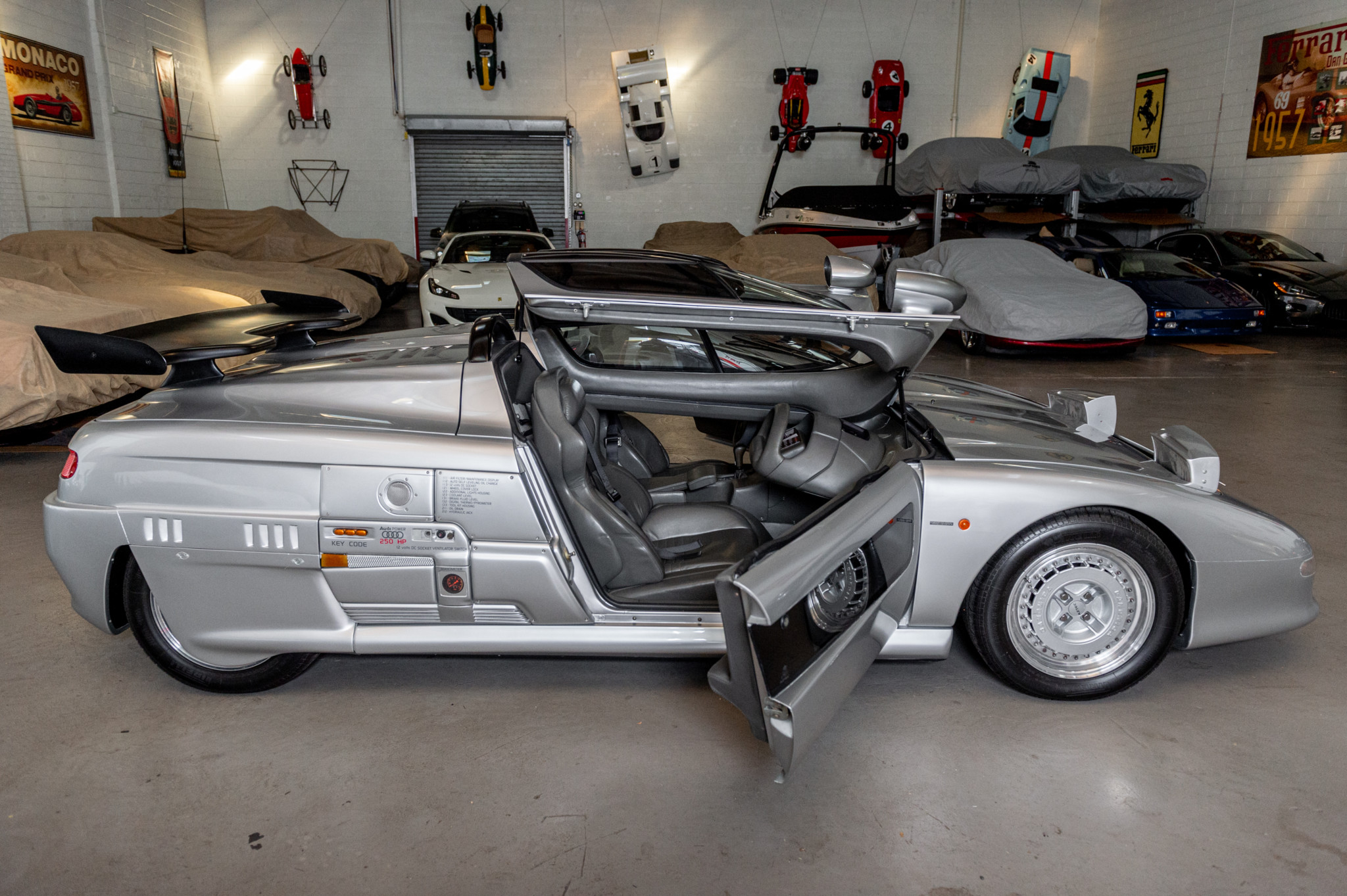 This 1988 Italdesign Aztec was designed as a road-going version of Giorgetto Giugiaro's 1988 Turin Motor Show prototype and is one of what is believed to have been 25 or fewer built during a planned 50-car production run. This example was reportedly on display at the Shanghai Automotive Museum in China between 2011 and 2015 before being imported to the US by the Blackhawk Collection in California and purchased by its previous owner. The twin-cockpit body is finished in silver over a gray leather interior, and additional design elements include dual-action doors, service control panels in the exterior fairings, twin removable plexiglass cockpit canopies, and a passenger trip information console. Power is provided by a turbocharged Audi 2.2-liter inline-five paired with a five-speed manual transaxle and a Lancia all-wheel drive system. This Aztec shows 400 kilometers (~250 miles) and is offered by the selling dealer with documents from its 2015 importation and a New Jersey title.

The Aztec was introduced at the 1988 Turin Motor Show as part of a trio of concepts designed by Giorgetto Giugiaro. Through an agreement with Japanese firm Compact, a limited run of 50 street-legal prototypes was scheduled to be built for the Japanese and European markets, though it is believed that half or fewer were completed. Body panels incorporate aluminum, carbon fiber, and Kevlar over a steel chassis, and this example is finished in silver.

Individual canopies are hinged at the center to open in a gull-wing configuration, and act in conjunction with conventional front-hinged doors to allow entry into the split cabin. Additional design features include rear wheel spats, transparent door insets, pop-up headlights, and a carbon fiber rear wing. Each canopy is equipped with a removable plexiglass top bubble. 16" Canonica wheels wear Pirelli P Zero tires.

Interfaces integrated into the rear quarter panels were designed to allow access to the cockpit and service areas via a set of three-digit codes. The fuel filler door is located on the left, while 12-volt receptacles, ventilator switches, and manometers are featured on either side. Other features of Giugiaro's concept include a hydraulic jacking system, an oil drain spigot in one of the rocker panels, tools, lamps, and a fire extinguisher.

The interior is trimmed in gray and features power-adjustable sport seats split by a console shared between the driver and passenger compartments. The car is equipped with automatic climate control as well as a JVC sound system with a CD player, cassette deck, and equalizer. An asymmetrical Nardi steering wheel is trimmed in gray and black leather.

Control buttons are incorporated around the instrument pod, which is home to VDO gauges including a 220-km/h speedometer, a 10k-rpm tachometer, and a five-digit odometer showing just over 400 kilometers (~250 miles). The passenger side is equipped with its own pod featuring a semicircular grab handle and a period Halda rally computer.

The mid-mounted, turbocharged Audi 2.2-liter inline-five was specially tuned for the Aztec by Mayer MTM in Germany, and produced a claimed 250 horsepower when new. Power is sent to all four wheels through a five-speed manual transaxle and an all-wheel drive system featuring Lancia Delta front and rear differentials.

Literature on the Aztec concept and its limited-run production counterpart can be viewed in the photo gallery below, as can documents from this example's importation to the US in 2015.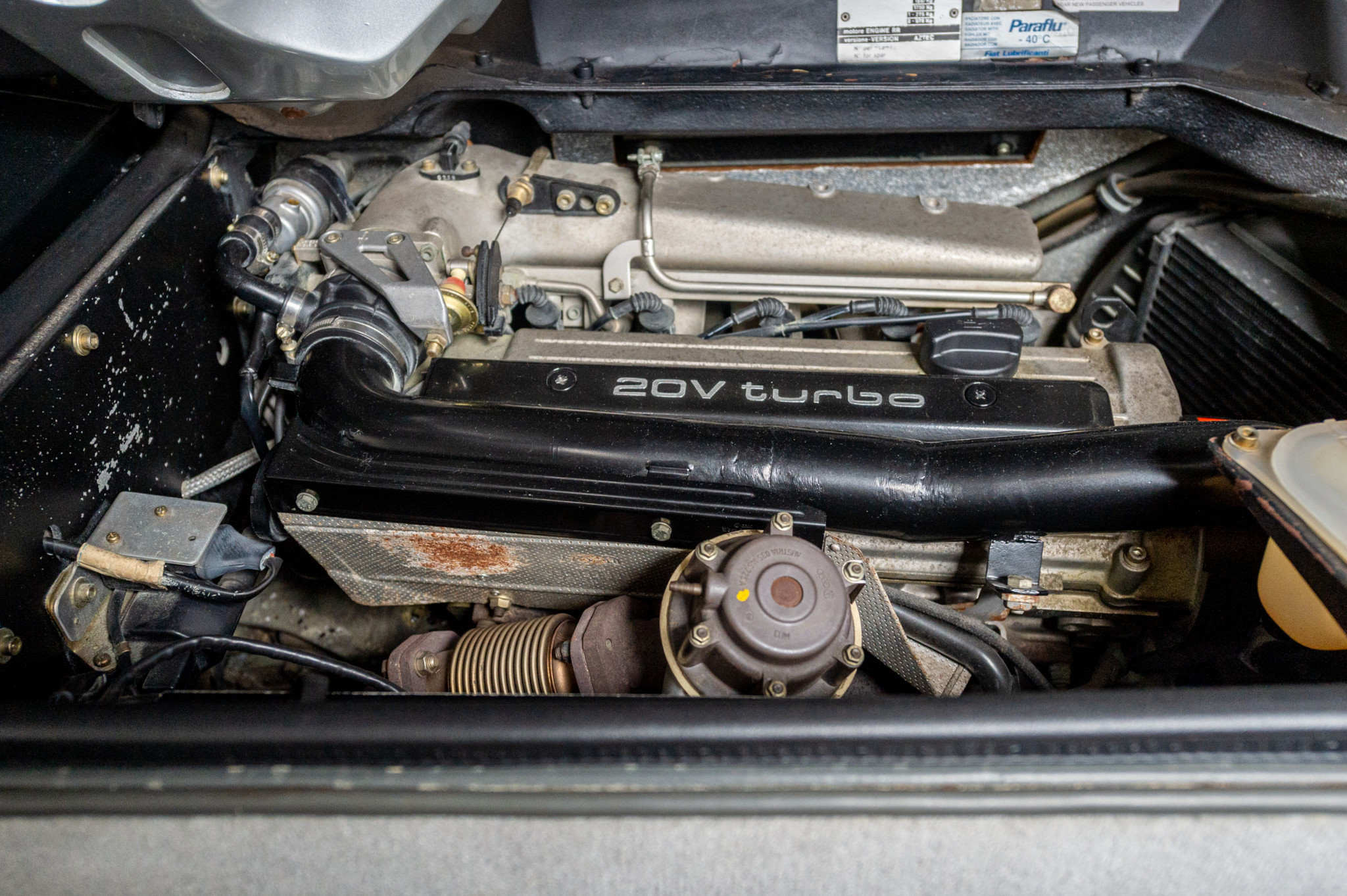 Outrageous is a pretty good descriptor for this car. Now, I know what you're saying – it's not German! But bare with me – aside from the Audi power plant, Italdesign is now owned by Lamborghini (nee Audi), and these cars were assembled with the help of Motoren Tecnik Mayer (MTM) – noted not only as a premier Audi tuner, but Mayer was an ex-Audi engineer. So, if the M1 can be considered German this car should be too. The design is pretty futuristic by 1988 standards, but to me it looks a bit like a Fiero GT that went horribly right. The exterior appears pretty much no-compromise and has interesting features like an external Manometer, which clearly indicates how much of a man you are for driving this beast. Note the dial goes to 11.
Being old and Italian, you can be sure that some of those Speak-n-Spell era electrics aren't working working particularly well. On the bright side, it appears the passengers can play Contra or Legend of Zelda while you're driving, which is probably a good thing since the lack of roof ensures you won't be entertaining them with your conversation at any speed above 10 m.p.h.. As a super-limited production exotic roadsters go, this might not only be an affordable option, but it might even be practical. "What?!?!" you say? Well, it's got a Audi engine that's good for the best part of a half million miles without too much work. It probably even gets respectable fuel economy when you're not flogging it. The drive train is sourced from a Lancia Delta Integrale – World Rally Champion spec-stuff there. And worry about the famous Italian tin worm fades when you ready that the body is mostly carbon fiber and aluminum. All that's left are those infallible Italian electronics – hey, they could never go wrong! In all seriousness, if you're going to drop over $150,000 on an occasional car, you might as well make it one that makes every occasion you drive it special. Porsches? Bentleys? Ferraris? Pedestrian. You don't see them sporting gull-wing tonneau covers, do you? And you probably wouldn't even drive your GT2 or 458 in the rain, so why do they even have roofs? See, the more you think about it, the more sense it makes….
-Carter