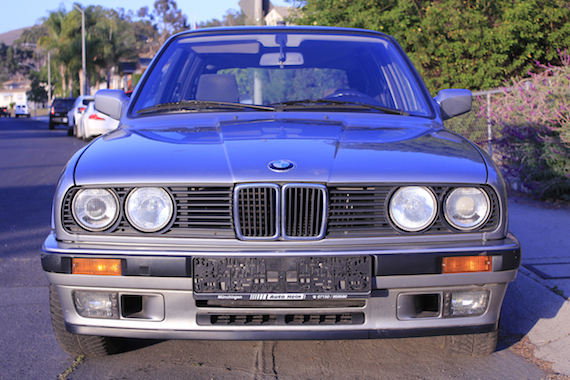 As we start to finish up Wagon Week, let's take a look at a car that's been arriving on these shores at a solid clip now that many of them have reached 25 years old: the E30 Touring. But this Touring is a bit unique in that it is powered by the 2.4 liter turbo diesel engine. We featured this particular car earlier in the year and now it is back on offer, a perfect curiosity for oil burner BMW fan.
The below post originally appeared on our site March 9, 2014: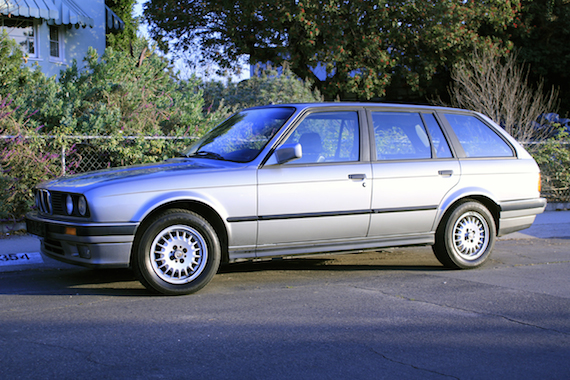 The E30 Tourings are coming. As the weeks and months pass, it seems that there are those here stateside willing to go to lengths to import the E30 that was forbidden to us, the five-door Touring. Most of these lifestyle estates that have cropped up for sale have had the 2.5 liter inline-6 under the hood, but this one is powered by the turbocharged 2.4 liter inline-6 diesel that we saw here in the E28 5 series. For those who want an E30 Touring but seek a bit more economy, this one is available in Los Angeles.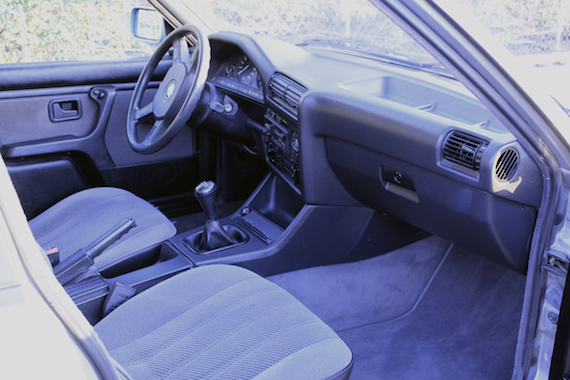 Year: 1989
Model: 324TD Touring
Engine: 2.4 liter inline-6 diesel
Transmission: 5-speed manual
Mileage: 88,000 mi
Price: $12,000 Buy It Now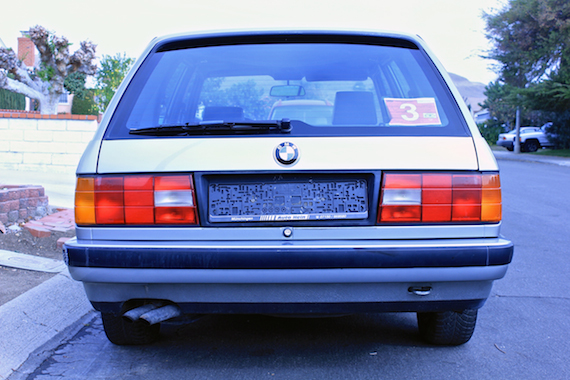 For sale is a rare example of driving history in unique condition: A 1989 BMW E30 324 TD Touring.

When gas prices increased after the oil crisis in the seventies BMW started to explore more economic driving machines. As a first step the Bavarians built the 325e and 528e, showing that gas engines can be as efficient and lasting as diesels always were. Next, the engineers proceeded to show that a diesel can be as sporty. They built the 324TD and 524TD: Plenty of torque, revving up like you expect a BMW to and 33.6 MPG! On top they introduced the Touring as some kind of peace act for families. Of course, they made it a design classic. Strange it was never exported to the US, especially as the Art Center College Of Design in Pasadena signs for it.

Now there are said to be less than a hundred of 324TD Tourings left on european roads and it is easy to imagine in which condition they are. Not so this one. Having seen only 88.000 miles of tarmac and perfectly pampered along the way it comes practically in showroom condition. I was offered this one by friends, thanks to an infrastructure that grew in decades. So I took a train across Germany with a lot of money in my pocket and checked it out. I drove home happy like a kid on Christmas. I was planning to spend a year in California and this was to be my car for that: By the age of 25 – production day is January 25, 1989 – it's exempt of DOT, EPA and smog and can registered as is.

However, plans were changed when the boat had already left. The BMW is now with a friend of mine in Los Angeles and should find you, either as a piece in your collection, as the value of the E30 revs up just like their motors do, or a daily driver, the fastest classic diesel there is. We did not yet register, maybe you don't want another owner in the papers, and also as I am not on-site. Customs are of course paid and complete. (As well as the ISF filing, the Panama channel fee, the broker, the fee for the port trade union, the trucking in the port and whatever else they surprise you with every other day during import.) With the german title and customs paperwork, you will get the US title at the DMV. We registered vehicles like that before, please see my feedback list. Friends did it also just recently several times. (It's still a good idea to double-check with your local DMV office.)

For condition, please see the pictures and the video. No noises anywhere. No oil blown, burnt or dripped. Not smoked in. Whatever you touch from door handle to shifter, feels like a year old. And so it drives! No vibrations, no play anywhere. Dynamic stability control, heated door mirror and driver's lock. Battery is brand new and so is the timing belt. Note, that there is a dent in the passenger rear door. Also: No AC.

A word on this auction: With your bid you enter a legal contract with me which will be fulfilled with no exceptions. I do not trade, accept holdback payment or any other payment than: A wire within a week to my german USD account. Also, please contact me within a day after auction end. Pickup within another week. So make up your mind first and then bid. Car dealers very welcome.

Thanks for reading. Have fun bidding and buying. It's a BMW that does not come again.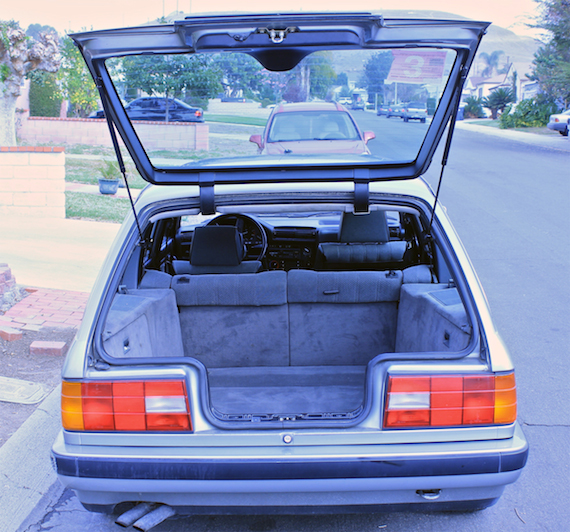 The 1989 325i Touring we featured last month sold for $14,000, which seems to be where these E30 estates are hovering for examples in good shape with reasonable miles. It will be interesting to see if the diesel engine helps or hinders this Touring's cause. My guess is most of those in the market for an E30 Touring want the sweet sound and performance of the M20 engine over the less powerful M21 diesel.
-Paul