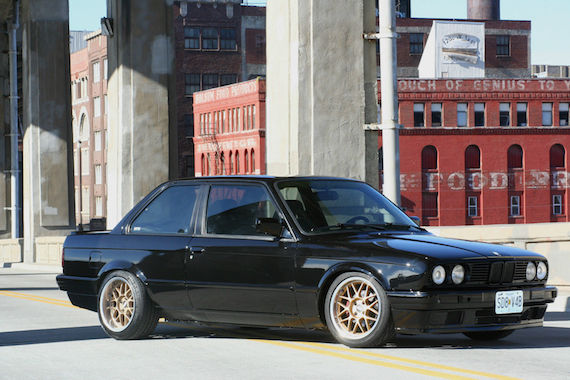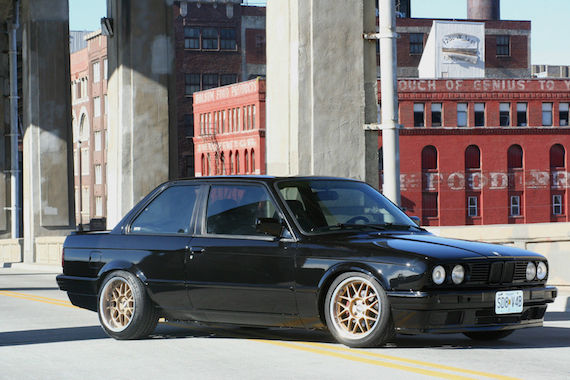 It's Sunday, and as we dig through the winter weekends watching the anticlimactic wrap-up to the NFL season we can start daydreaming again of spring Sundays filled with curvy dry roads, loud exhaust, and practicing our heel-toe. This 325is is well set up to be a weekend warrior, not overdone despite almost no stone unturned. It has a host of interior and exterior modifications that would probably look delightfully subtle were it not for the gold-centered wheels. The Shadowline and Euro bits highlight a monochromatic body while an Alcantara-heavy interior with recovered Corbeaus looks like a great place to be, both comfortable and functional. There's no crazy performance gains here, just a mellow cocktail of chip, exhaust, and redone suspension to help this 325is really exploit its E30ness.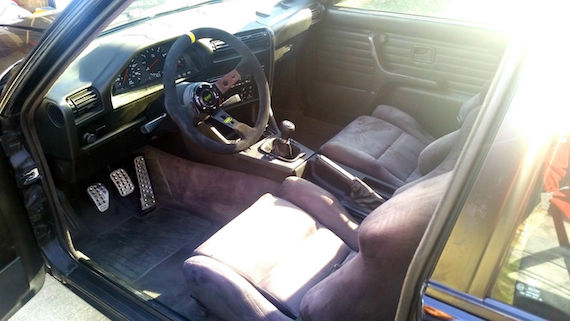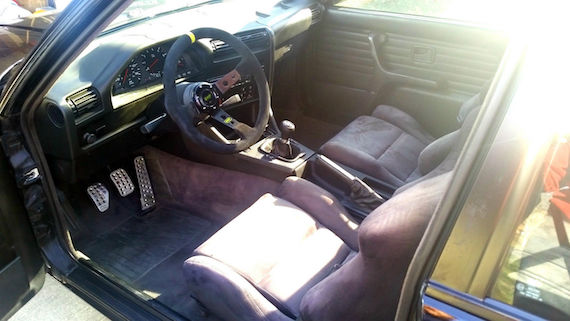 Year: 1989
Model: 325is
Engine: 2.5 liter inline-6
Transmission: 5-speed manual
Mileage: 140,132 mi
Price: Reserve auction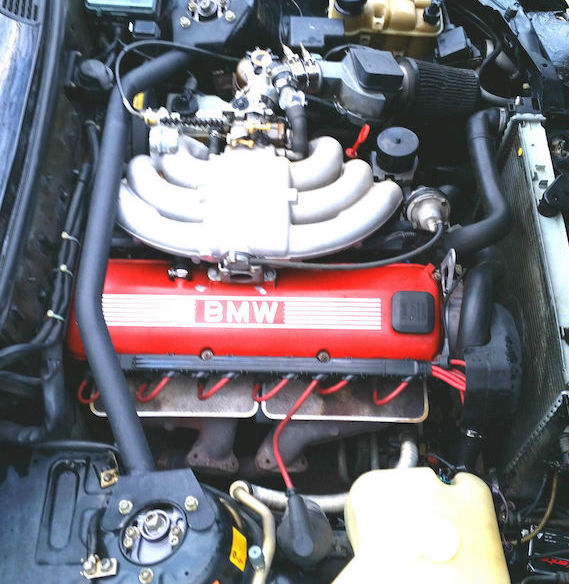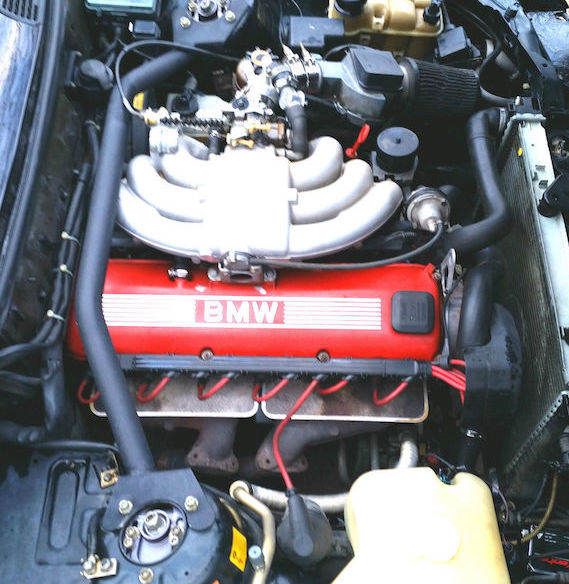 Background
-1989 325is Manual
-Schwartz/Black Leather originally
-140,xxx miles on ODO and it works
-Engine is healthy, doesn't burn oil, doesn't smoke, very sound m20
-clean title
-Never tracked
-turn-key reliable
-Bone stock in Dec 2010
-Rust free
-Power Sunroof and Windows
-Cruise control
-13 button OBC
-Maplight mirror
-OEM Trunk organizer
-OEM Windshield with sticker still intact
-Complete Tool kit
-Heat works (AC needs charged)

Exterior:
-Paint & Body 8/10
-Rolled fenders
-Euro trim
-Fog light delete
-Smoked turn signals
-Shadowlined trim
-Black kidney grilles
-35% Tint
-HID Lights in ellipsoids

Interior:
-Corbeau TRS Seats re-covered in alcantera (alcantera material alone was $1500)
-matching re-covered alcantera e30 rear seat
-Schroth 4pt Harnesses (Black)
-OMP alcantera steering wheel with momo hub
-OMP pedals
-M shift nob
-e30 m3 leather shift and ebrake boots
-Headliner dyed black

Engine/Trans/driveline:
-K&N cone filter
-Custom chip by Pete McHenry/Jim Blair of BMW NA
-8mm Bav Auto plug wires(~7k miles)
-Adjustable FPR
-UUC Twin scilencer exhaust with glasspack and 3″ strait pipe. sounds nice, deep and not obnoxious.
-4.10lsd from e30 m3
-z3 1.9 short shifter

Suspension:
-Ground Control coilover kit (450 front/550 rear)
-Ground Control adjustable camber plates
-New Bilstien sport inserts/shocks
-Racing Dynamics sway bars(22mm/19mm)
-Front strut tower brace

Wheels/Tires;
-Vorshlag stud conversion
-ESM 008 fronts 16X7.5 rears 16×9 repainted centers gold, 205/45/16 front 225/45/16 rear.
-BBS caps

Sound:
-Pioneer speakers(I think)
-Alpine Vpower amp
-Pioneer Head unit

Brakes:
-Ate front rotor
-Brembo rear rotors
-Pagid pads
-Super Blue fluid

Maintenance:
– Timing Belt, tensioner, guide, water pump (~12k miles)
– Distributor cap(~8k miles)
– Rotor(~8k miles)
– Fuel pump(~8k miles)
– Valve Adjustment, gasket, painted valve cover (~12k miles)
– New Shifter
– Flushed Brakes with ATE Dot 4 Super Blue (~3k miles)
– Oil change with Mobil 1 10/40 every 4k usually sooner (last changed at 139,800)
– new tie rod assembly's and alignment (~6k miles)
-Idle control valve (~6k miles)
-AKG rear subframe offset
-Rear control arm bushings
-AKG Diff bushing
-Rebuilt CV shafts
-Treehouse racing front bushings
-AKG engine and trans bushings
-Brand New battery

The Bad:
-Cracked dash
-Missing folding rear armrest from previous owner
-Right front turn signal is not registering

The car was lowered for pictures.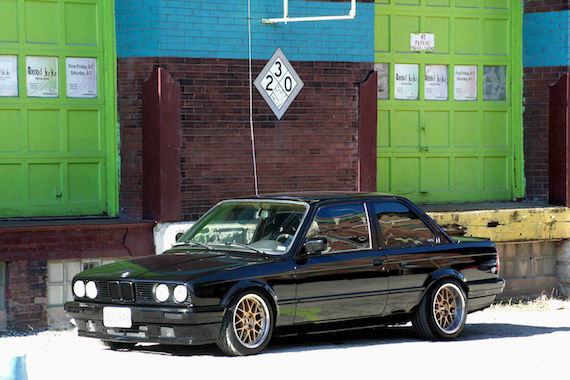 I'm glad it can be un-lowered from the pictures. I don't really mind the low ride height or even the gold wheels, but I keep imagining this car .5″ higher and on some less-gaudy rims and thinking about how good it would look. Some 16″ Style 5s and unblacking the kidneys would do wonders, letting it look like a spruced-up 80s sports car instead of a millenial car show cruiser. However you want to tweak it, this is a beautiful E30 with nice upgrades and reasonable miles. Bidding is hot but the reserve is holding strong; I'm guessing it will have to get much higher in the four-figures, or maybe even low-fives, before it's going to a new home.
-NR