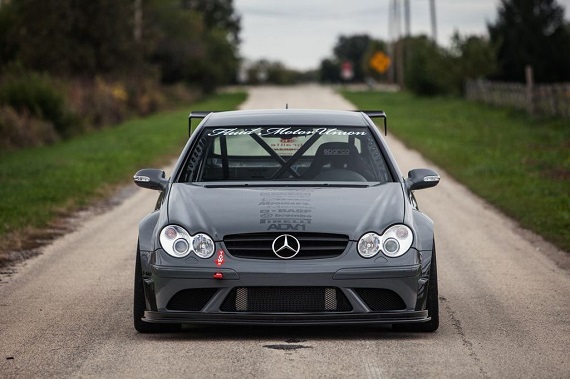 If the regular CLK63 AMG just wasn't bonkers enough for you, then AMG offered the "Black Series" – the entire car turned up another notch. But for some, the Black just isn't bad enough, and this one particular CLK63 AMG Black Series was taken to DTM-race ready levels. Tired of hearing about your neighbor's M3 or Cayman R lap times? The solution is here. We saw this car in September 2014 with an astounding asking price of $160,000. It's back at a much more budget-friendly $75,000 today. The best part? This car has a switch labeled "violence". It's totally unnecessary, and totally awesome…
The below post originally appeared on our site September 9, 2014: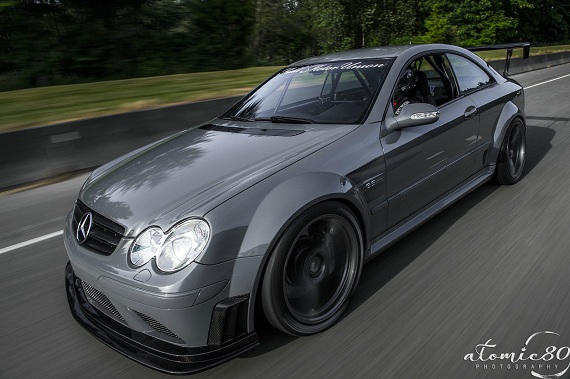 In the movie Spinal Tap, the character Nigel Tufnel displays his specially made Marshall amplifier to the film director. "As you can see", he explains, "the numbers all go to eleven – right across the board." "Does that mean it's louder?" asks Rob Reiner. Nigel retorts "What we do is if we need that extra push over the cliff, you know what we do? 11, exactly. One louder." Frankly, with AMG's "Black Series" cars, they are already Mercedes-Benz models that are operating fully at "10" – but that doesn't stop many enterprising individuals from turning them up one notch or more. A case in point is today's 2008 CLK63 AMG Black Series – a serious car right out of the starting blocks, the 6.2 liter M156 V8 is an absolute monster with 500 horsepower and nearly matching torque. Having driven a similarly motored SLS, the speed is effortless and immediate – the sound, incredible. There is literally no point when driving one when you think "you know what, this car really needs 200-300 horsepower more". Yet as if to out-AMG AMG, the nutters at Weistec added a supercharger – with variable power from 600-800 horsepower, it's capable of creating a 9-second quarter mile luxury Benz. Insane? Yep: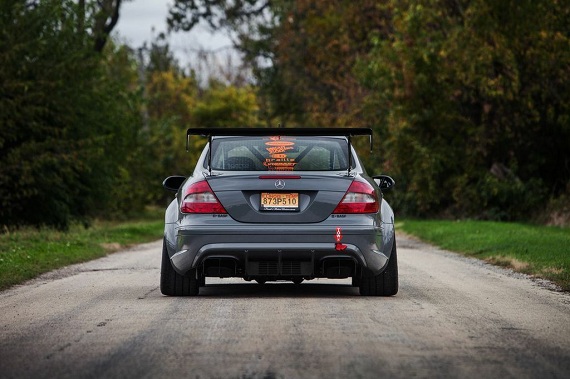 Year: 2008
Model: CLK63 AMG
Engine: 6.2 liter supercharged V8
Transmission: 7-speed automatic
Mileage: 8,800 mi
Price: $75,000 Buy It Now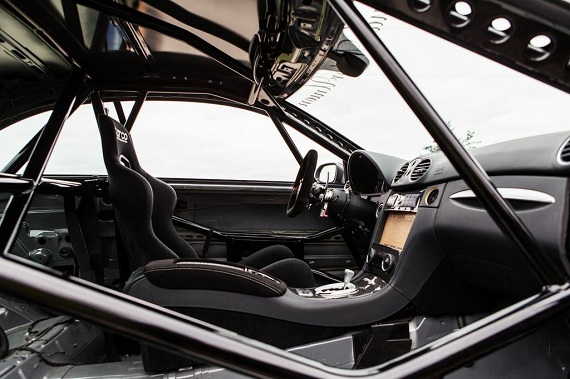 Next project is officially en route so its finally time to let this one go!!! The entire build is well documented with 1000's of photos of every portion of the build; exhaust fabrication, engine work, color change, roll-cage and more. This car can be driven on the street, to the track and on the track but has never been competitively raced, only dialed in. If you choose not to drive or track it, it will look really good alongside the rest of your collection. Vehicle is available for viewing in Santa Ana, California at Weistec Engineering www.weistec.com . I promise it will cost you a lot more than this to recreate the car. Please email me directly with questions joseph.a.galante@gmail.com or contact Sean Rad or Steve Atneyel at Weistec Engineering to schedule a viewing.

TOP TEN THINGS THIS CAR IS GOOD FOR:

Track Days. 100% ability to compete in NASA and SCCA sanctioned events (car was built to the rule book and will pass tech)…
Driving really fast for a mile or so at Air Strip Attack, Shift Sector and Texas Mile type of events…
Scaring animals and small children between stoplights, on the highway, in the Starbucks drive-thru or pretty much anywhere you go…
Speaking of Starbucks… Cars and Coffee, yes, it is really good for Cars and Coffee…
Rattling the windows of tall office buildings with engine revs while re-enacting scenes from Need for Speed…
Re-enacting any scene from the Fast and Furious. Any of them. All of them…
Being nicer than your friend's car…
Cruising. Slow, fast, or at a medium pace…
Saving you the better part of $100,000.00 and countless hours of time, management and mental exhaustion not having to build this car yourself…
Your garage…

MEDIA: (Photo Shoots for StanceWorks and Secret Entourage forthcoming)…

European Car:

http://www.europeancarweb.com/featuredcars/1409_2008_mercedes_benz_clk63_amg_black_series/?__federated=1

Speedhunters:

http://www.speedhunters.com/2011/11/guest_blog_gt_gt_the_rbm_amp_fmu_clk63_amg_black_series/

Luxury 4 Play (Random Post):

http://www.luxury4play.com/automotive/109260-completely-fu-king-unreal-mercedes-clk63-amg-black-series-adv1-pics-video.html

ADV.1 Wheels:

http://adv1wheels.com/gallery/mercedes/mercedes-clk63-black-adv10.1sl-1/

Unscene Media Video:

Fluid MotorUnion:

http://www.fluidmotorunion.com/sections/projects/mercedes-benz-projects/clkbs

Stance | Works:

http://www.stanceworks.com/forums/showthread.php?t=21666

Teamspeed:

http://teamspeed.com/forums/amg/68013-photoshoot-mercedes-benz-clk63-black-series-special.html

Mercedes-Benz AMG Black Series (ABOUT):

http://www.mercedes-amg.com/webspecial/clk63blackseries/

Several additional photographs can be seen on my Instagram: @ilgalante

All the details…

ENGINE:

Weistec Stage-II Supercharger System
Weistec ECU and Rev-Match TCU Software
Weistec Air Box Filters
Fluid MotorUnion 321 Stainless Headers
Fluid MotorUnion 321 Stainless Exhaust w/Valving
Fluid MotorUnion See-Thru Trunk Panel
Fluid MotorUnion Exhaust-Blown Rear Diffuser

SUSPENSION and TRANSMISSION:

MOTON Clubsport Coilovers w/Remote Reservoirs
(Reservoirs mounted to roll-cage and in engine bay)
Weistec Rev-Matched TCU Software
Weistec Custom Rear Control Arms
Weistec Upgraded Delrin Suspension Bushings

WHEELS, TIRES, BRAKES:

Pirelli PZERO Trofeo D.O.T Road Race Tires (265mm | 295mm)
Pirelli PZERO Trofeo-R D.O.T. Road Race Tires (265mm | 305mm) – NEW w/Sale
ADV.10 Track-Spec SL Monoblock Wheels 19.0×10.0" | 19.0×11.0"
Brembo GT-R Brake System:
6-Piston Nickel Plated Monoblock Calipers w/2-Piece 15" Rotors (F)
4-Piston Nickel Plated Monoblock Calipers w/2-Piece 13.6" Rotors (R)
Motorsport Hardware Extended Race Studs
Motorsport Hardware Cold-Forged Alloy Steel Race Nuts

EXTERIOR:

BASF Glasurit JG Grey 6-Stage Full Color Change (Exterior, Interior, Engine Bay, Trunk)
Complete XPEL Front End Protection Film (Bumper, Fenders, Hood)
Vorsteiner Carbon Front Spoiler
Varis Carbon Euro GT Wing w/Carbon Uprights and Carbon Mounting Plates
Fluid MotorUnion Exhaust-Blown Rear Diffuser
Willan's Front and Rear Red Nylon Tow Straps
Black Window Trim Surrounds and Front Grill

INTERIOR:

6-Point NASA/SCCA Approved 1.75" DOM 304-Stainless Roll-Cage
(Finished in black w/Gussets, British Bars and Door Support Beams)
Built by Justin Elin of Cantrell Motorsports www.cantrellmotorsport.com
Sparco S-Light Carbon Driver Seat
Sparco EVO Passenger Seat
Sparco 6-PT Black Harnesses
Sparco Steering Wheel
Works Bell Carbon NEO Paddle Shift System
Works Bell Rapfix GTC-R Adjustable Steering Hub
Planted Design Seat Rails, Sliders, Mounts
Braille Carbon Fiber Battery w/Kill Switch
Custom Cardboard Fiber Navigation "Replacement Panel"
Interior Completely Stripped (All wires tucked/hidden)

Vehicle expertly built by the following people:

Paint and Bodywork: JMI Motoring of Arlington, WA
Engine Work: Fluid MotorUnion of Plainfield, IL and Weistec Engineering of Santa Ana, CA
Exhaust Fabrication: Fluid MotorUnion of Plainfield, IL
Interior/Roll-Cage: Justin Elin of Cantrell Motorsport Bellevue, WA

MISCELLANEOUS: Complete Air Conditioning System and Factory Navigation Head Unit Come with sale along with an additional set of Pirelli PZERO Trofeo-R tires (Brand New).

SELLER RESERVES THE RIGHT TO END THE AUCTION AT ANY TIME AS VEHICLE IS LISTED FOR SALE LOCALLY.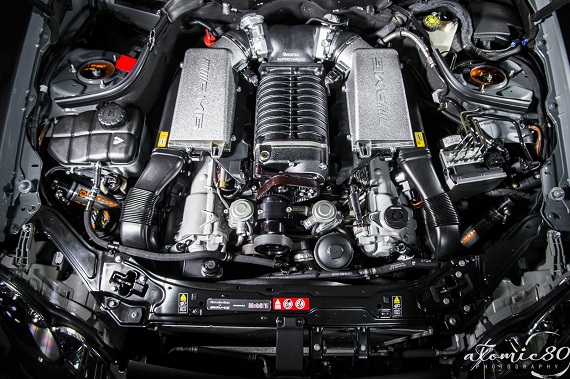 This car is seriously impressive and seriously nuts. Weistec lists Stage 2 at "only" 672 horsepower and 662 lb.ft of torque – let's just say that's more than adequate. This car, though, doesn't just stop with a motor – in an apparent effort to get it as close to a real DTM car as possible, it has a monster cage, brakes, and suspension to match the upgraded motor. Yet the builder/seller hasn't gone all serious on us; if the list of top ten things to do with this car doesn't make you chuckle, perhaps the "Genuine Cardboard Fiber" sign will. Obviously, the build has limited this car's usability and it has a pretty select market, mostly involving well-to-do gentleman drivers and rap stars. But that points towards the very split personality of the recent AMG cars and who they appeal to. Personally, I'd take the stickers off and head to the track intent on passing every GT3RS I could find. If nothing else, it would be an excellent way to wipe the smile off their faces!
-Carter