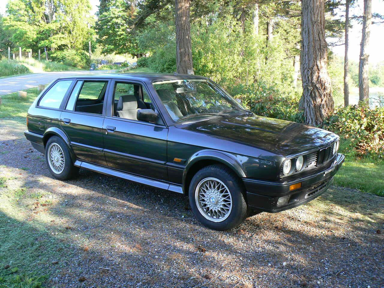 We knew the onslaught of E30 wagons was coming, but that doesn't change the entertainment with which we watch these attractive but rarely seen (in the USA) longroofs. We've seen them imported through several channels, but this is the first Allrad, or four wheel drive, version I've seen. The 325ix seems like a great option to me for colder climes, as it would allow plenty of fun and stand out against the Audis and Subarus. The slushbox is a bummer and always seems like a silly choice on an E30, but the combination of rare wagon form, four wheel drive, and overall cleanliness with low miles makes it easier to overlook. It's a little harder to overlook the price, which is dangerously close to E30 M3 territory, and would seem to open the door to find a good manual version across the Atlantic to bring over yourself. If you're ready right now though, this is in great shape for an E30 of any iteration, let alone such a unique combo.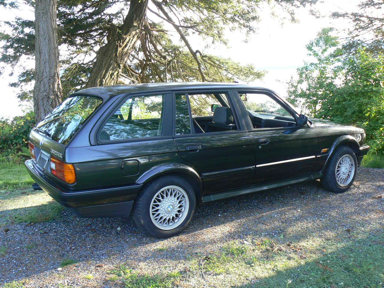 Year: 1989
Model: 325ix Touring
Engine: 2.5 liter inline-6
Transmission: 4-speed automatic
Mileage: 86,000 mi
Price: $19,500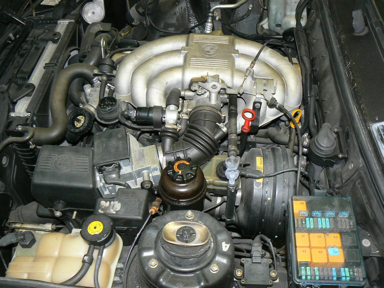 Diamondschwartz (Dark Gray) Metallic with gray cloth interior 86,000 miles (138,300km)
Excellent mechanical condition; drives great, steers straight, pulls strong, stops quick.

This remarkable 3-Series Allrad All Wheel Drive Touring is a Euro-spec car that was sent to Japan when new (first Japanese registration was 2/90). It appears to be a one- owner car and was clearly garage kept most of its life and well maintained. The car arrived at the dock in the condition you see in the pictures, meaning it was always kept clean and ready to drive.

There is plenty of evidence that this is a premium car that has been well maintained; the previous owner cared enough to put stickers under the hood and on the battery showing a new timing belt and water pump at 133,400km, on 7/22/2005, and a new battery on 3/14/2013 at 138,076km. There's also a sticker showing an oil change on 7/24/2006 at 137,600km. These figures are also a strong indicator that the odometer is correct.

Based on this, a good guess would be that this was an enthusiast family's 3rd or 4th car and was sold because it wasn't getting used much. The owner was diligent enough to put maintenance stickers on 2 items 8 years apart; maybe he noticed the irony of that when he was replacing the battery and realized it was time to sell.

Runs cool, gauge reads a little below 12 o'clock, AC blows cold, heater works well with all 4 fan speeds. Auxiliary cooling fan in front of the radiator cuts in with the AC, as designed. The body is in excellent condition structurally with NO RUST, even on the tailgate, which I'm told is a problem area. However, the paint is 25 years old and a little tired, with clouded and fading clearcoat, especially on the horizontal panels and the body- cladding pieces around the wheel wells. None of the clearcoat has blistered or flaked off, but it has seen better days.

Interior is in great condition; upholstery, headliner, dashboard, sunroof, door cards, seats, and carpets all intact and clean. No smoke smell or stains apparent. Has a CD/DVD player and a GPS system, appears to show the car located just off a pier in Nagoya. A nice Japanese lady announces something informative when you turn the car on, and there's an iPhone auxiliary cord to help compensate for the limited FM band.

Mechanicals all look good on visual inspection below. All fluids topped up and reasonably clean, no major fluid leaks obvious. Engine, transmission, transfer case and diffs all reasonably dry after 25 years, only the sort of light gasket and boot seepage you'd expect from normal use. Shocks and brakes are dry, some bushings and ball joints obviously replaced, exhaust in good shape. In short, nothing alarming was discovered on casual inspection.

15" Style 5 basket weaves with Pirelli Cinturato P5s, 02/10 build, 10/32 tread. Current tires are 195/60r-15s, tire placard says 205/55s are acceptable fitment. Wheels have some curb rash but generally look good and they roll true and balanced. Euro projector headlights with front and rear fog lights. Headlights are likely set up for left hand traffic so changing the low beam projector housings or baffle plates might be in order. Toolkit and jacking equipment is complete, no first aid kit aboard.

This car was entered correctly and legally, with all DOT and EPA forms and declarations submitted and approved. The Customs 7501 entry form is duly stamped and signed by the officers at the port of Tacoma WA. This car can be registered and titled anywhere in the US. If you live in California, you'll have to scope out the CARB regulations yourself; your DMV has a whim of iron and their game is incomprehensible to me. Car is located near Bellingham WA. I can arrange shipping anywhere in the world, and I can deliver within 500 miles for a moderate fee.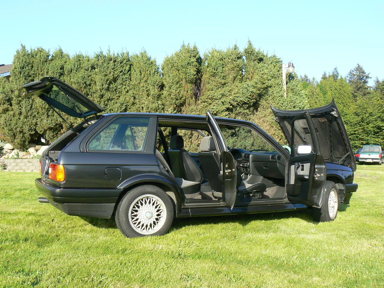 I sometimes gripe about lack of detail or care in the writing of ads, but this guy has eliminated all room for doubt with a bare-bones Craigslist ad leading you to a 21-page PDF (including pictures), giving a complete picture of the car's condition so the buyer knows exactly what they're getting. Cloth seats are still a cool anomaly to me, as I associate all Bimmers with leather thanks to BMW's positioning the US market. Overall, it's a low-mileage unicorn that someone is going to be very excited about. I still am not sure how it commands $20k, but someone is going to be stoked then it's theirs.
-NR