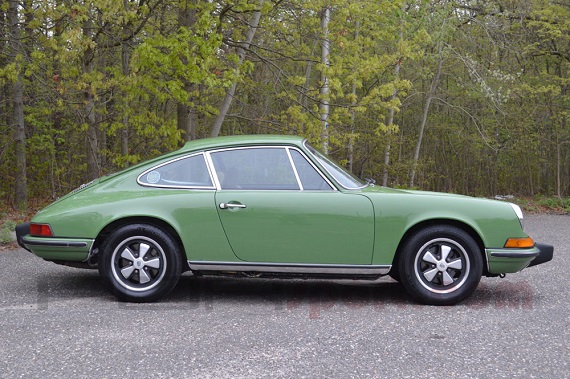 Opportunities for finding a pre-1974 911 for any sort of reasonable amount of money are few and far between and typically requires that we stretch our definition of reasonable to a certain degree. But, when considering 40+ year-old performance icons these sorts of facts shouldn't surprise us. The model that does still fall well short of a six-figure price tag is the 911T, Porsche's entry-level 911 produced from 1968-1973. This no frills version of the 911 featured a 2.0 liter flat-six that produced 110 hp when first introduced and served as the gateway to 911 ownership. By the 1973 model year, displacement had increased to 2.4 liters with an appreciable bump in hp as well (140 hp). The T remained throughout its life the most basic model available and, in a sense, was the last time a truly entry-level 911 was produced. The example feature here is an unrestored Leaf Green 1973 Porsche 911T, located in New York.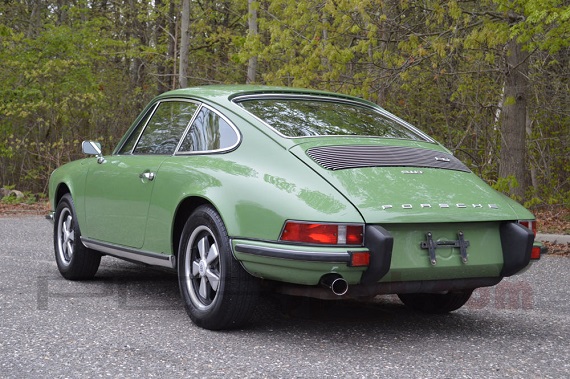 Year: 1973
Model: 911T
Engine: 2.4 liter flat-6
Transmission: 5-speed manual
Mileage: 9,999 mi
Price: $79,500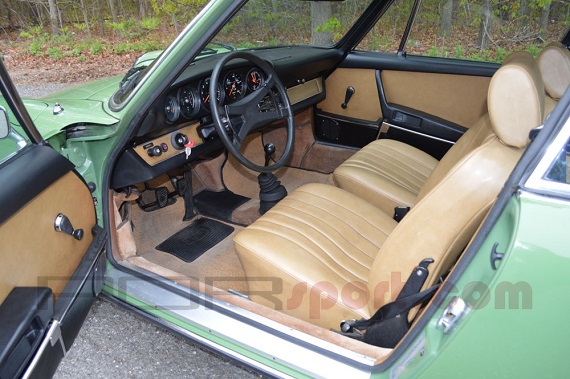 1973.5 911 T Coupe Survivor

Last of the legendary long hoods, this outstanding example is unrestored and still wears at least half of the original, special order Leaf Green paint. This 911 is completely unaltered having never been apart for restoration. There is no evidence of rust or crash repair. Great paint on very straight body shell, beautiful window frames, tinted glass and trim.

The interior is all original and excellent over all however some areas such as the carpet and dash pad show its age. Smooth running 2.4 CIS engine is not a big leaker or smoker. This unique 911 T was obviously a special order car with the very rare color, S front mounted oil cooler and S instruments and trim making this a one of a kind Early 911.

The car started out in Florida and then lived out west. This 911 is being offered in as found condition.

Serious inquiries please call 631-786-6511 EST, international inquiries email dahearn67@gmail.com. Principal buyers only.

Please contact me for full images.

This car is also listed elsewhere. I reserve the right to sell it outside this listing. Bank wire in full within 48 hours of auction end.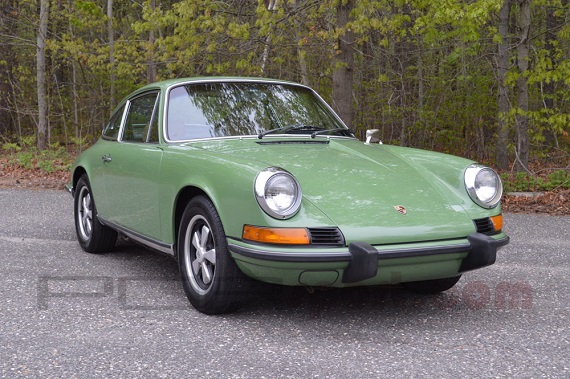 This is a pretty interesting exterior color that appears in rather good shape, especially considering that this car has not been restored. I'm curious about the mileage as 9,999 is a peculiar number and the seller makes no mention of the car's mileage, a fact that would be unlikely were this truly a 1973 911 with 10K miles. So I'm suspecting the mileage is unknown, though given the asking price perhaps it really is this low. About that price: it's very high for a 911T of any year, but especially for one that has not been restored. Prices for a 911T have shown no where near the skyrocketing values of the 911S, nor the sharp uptick we've seen with the 911E, and thus remain relatively reasonable given the overall demand for pre-1974 911s in general. However, this is where I get stuck: if ultimately these cars are going to remain on the lower end of the collector market, then why not just find a good 912? From a performance perspective they aren't terribly different, they look nearly identical, and a 912 might be had at half the cost. Sure, you won't have an air-cooled 911, but you could have a pre-1974 Porsche that you could drive.
-Rob