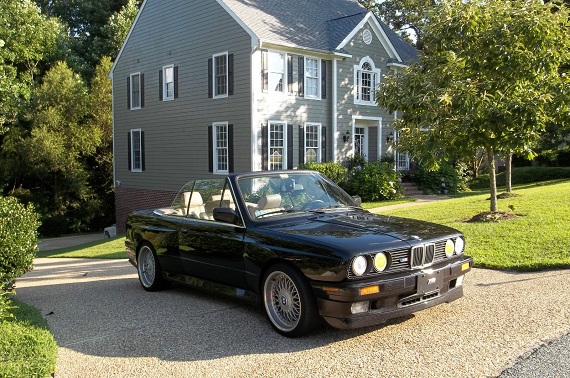 If you look hard enough, it's amazing sometime what you can find. Take, for example, today's E30 convertible that's been modified with both the body pieces from an E30 M3 and the engine from an E36 M3. In the "best of both worlds" scenario, this isn't a bad option – but to find it, you had to have a little faith. Personally, I was interested in both the widebody AMG SEC and the modified E24 6 that were in the ad's cover photo, so I sought more information. What was inside is what seems to be a well built and very presentable box-flared E30 convertible with some serious motivation:
Year: 1989
Model: 325i/M3
Engine: 3.2 liter inline-6
Transmission: 5-speed manual
Mileage: 160,302 mi
Price: Reserve Auction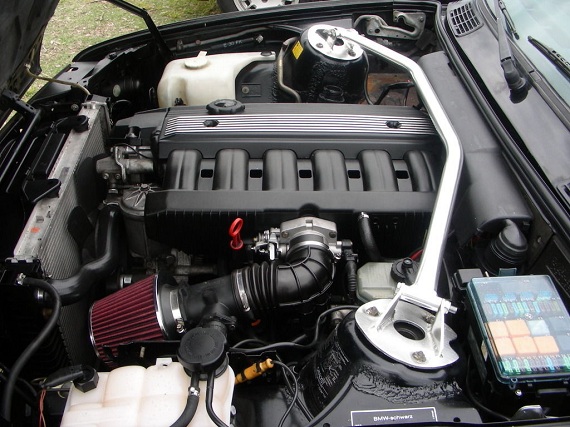 Welcome and thank you for visiting my auction today. First, let me say that you are dealing with a Mercedes and BMW car enthusiast that enjoy collecting and driving these types of vehicles, and have been an EBay member since 2001 with a perfect score of 100%, so rest assure that you are dealing with a responsible and serious person.

Please read all the informations listed on this auction, as I took my time in writing this listing to represent my car very accurately to the next buyer. I have purchased and sold some very nice and expensive cars here on Ebay, and always received a 100% feed back from all the buyers and sellers I have dealt with (please check my Ebay history, the last one I sold was a 1992 Mercedes Benz 500E a couple of months ago). I will NOT bore you with all the stats and history behind this classic 25 years old BMW E30 M3 conversion. If you are looking at my listing you probably know the back ground of this fine automobile, and if you don't, I strongly suggest to Google this car for more info.

You are looking at a 1989 BMW E30 M3 Convertible conversion. This is an amazing car, and in my opinion the most beautiful convertible for its era, and hopefully BMW will bring back this model to production soon.

The car: The Ultimate Driving Experience

1989 BMW E30 Cabriolet "swartz black" (repaint in original color about a year and a half ago with rubbers removed) with factory HEATED tan SPORT interior package (RARE), black manual convertible top in great condition, 5 speeds transmission, sport seats in immaculate condition, power windows, door locks, mirrors. There are no signs of accidents (verified by Carfax and Autocheck), NO rust/rots or abuse on this beautiful E30 M3 conversion. I would rate the body of the car a strong 9 out of 10 with one or two minor surface scratches that are hardly noticeable. The interior is near flawless (some cracking on the driver seat bolster) with no rips or tears in the seats, carpet or panels.

This E30 was always garaged in my Virginia home and spent the summers in my vacation home in MA. This BMW is currently registered and fully insured.

I also have done some tasteful upgrades to satisfy my middle life crisis (as my wife puts it), and performed some mechanical and esthetic enhancements to make this E30 M3 conversion look and run perfect.

An S52 (3.2L) motor and 5spd transmission from a 1999 M3 with less than 60,000 miles and accumulated about 15K miles since the swap (VIN number of the donor car is available to check accuracy of the mileage upon request to serious bidders), converted to OBD1 about 2 years ago.

New valve cover gasket, oil pan gasket, front and rear main seals, oil filter housing gasket, sparkplugs, low temp thermostat, new clutch, belts, radiator, new over flow tank, pulley, cold air intake, and much more that I can't remember.

All the AC lines were custom fabricated with a new compressor, evaporator, brakets… and the system is fully operational which is very rare.

Porche 944 turbo brake booster

3:27 locking rear diff.

5lug swap

front lower control arms, spindles,

Replaced the rotors, brakes pads,

Bilstein struts and H&R springs.

318 Ti rear trailing arms with H&R springs.

upper strutt bar

E39 style 5s wheels with polished lip

New tires (less than 300 miles)

New battery

Recent alignment

All 4 brake calipers are painted Ferrari red with "Brembo" stickers (looks awesome).

Battery relocated inside the trunk..

Upgraded front and rear bumpers, lower front valence and fog lamps,with IS front lip spoiler. IS rear spoiler and third brake light deleted.

M-tech 2 steering wheel,

European M// clock,

Rear headrests.

Just added the M// emblems on all the seats

M3 door sills.

BMW Motorsport doors handle

Updated headlamps converted to xenon with halo.

Replaced the factory radio with a brand new Alpine cd deck with the Ipod connection (have the original radio), and installed a brand new antennae.

Replaced the factory speakers with the high end Alpine speakers (have the factory speakers), and if you are into the Rolling Stones, Andrea Bocelli, or any other music, you will enjoy every second of your ride.

Replaced the original shift knob with the M//

Included in the sale is the very rare Hard Top in mint condition that I purchased 2 years ago for $1300 (a great addition, which changes the look of this car, it can be used in the winter months, and YES it comes with the original BMW stand and BMW cover), and even have the plugs to cover the holes while not in use.

Also included is the E36 M3 rear view mirror (not installed) and the windscreen

I also imported all the E30 M3 body panels from BMW in Europe as they are not available here in the US any longer (All genuine OEM steel quarter panels with receipts). All the work was performed to the highest level at a shop in New England and it came up PERFECT! (I also have all the receipts and additional pictures for any serious buyer).

This E30 have been meticulously serviced at East Coast Exotics (a BMW specialist) in Yorktown, VA and had only Mobil Synthetic oil. The odometer does not accumulate mileage, but all other gages are all in working condition (not an issue as any car over 10 years is sold as "Mileage exempt"). I have some extra pictures available for any interested party, a clear and clean title on hand, an Autocheck and Carfax reports that shows NO accident history, with a buy back garanteed, and 2 keys for the next owner.

This car is probably a strong 9 out of 10, for a 25 years old car, and they do not come for sale in this condition very often, the pictures speak for themselves. Everything works perfectly, even the side mirrors mechanism!! The engine is powerful and run smoothly. The transmission shifts properly thru all the gears. The paint is in excellent condition and still very shinny (9 out of a 10, please look at the pictures). The interior is in excellent condition (9 out of 10, just refer to the pictures), the dash is free from any cracks and is in pristine condition, the floor mats were recently replaced and will come with the M// logo, the rear seats looks like they never being sat on. The AC and heat are both working properly thru all the settings. All the windows switches operates properly, the heated front seats works great in both the low and high setting and they also slides forward and backward without any hesitation.

When placing a bid on this rare BMW E30 M3 conversion, please make sure to compare "apples to apples", and pay attention to the caliber car this is and most importantly who you are buying it from…..

This low mileage 1989 BMW E30 wide body drives and performs as it should, and will easily last another 25 years with proper care and maintenance. The style, design and history behind these BMW E30 convertible will remain a classic for ever, and I promise you that the first person to come and see my convertible will buy her on the spot. This is a very fast, extremely fun car to drive, and ready to be enjoyed by the next buyer. It is a turn key vehicle.

The only reason why I am selling this E30 M3, is that I accepted an opportunity over seas that starts in June 2014, so I am downsizing for my relocation.

Please ask any questions regarding this auction and its content (that has not been covered already on this add) via the EBay email system to protect your interests and mine and have your funds ready when bidding for this auction. I welcome any mechanical inspection by you or a 3rd party (at buyer cost), test drive to potential serious buyers PRIOR to bidding and auction ending. All arrangements and shipping costs for the item(s) listed on this auction are the buyer responsibility, (however, I will assist in every way I can). Please remember that this is a used vehicle (over 25 years old), NOT a brand new one that just rolled out of the assembly line, so please expect some imperfections. A non refundable $1000 deposit is due right after the end of this auction thru PayPal. The balance is due within 72 hours after this auction closes, either with a US issued cashier check, PayPal wired funds or in US currency at the time of pick up. If you need an extra 2 to 3 days to pick up this car, I will be happy to hold it for you, just work out the details with me thru the EBay email system to protect your interests and mine. If you cannot adhere or agree with the terms of this auction, please refrain from bidding.

Please note that this vehicle will NOT be released until all funds have been cleared and verified into my account. Seller reserves the right to cancel any and all bids and/or remove this listing at any time, especially if the payment steps are not followed as described above. This vehicle is sold AS IS, WHERE IS, with NO warranty expressed or implied.

Thank you for checking my auction.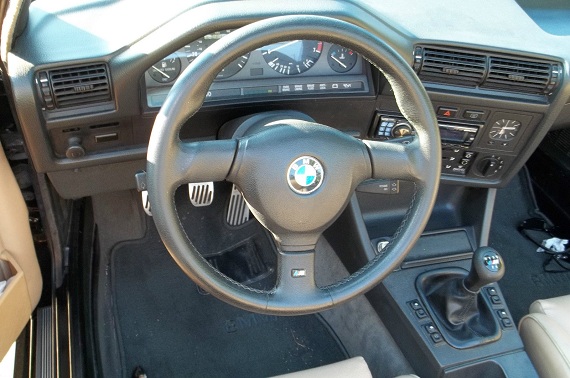 Miles on the chassis are higher and these cars do tend to flex a bit (as do the E36 and E46 variants, for that matter), but the body is claimed to be all OEM and all-steel flares. Additionally, there are the upgraded brakes and 5-bolt setup with the desirable and great looking Style 5 BBS RC wheels. Fantastic! Then there's an OEM hardtop – not often seen with these E30s – even more great news! Top that off with a much lower mile S52 swap, a limited slip rear end, some Bilsteins and H&Rs and this is one great ride. The condition is claimed to be a 9 out of 10, and it certainly looks the part. As with any replica, the values tend to be not as high as the originals, but a lovely and lovingly recreated vehicle that wasn't imported to the U.S. might just sway some people to bid much higher than they normally would. Bidding is currently a hair over $11,000 with a few days to go, so it'll be interesting to see where this neat recreation ends up! From what can be seen, this car looks like it was done the right way and would be a great driver/occasional car in a place with some sun!
-Carter