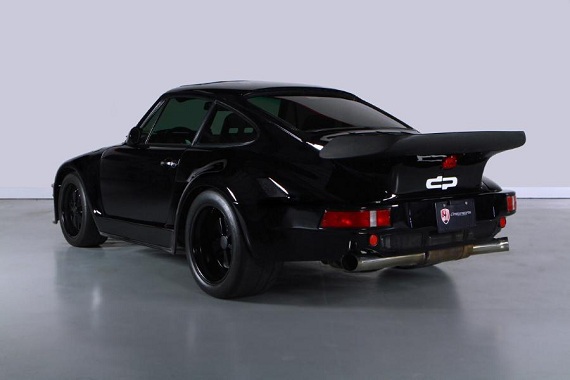 Darth Vader, your car has arrived. One of my favorite cars that I wrote up for "Tuner Tuesday" was the crazy all-black DP935 back in August. The car has moved sellers and is now available on Ebay. A reserve auction this time around, the opening bid price has climbed with reserve still on from the original $109,500 to $124,900. While there are much better photos of the car this time around, nothing else appears to have changed making those some pretty pricey pictures. Still, this is a fun car to look at, so enjoy the darkness!
The below post originally appeared on our site August 27, 2013:
-Carter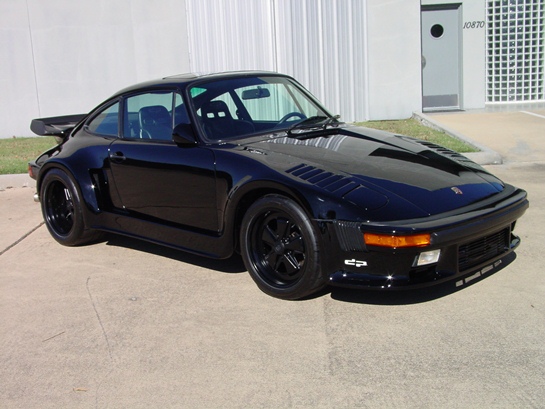 In the world of tuners of the 1980s, there were bonkers cars like the Treser Quattro Roadster we featured last week, and then there were the seriously bonkers cars. What separated them was a level of taste, power and money. Design Performance Motorsport, better known as DP Motorsport, was one of the home of some of the most outrageous street cars available in the 1980s. Starting with their racing connections at Kremer and Porsche, they helped to develop the bodywork for the 935 silhouette cars with their radical slant noses – an interpretation of the rules that took advantage of a lack of specification for where the headlights needed to be located. This resulted in not only a more aerodynamic nose on the car, but one that was capable of generating downforce – something that the 935 took full advantage of.
DP saw the opportunity to bring this loophole to the public roads, and did so with the DP935. Not only looking the part, the modified motors pumped out a then astonishing 400 horsepower and the ridiculously wide rubber helped transfer that to the road. The ridiculous looks were accompanied by some ridiculous pricing, and as a result not many were made. However, a few did make it to the U.S. and somehow escaped all of the government seizures of drug-cartel car collections. Today's example is one of the DP935 Series 2, intended for the U.S. and missing the signature 935 front bumper with integrated headlights, instead adopting a more factory slantnose look: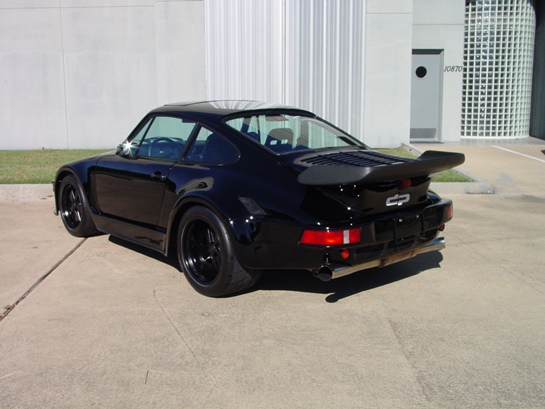 Year: 1986
Model: DP935
Engine: 3.3 liter turbocharged flat-6
Transmission: 5-speed manual
Mileage: 27,500 mi
Price: Reserve Auction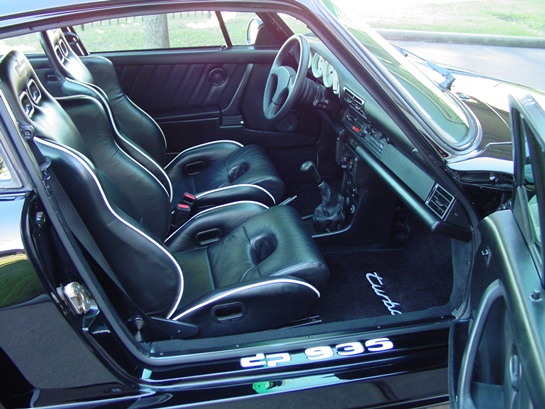 Black/black, 27,500 mi, very rare US version 935 DP stage II street model based on a 1986 US model 911 Turbo, twin plug 412 HP Deman Motorsport engine with dyno sheet, K29 turbo, rare 5-speed, brand new Zuffenhaus 17-inch "Fuchs" wheels powder coated black, Bilstein coilover suspension with Brembo GTP brakes, fuel cell, DP intercooler, oil cooler and race exhaust, DP seats, white gauges and piping, RUF steering wheel, special center console, fresh major service with engine and transmission reseal by Rennsport/Mike Callas, immaculate condition, $109,500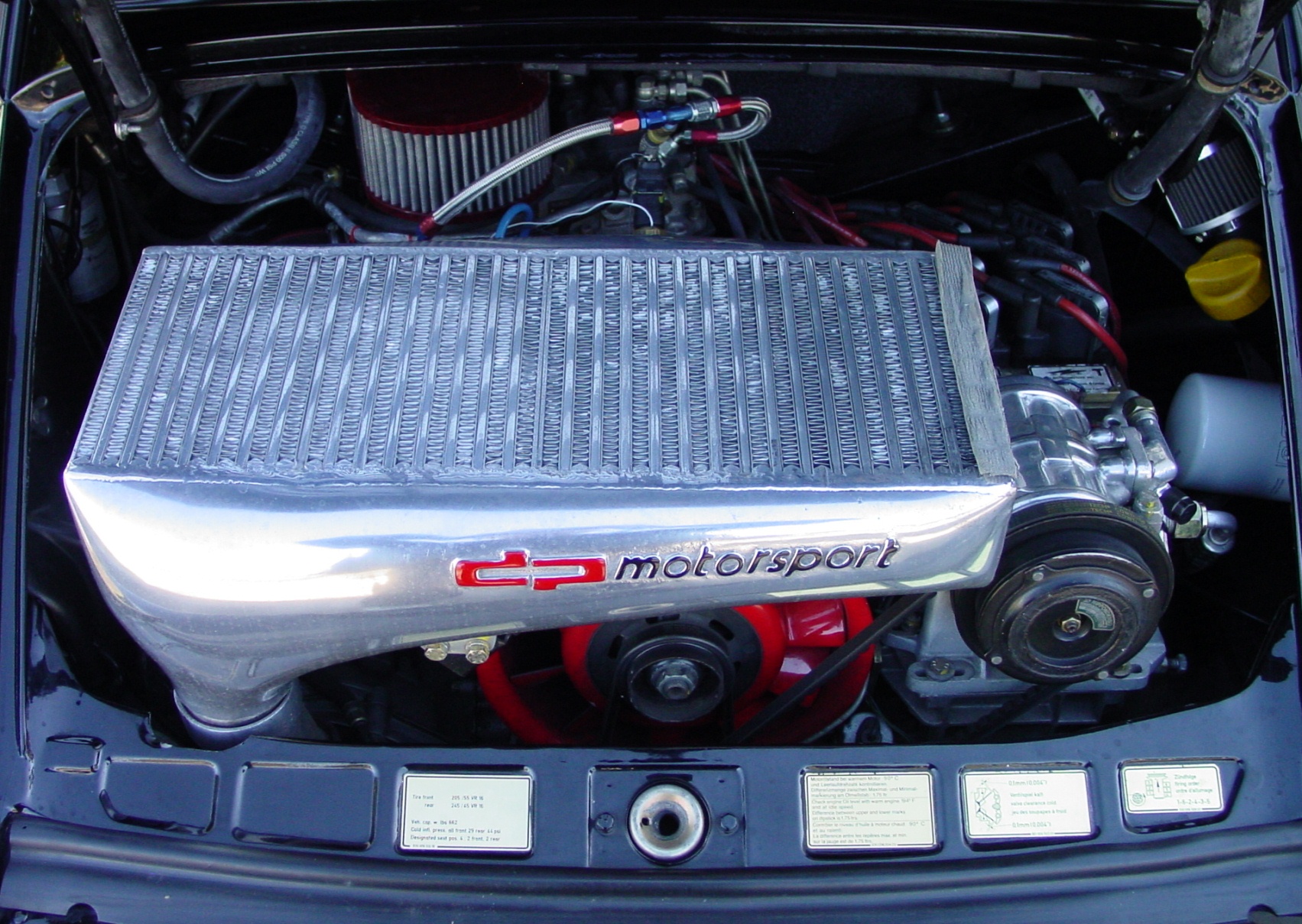 An interesting counterpoint to the understated Rufs, the DP 935s don't seem to hold the same value. As DP 935s go, however, this car is about as understated as they come. While some may prefer the wild stripes and massive nose that accompanied most of the DP cars, this all black model looks great without them and flies low on the radar. The 17" wheel upgrade is tastefully done even for black wheels, and fills out the fenders more than the crazy 15" stock that originally came on these cars. Those original 15"x11" wheels are neat to look at, but try buying tires for them now! Going to 17" opens up some good tire options and are more practical, as well as giving the car a slightly less clownish appearance.
The Deman motor is welcome addition as they're well known for building solid products, and although out of place the Ruf steering wheel looks nice. As a DP935 build then, this car has lost a lot of its originality but makes up for it with some tasteful resto-modifiction. It is neat that it was originally a 930, since some of the DP cars were built on a regular 911 chassis. The price point is sure high, but in comparison to the Ruf motored car at $100,000, this may seem like a better deal. Still, it's possible to get into a very clean 930 for half of this amount, and my feeling is that the rarity and appeal of the DP935 build isn't strong enough to justify the higher price tag, even if it does look pretty menacing.
-Carter