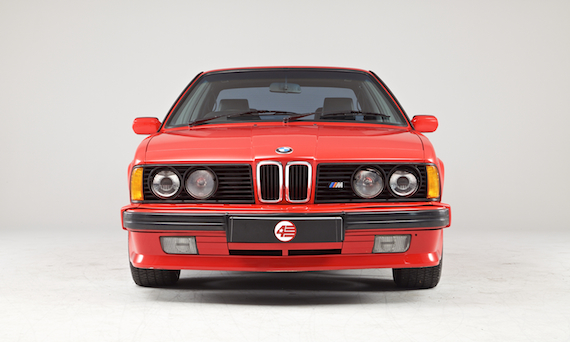 Closing out this week of our seven year anniversary, we decided to give you all something special as you ride into your weekend. Another E24, albeit one even a bit more special than the 5-speed manual 635CSi we saw on Monday. This one is so special that I was unaware of its existence until now, which led me to do some digging. Apparently this was a special model for the UK market, with only 21 cars produced. The Motorsports Edition was available only in three colors, Nogaro Silver, Macau Blue and the Misano Red that you see here from this example on offer from one of our favorite dealers, 4Star Classics.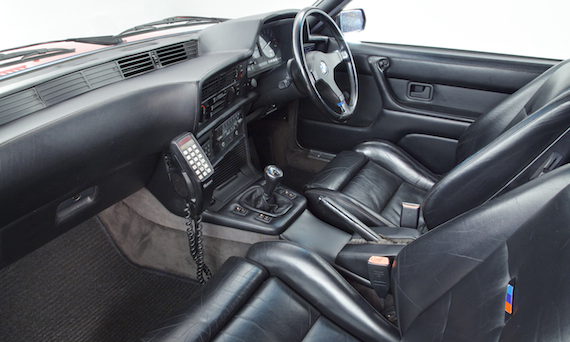 Year: 1989
Model: 635CSi Motorsports Edition
Engine: 3.5 liter inline-6
Transmission: 5-speed manual
Mileage: 129,228 mi
Price: £24,995 (~ $39,357 USD)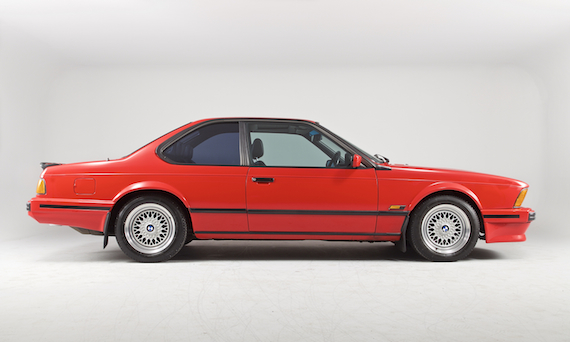 MODEL HISTORY

The E24 6-series was produced from 1976-1989 and was the replacement for the CS and CSL E9 coupes. Like the E9 coupes the early bodies of the 6-series were manufactured by Karmann until production was moved in house by BMW. It was the proven E12 5-series that provided the chassis and much of the mechanicals for the E24. Dubbed the 'Bavarian Ferrari' the 6-series was a high-end two-door luxury sports coupe.

The original 630CS was carbureted and had a 4-speed gearbox. 1979 saw the end of the non-injection fuel systems and the introduction of computer fuel injection. The 635 CSi was not produced until 1978, a couple of years after the introduction of the E24 chassis. The 3.5-litre engine was then improved on again in 1982 when the model received an improved interior and slight exterior modifications.

It wasn't until 1983 that BMW's Motorsport division got their hands on the E24 and produced the mighty M635 CSi. The engine they decided to fit was a modified version of the M88/1 engine found in the BMW M1. This made the M635 CSi the second fastest BMW ever produced behind the M1, a title it still holds today due to the electronic limiters now in place on modern BMWs. Not only was the M635 incredibly quick but also it launched BMW into the same market place as Porsche and Ferrari, combining power, style and presence into one exclusive package. The car featured a sports ZF gearbox (no auto option available), a limited slip differential, gas-filled dampers, and larger vented discs with 4 pot calipers on the front.

Just 524 RHD M635 CSis were produced between 1985 and 1989. To add to the luxury towards the end of production BMW introduced the Highline interior option in mid 1987. The Highline interior includes hand-stitched Nappa leather on the seats, door panels, center console, glove box, roof lining, sun visors, door pillars, upper door trim, and dashboard. There were only 102 RHD M635 CSi Highlines produced making it a rare beast.

With so few cars produced owning an M635 CSi or Highline edition is special enough, however BMW of Great Britain offered an even rarer special edition M635 CSi, labeled the 'Motorsport Edition'. Just 20 cars were consecutively produced from 18/10/1988 to 24/01/1989. These cars were equipped with all the standard features of the M635 Highline model plus the Shadowline exterior trim and M-labels on the seats. Built in three special colour and trim combinations: Misano red (236) with black Nappa highline leather upholstery, Nogaro silver (243) with black Nappa highline upholstery and Macao blue (250) with Lotus white Nappa highline upholstery. The Motorsport Edition was rumoured to have a slight increase in BHP to 292bhp however there is little information on this.

EQUIPMENT

Becker Mexico cassette player, Shadowline exterior trim, Electric sunroof, Highline equipment, Rear-seat head restraints, Tri-colour M-sport labels, Graduated tinted screen, Memory electric seats, Air conditioning, Electric mirrors, Headlight wipers, Rear spoiler, Leather trimmed steering wheel, Spare key.

EXTERIOR

Being a Motorsport Edition this M635 is finished in Misano Red, and is one of only ten produced in this colour. The paintwork retains a glassy shine throughout and, aside from one or two minor age-related imperfections, is almost entirely blemish-free.

The vast, angular panels remain in dent-free condition, complemented nicely by the two-tone pinstripes running the length of the vehicle. All front and rear lenses are completely free from any cracks or moisture, with all plastic and rubber trim pieces showing no signs of fading whatsoever.

INTERIOR

Climb into the driver's seat and the cabin surrounds you with plenty of supple black Nappa leather, finished with the special M-sport labels on each seat. As with Highline cars the dash, doors, and headlining are trimmed in leather, which all presents well with no cracking to note.

The huge Motorsport Edition specification includes fully electric seats, sunroof, mirrors, air conditioning, and a rear-window sunblind to name but a few items. The dash is presented with an original Becker Mexico cassette player and is finished with a period BT handset.

ENGINE & TRANSMISSION

This example has clearly led a pampered life as is evident from the condition of the engine bay and proven by the comprehensive BMW service history, which covers all of its 129k miles. Looking under the bonnet you'll notice how the M1-derived block presents with a nice patina but is in overall excellent condition, with many of the other components retaining their factory lacquer coating.

Driving the car is a real pleasure. A new clutch was fitted in 2011 and the 5-speed manual gearbox still operates with precision.

WHEELS, TYRES & BRAKES

The E24 sits on 15-inch cross-spoke alloys with polished rims. The wheels were refurbished a couple of years back and remain in good condition with only minor marking to note.

The alloys are shod in a set of period Michelin TRX tyres with a good level of tread remaining. The front discs and calipers have seen little use since they were replaced in 2011.

HISTORY FILE

First registered on 19th April 1989 and supplied by Altwood BMW of Slough, this example has covered 129,228 miles in its life to date. During that time the car has received no less than 20 BMW stamps in the original service book, not including the all-important running-in inspection that was carried out at 1,312 miles.

Since the last stamp at 118,802 miles the car has been serviced a further two times by BMW specialists, with numerous replacement parts having been fitted in recent years including a clutch, exhaust, bushes, brakes etc.

Present in the history file is the complete and original BMW document pack. All dealer-supplied handbooks are present as well as several original documents from new. Furthermore, in 2011 the car featured in an extensive write up in Total BMW magazine, a copy of which is included. There are also a number of BMW invoices and numerous MOT certifcates dating back several years.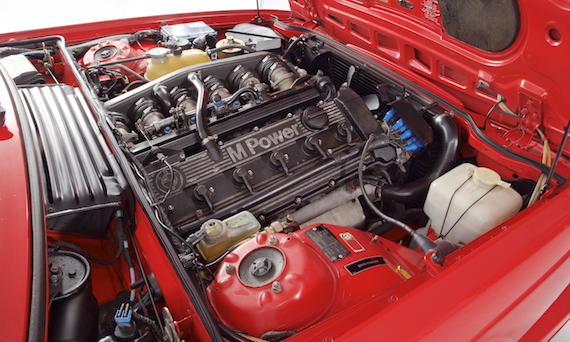 If you really have to have a rare E24, this is probably as good as it gets, albeit you would have to live with right hand drive. For most folks around the world, this would be a detriment, but one that isn't impossible to overcome with some behavior modification. The 1989 635CSi we saw earlier in the week did not sell with a Buy It Now of $32,500 and has been relisted at just under $30,000. That's still rather high for a non-M6. This M635CSi is priced similarly high, especially considering the miles. However, like most cars from this dealer, it is in good condition and has the all important ///M lump under the hood. Along with this, Shadowline trim on any '80s BMW makes me weak in the knees.
-Paul