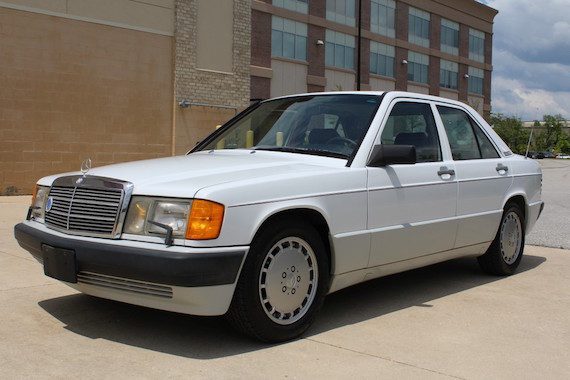 I intended to keep my 190E forever. Unfortunately, the snow bank that I hit after spinning off of the I-95 this past winter had other ideas. I walked away from the accident unscathed but my Baby Benz ended up in a ditch to the side of the road, the right front wheel pointed inward at a disconcerting angle. The front suspension was ruined and the frame slightly bent, but the rest of the car looked fine. I waited nervously for a few days to learn of the car's fate: ultimately, the insurance company refused to pay for the necessary repairs and the car was totaled. I came very close to buying the wreck back and having it rebuilt, such was the strength of my emotional connection to the car. But calm reason prevailed and I let it go.
Nearly every day since then I search the internet for another one just like it. Apart from the color, this car for sale in Maryland is almost identical to the one I lost, even down to the mileage and condition.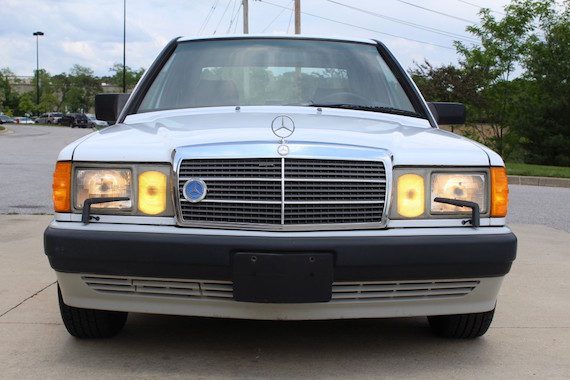 Year: 1989
Model: 190E
Engine: 2.6 liter inline-six
Transmission: 4-speed automatic
Mileage: 86,867 mi
Price: No reserve auction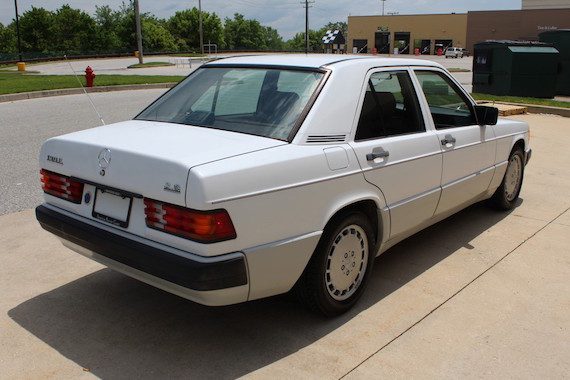 PLEASE READ THE DESCRIPTION AND GO THRU ALL PICTURES BELOW BEFORE PLACING A BID.

NO RESERVE AUCTION SO HIGHEST BIDDER WINS

THIS IS AN ABSOLUTE NEEDLE IN A HAYSTACK (BARN FIND)

IT IS ALL ORIGINAL

ORIGINAL 85,867 MILES

ONE OWNER

NEVER BEEN IN AN ACCIDENT

NON SMOKER

NO RUST

NO WARNING LIGHTS

GARAGE KEPT

SUPURBLY MAINTAINED

ICE COLD A/C

ALL OPTIONS WORK AS THEY SHOULD

WE WENT THRU THIS VEHICLE COMPLETELY BEFORE LISTING IT FOR SALE AND ITS TRULLY IN CONDITION THAT WE HAVEN'T SEEN IN YEARS

UNDERNEATH THE HOOD IS SUPER NEAT AND CLEAN

ITS ORIGINAL PAINT IS SUPER NICE AND GLOSSY WITH NO FADING

ALUMINUM WHEELS ARE SUPER NICE AND CLEAN (NO CURB RASH OR SCRAPES)

INTERIOR IS NICE AN CLEAN. NO SMELLS, NO STAINS, NO PETS, NO CRACKS, NO TEARS.

UNDERCARRIAGE IS JUST AS CLEAN AS THE INTERIOR AND EXTERIOR OF THE VEHICLE

VEHICLE COMES EQUIPPED WITH AUTOMATIC TRANSMISSION, SUNROOF, ALLOY WHEELS, CRUISE CONTROL, POWER WINDOWS, POWER LOCKS, POWER STEERING, POWER MIRRORS, DRIVER AIRBAG, ECT.

THIS MERCEDES IS INDEED READY TO BE DRIVEN ANYWHERE IN THE UNITED STATES

OVERALL CONDITION OF THE CAR IS ABOVE AVERAGE WITH ONLY A FEW MINOR IMPERFECTIONS THAT YOU WOULD EXPECT ON A 27 YEAR OLD VEHICLE.

PLEASE BE AWARE THAT THERE IS $299 PROCESSING FEE WHICH WILL BE ADDED TO THE WINNING BID. THAT INCLUDES 60 DAY TEMPORARY TAG, VEHICLE PREPARATION, LISTING EXPENSES.

WE ARE LOCATED 2 MINUTES FROM INTERSTATE I95 AND 695.

WE ARE 5 MINUTES AWAY FROM BWI AIRPORT. AIRPORT PICK UP IS FREE ! ! !

FEEL FREE TO CONTACT IVAN AT 301 655 8118 WITH ANY QUESTIONS

PLEASE ONLY BID WHAT YOU ARE WILLING TO PAY AND PLEASE HAVE FUNDS PRIOR TO PLACING A BID.

WE REQUIRE $500 DEPOSIT VIA PAYPAL 24 HOURS OF AUCTION CLOSE. FULL PAYMENT WITHIN 7 DAYS AND VEHICLE MUST BE PICKED UP BY 10 DAYS AFTER END OF AUCTION

WILLING TO HELP IF WINNING BIDDER NEEDS HELP GETTING VEHICLE SHIPPED/TRANSPORTED. BUYER RESPONSIBLE FOR SHIPPING COST.

IF YOU HAVE LESS THAN 10 FEEDBACK PLEASE SHOOT A MESSAGE OR CALL 301 655 8118 BEFORE PLACING A BID OR IT WILL BE CANCELLED.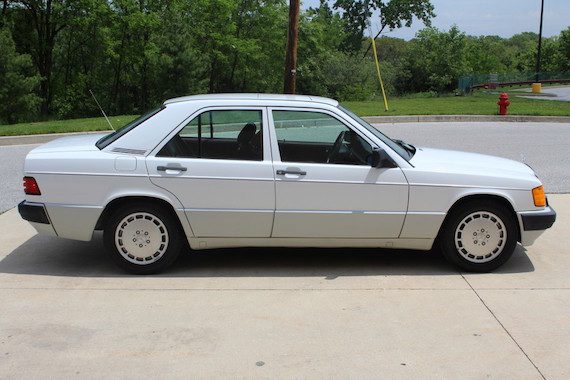 I don't love the coke-dealer white color of this car. But I love everything else about it. I love the boxy, Germanic 80s styling, courtesy of legendary designer Bruno Sacco, which manages to look both modern and classic at the same time. I love the extraordinarily high level of build quality that Mercedes saw fit to invest in what was essentially their entry level car, so that it feels like a miniaturized S-class. I love the silky smooth 6 cylinder engine. I love the oxblood red MB-Tex interior on this example that still looks brand new after 27 years. But most of all, I love the way this car makes you feel when you drive it. It isn't particularly fast. The engine, good for about 160 hp, isn't very powerful and the old-school Mercedes transmission, which automatically starts in second gear and doesn't change down unless you mash the peddle into the floor, is a bit slow. But cruising down the highway the car gives you that ineffable sense of solidity, security and quality that is so definitive of an 80s Benz. Staring down the hood at the three pointed star, you feel that you are driving something much more expensive than you really are. You feel special. 

This car features the 2.6 liter version of the M103 engine that I wrote up the other day in the 300SE, a bulletproof motor that will easily go half a million miles if properly maintained. With a mere 85k miles on the odometer, this one has many years of life left ahead of it and there are few major weaknesses to note. Like all Mercedes engines of this era, the M103s tend to leak or burn a little oil as a matter of course. Anything more significant would indicate a leaking headgasket, since these tend to let go between 100k-150k miles. The mechanical fuel injection system may become a little temperamental with age and can be difficult to diagnose for those unfamiliar with it; symptoms are usually rough or hard starts followed by a smoothing out of the idle RPMs. Potential buyer's would also want to confirm the seller's claim that the A/C is functioning correctly, since an A/C repair can quickly turn out to be a $1,000-$1,500 job on these cars.
No such issues are mentioned in the listing and the condition of this example looks fantastic. If it were not white, and if I didn't have my money currently tied up in an E34 BMW right now, I'd probably be bidding on this car myself.
– Craig