I sincerely hope that down the road I may own a place with a small garage where I can keep two vehicles. I have no intention of letting go of my R53 MINI Cooper S anytime soon, but I think a 911 would be a good option to keep the MINI company. When that time comes, I'd probably be eyeing a 993 or a more affordable 964. However, the absolute last word, at least for me, when it comes to the 911 can be summed up in two words: Club Sport.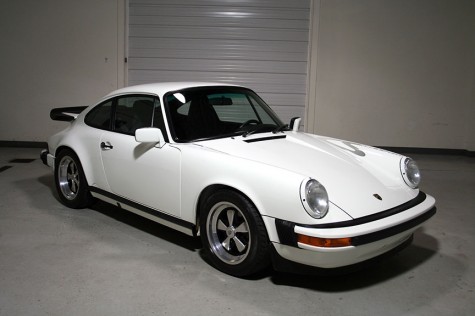 The following car is one of only 7 that were sold new here in the United States in 1989. The M637 Club Sport package adhered to the less is more mantra. Much of the luxury items found in a normal 911 were deleted such as power windows, air conditioning (with the exception of two examples), rear seat, sound insulation, fog lights….well, you get the point. Most wore the Grand Prix White hue and all included a blueprinted 3.2 liter engine with more horsepower.
The following example is low mileage and has proper pedigree. These Club Sports don't come up for sale very often, so all 911 fans should take note.
The seller states:
Grand Prix White, Grey cloth inserts/leather. 14,761 original miles. 1 of 7 in the United States. Factory Lightweight (2558 lbs), NO a/c, NO power seats/windows. Lightweight carpeting in the passenger compartment and trunk. Special 3.2 Liter rated at 231 horsepower. G50 hydraulic clutch, M637 with full delete package. 100% original paint. All books and records. Collector owned since new. Original rims refurbished (NOT SHOWN). Blue Chip investment. Asking $129,900
While $129,000 for a 1989 Porsche may make some folks eyes bulge, if I had the money, I would snap this car up in a heartbeat. It fits all the criteria I look for in a car: rarity, simplicity, driving pleasure and best of all, it's German.
-Paul