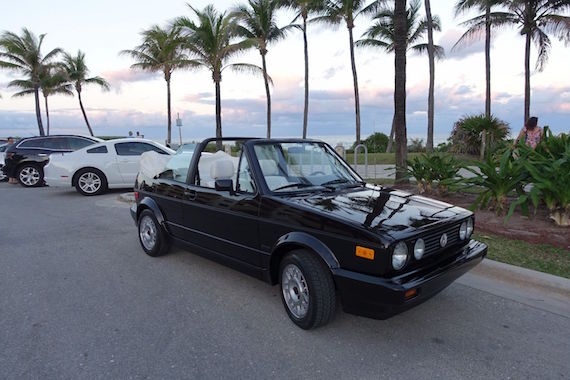 There are few cars, past or present, that do not have a stigma attached to them. The Toyota Prius is for dope smoking activists who are under the impression they are helping the environment. Range Rovers are for trophy wives. Mustangs are for people who enjoy burnouts at Cars and Coffee and jump the median strip or crash into a crowd upon leaving the event. The Volkswagen Cabriolet? The stuff dreams are made of for high school girls and the official sponsor of sororities across the country. Right? Too harsh of an assessment? Well, if I was ever going to question my masculinity, I'd do it with this 1989 Volkswagen Cabriolet. In black over nicely contrasting white leather, the Snowflake alloy wheels and 5-speed manual gearbox set this one apart from the usual cruisers equipped with the 3-speed automatic. This example for sale in Florida is about to hit 80,000 miles and quite frankly looks like it just rolled out of the showroom. I wouldn't mind tooling around in this drop top this summer.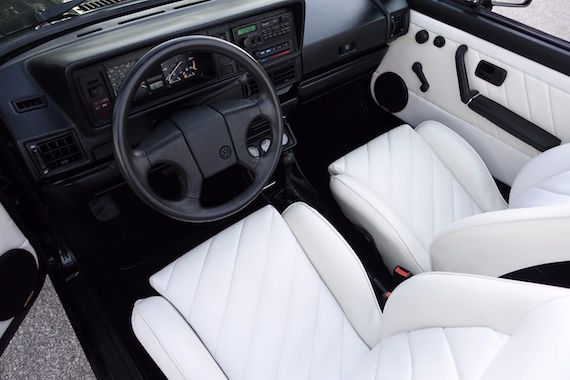 Year: 1989
Model: Cabriolet
Engine: 1.8 liter inline-4
Transmission: 5-speed manual
Mileage: 79,878 mi
Price: $8,900 Buy It Now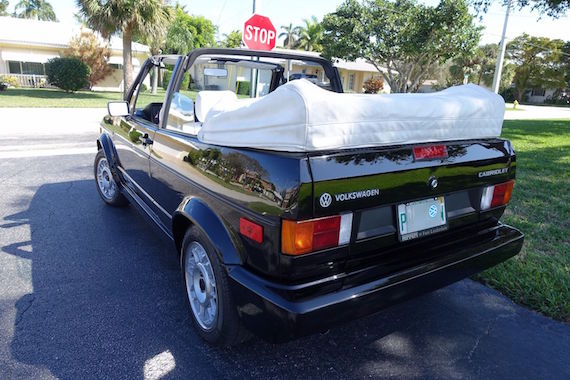 THIS CAR IS VERY WELL MAINTAINED. NO DENTS, ORIGINAL MILES CAR FAX, ORIGINAL RADIO, VERY CLEAN INTERIOR, RUNNING AND DRIVE GREAT, NO RUST UNDER ONLY A SMALL UNDER THE WINDSHIELD NORMAL THESE CARS NEW TIMING BELT NEW BOSCH FUEL PUMP NEW BOSCH FUEL INJECTION FUEL ACCUMULATOR NEW BOSCH FUEL FILTER NEW AC COMPRESSOR NEW AC RECEIVER DRIER NEW SPARK PLUGS NEW BOSCH DISTRIBUTOR ROTOR NEW BOSCH DISTRIBUTOR CAP NEW IGNITION COIL NEW AIR FILTER NEW THERMOSTAT, RECENT ALIGNMENT, I HAVE RECEIPTS AND OLD PARTS REPLACED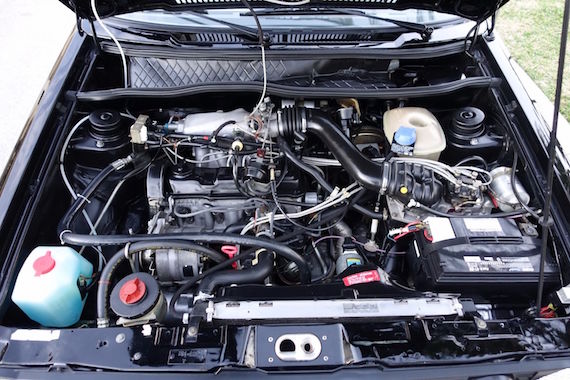 I've always been a fan of the later model A1 Cabriolets, with their color keyed bumpers and four headlamp face. It mirrored a bit of the look of the Citi Golf sold in the South African market through 2009. The seats in this car look impossibly immaculate for a vehicle nudging 80,000 miles. I'm curious as to whether this interior was given a refresh at some point, because even the most anal of collectors couldn't have kept white leather looking good for that long. Back in 2014, we saw a 1987 Cabriolet with a 5-speed manual and under 30,000 miles bring $6,500. Considering that was two years ago, and that this 1989 example has the refreshed look about it, I don't think we're far off the mark here with regards to the asking price.
-Paul