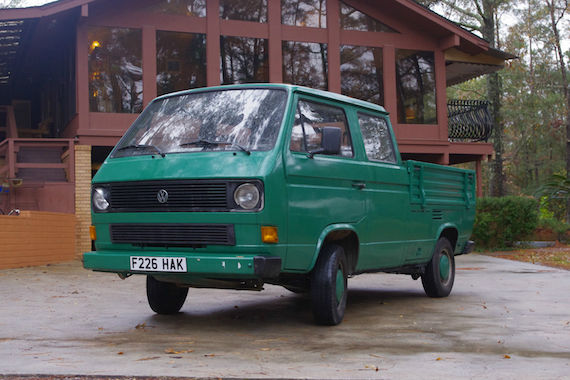 Today we have another ex-German Military DoKa Diesel from Georgian importers Zombie Motors. This time the oilburner has a turbo strapped onto it and it's a slightly brighter shade of green, looking good from afar in the pictures but reportedly a pretty crappy paint job according to the seller. The last Zombie DoKa was pretty rough to look at but had a nice interior, while this one is kind of the inverse. With just 85k miles, it should have a lot of life left in it but will clearly need an enthusiastic project manager.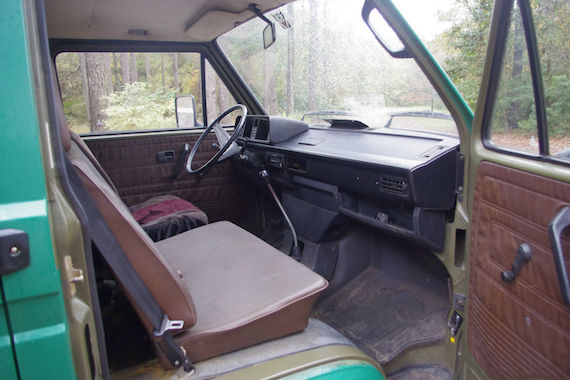 Year: 1989
Model: Transporter DoKa
Engine: 1.9 liter turbodiesel inline-4
Transmission: 4-speed manual
Mileage: 85,000 mi
Price: Reserve auction

I recently bought this VW in England as these are some of my favorite vehicles to import – They sell quickly/ easily here, and this is an especially nice one. As you can see it is LHD/ Left hand drive – This is an ex-German-military truck, and they were taken especially good care of. Reported to have 138K Documented KM, or about 85,500 miles. Truck has a 1,9L VW turbo diesel engine fitted as well as a 'Tall gear' VW 4 speed manual transmission, code DK. Truck is very solid straight and original. Was originally 'olive drab' German military paint (And there are about 20 liters of this paint included in sale if you want to take it back to original color in door jambs, etc) and was very shabbily painted this brighter shade of green. Not a very quality job with plenty of runs and drips. This is the only thing really letting the truck down. Other known defects are all cosmetic and minor – tear on drivers side seat cover, crack in steering wheel, no stereo present, missing plastic bumper end cap are among other defects.

I have been living with this truck for about two weeks now, and can list the problems it has here : A) One morning, when diesel was low in tank, truck became very hard to start, started rough, and took about 2 minutes of idling (After I put in more fuel) before it smoothed out and ran fine again. This happened only once, when tank was empty, and I believe it 'sucked air' into lines. Something to watch though! B) Starter motor is on its way out. Sometimes solenoid only 'clicks' severaal (or many) times before actually turning engine over. It is worse when truck is hot. I WILL BE CHANGING THE STARTER WITH A NEW ONE THIS WEEK… so should not be an issue for new owner. C) Blower motor in dash for heater has not come on since I owned truck. I have not investigated why. D) I think there may be a couple teeth missing from either starter motor or flywheel, and when starting sometimes you hear the starter speed up as it skips a few teeth. This could be fixed when I replace the starter, or it could require more work (changing ring gear) on flywheel. In the meantime this will not leave you stranded, it just makes a curious noise. E) Parking brake needs adjustment. All brakes were recently replaced with new (front and rear) and I do not believe rear brakes were adjusted. Handle comes up and they are just beginning to grab. I will adjust if I have time, but I have not had time in the last two weeks so far so can not promise anything here… And I think that is it!

I am tempted to call this truck 'Rust Free' , but if you really look hard you may find a spot someplace, most likely surface rust. I can tell you the places these are usually in terrible condition; treasure chest underneath loading area, floors, door seams, are all perfect top and bottom. The only place I really found a tiny area of rust was a small bubble under a window seal in rear. Really, nothing much at all. Best to come and see for yourself.

Truck starts (other than the issue mentioned above) runs and drives great. Alot of pickup, surprising really — feels very powerful and fast. Will accelerate right up to 70MPH – 75MPH in a jiffy, that's about it, but returns 35-40MPG constantly, which is amazing or a truck, really. I would feel confident heading out anywhere in it once the starter motor has been replaced.

New front disc brakes. 1.9L turbo diesel engine fires up and runs properly with no surprises, other than a small oil leak coming from oil pan. 4 speed manual transmission shifts properly as well, and brakes work as you would expect. Body is very straight and would require no body work should you choose to repaint it. No hidden bondo or other problems that I have seen, and no rust as mentioned above. 'treasure chest' has been sprayed with textured paint to protect it, but please see photos of underneath of the truck, there is no rust there. Truck drop-sides are working well and also straight, but load deck of truck bed has many dents and dings consistent with being in use as a truck to haul loads.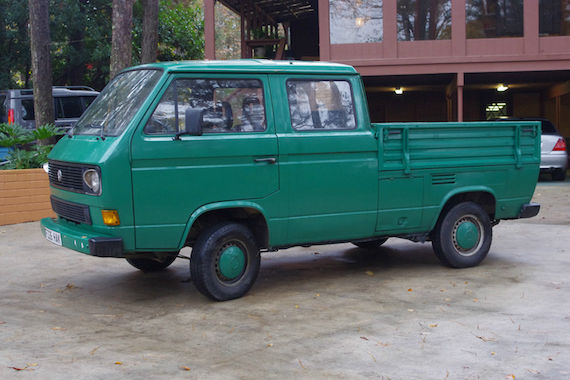 The last green DoKa ended up going for $12k, a pretty tidy sum for such a zombiemachine. This one shouldn't get quite that high, but as the seller says he loves importing them because they sell easily. For around $10k this would be an efficient work truck that you wouldn't mind banging around in.
-NR