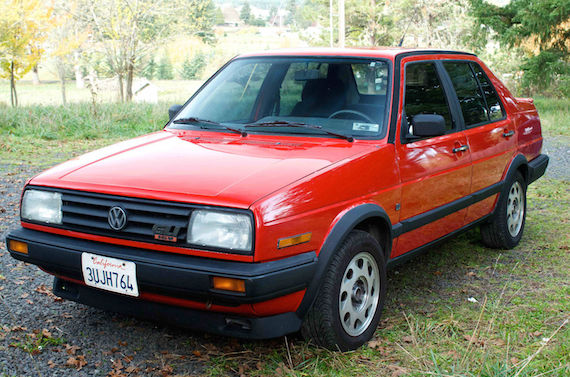 For those who may have missed it, one of GCFSB's own, Dan, recently purchased a 1989 Volkswagen Jetta GLI 16V. Dan's car is a work in progress, but for less than $3,000 proves to be solid value and a good basis to undertake some modifications to make it into a fun daily driver. He has already started work on personalizing it, so stayed tuned for updates in the near future. This Jetta GLI is of the same vintage with around the same mileage as Dan's car. While it just hit 200,000 miles, it looks as if it could have done half of that.
Year: 1989
Model: Jetta GLI 16V
Engine: 1.8 liter inline-4
Transmission: 5-speed manual
Mileage: 201,032 mi
Price: Reserve auction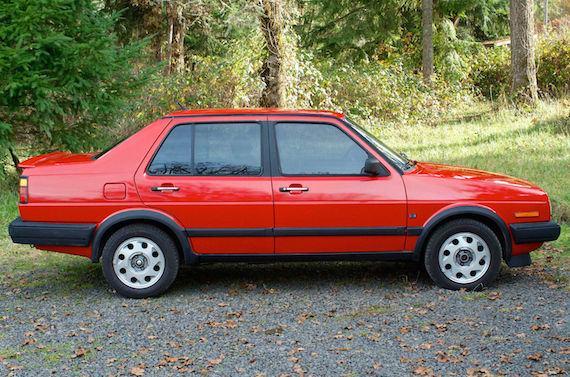 1989 VW Jetta 16v with just over 200,000 miles. Car is in super nice condition, been in California it's whole life until recently, no rust and very recent nice paint job. This Jetta was manufactured in Germany (see VIN tag photo). Recaro seats are in super condition too as is the overall interior, dash has only 2 small cracks (see photos). Car has new headliner, new tires (General Altimax HP directional tread), alignment, muffler, brakes (new rotors/pads in front and new pads in rear). I installed 2 rebuilt control units very recently (ECU and Knock sensor). I paid $400.00 ea from AutoECM. I still have both of the original cores. I have all 4 wheel centers too.

I put on a cylinder head from a Jetta that only had 90k on it. This was done about 3 1/2 years ago and car has been driven maybe 30k since. I was going to put in lifters when I came across the head and did this instead. I did a recent compression and all cyls right at 200psi. Motor does not burn one drop of oil and runs very strong. No lifter noise at all too. I still have the original head with the cams which is in great shape, flat as a pancake, just needs the lifters.

Car also has Bilstein shocks, all service work done by me. I have been a German car tech for over 25 years, have most receipts. I just recently moved to Oregon and decided not to do any more wrenching. I don't want to sell the car, best car I have ever had. They don`t make VWs like this anymore. I don't have a garage now and it kills me to keep it outside so it`s best to have someone who can garage it and have it stay inside. I think someone who like to
tinker, has some VW mechanical experience or knows a good VW mechanic will benefit most from owning this car.

Other things done are Kingsborne plug wires (7 mos ago), high rated nice wires made in the US. Recent ignition switch, sunroof seal, door seals, trunk seal. Clutch was done about 40k ago, no chatter, I am very easy on it. Tune up about 5k ago, including spark plugs, fuel filter, air filter. I know there is more, can't think at the moment.

Timing belt is due in a about 6 months or so. AC is nice and cold, heater is a bit marginal at the moment, only a problem when below 30 outside. The idle is a little rough at times and is a little cold blooded. I usually give it a few minutes of warm up before taking off when cold. I think either the idle control valve might be the
issue. Also, it wouldn't be a bad idea to get a timing light (mine is broken) and make sure it is right on the money and have the fuel mixture checked to make sure it is right where it should be also.

Last thing. The odo as of the last couple of years doesn't always advance. The true mileage is probably about 10k or so more than indicated. The speedo has always worked and still does. The odo seems to function about 30% of the time. Oh, recent motor mounts, lower ball joints and battery. Any more questions, just ask.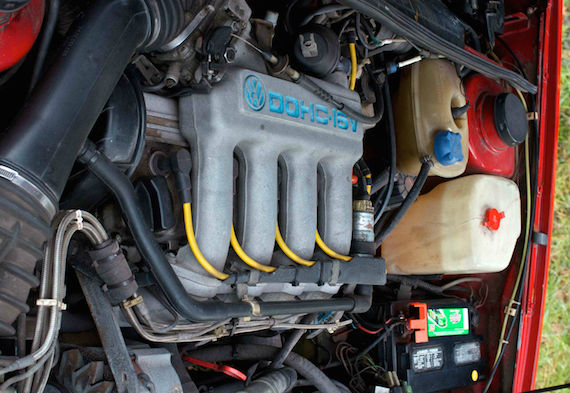 While the Mk2 GTI will always be the most visible Mk2, the Jetta GLIs are garnering their fair share of attention. For those who have a small family or need a little bit more space but still want to enjoy the Mk2 experience, these sedans are a great compromise. A long-term California car such as this one would provide a lot of cheap thrills. Realistically, somewhere between $2,500 and $3,000 should be enough to snag this.
-Paul