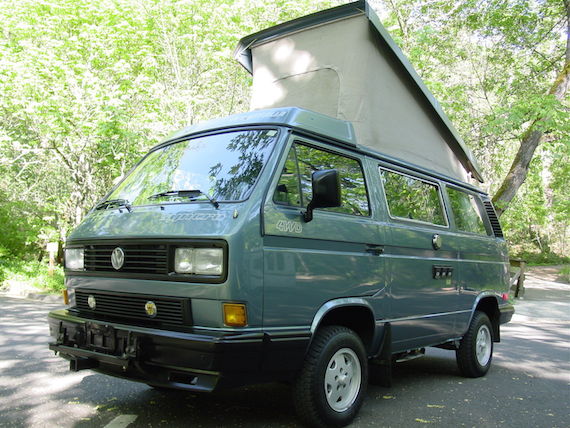 If you want to go camping in your vehicle these days, there's not a lot of ready made options out there on the market short of specialty RVs these days. But years ago, Volkswagen was more than happy to meet the need to take your home out on the highway with the Vanagon. The Westfalia Camper was offered through most of the Vanagon's life, offering a pop-up camper top and miniature kitchen. To this day, few have matched this van's utility, especially when coupled with Syncro four-wheel drive. This Vanagon GL Syncro Westfalia for sale in Oregon is ready to tackle the scenery of the Pacific Northwest with aplomb.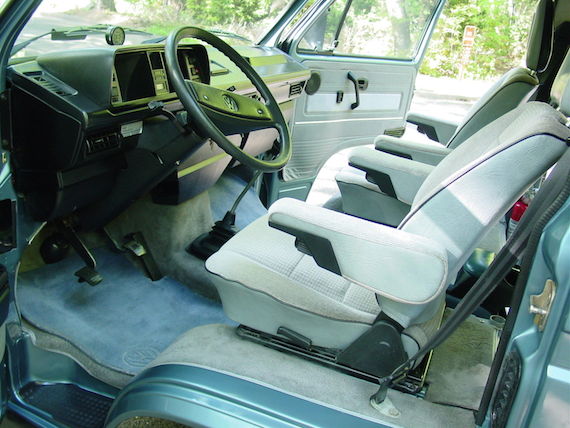 Year: 1989
Model: Vanagon GL Syncro Westfalia
Engine: 2.3 liter flat-4
Transmission: 4-speed manual
Mileage: 236,000 mi
Price: Reserve auction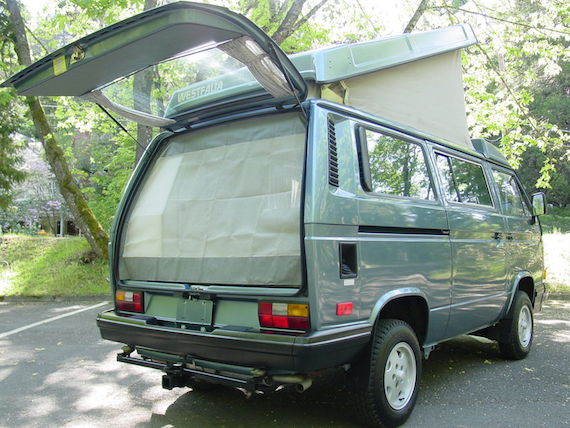 Here is a super rare, two owner 1989 VW Vanagon GL Syncro Westfalia Bus, full camper!! This Van is equipped with the GoWesty 4 cylinder, 2.3L motor, a German Transaxle 4 speed manual transmission and four wheel drive!!

The body of this van is very, very straight, no scratches, no dents and no dings, never wrecked. The paint shines and looks beautiful! No Rust, None. This Syncro was special ordered and bought brand new in Bend, OR at Carrera Motors! As with most of these vans, the original paint started to oxidize and the entire van was re-painted, including the top a few years back to the original color, Dove Blue paint code LH5U. This is a professional paint job done at a professional body shop at a cost of just over $5K!! All windows were removed and all new window seals installed, please see pictures. Both the owners were meticulous and took excellent care of this Syncro since purchase, this van was never abused, four wheeled or used to live in!! Strickly used as a road/travel vehicle with no expence ever spared on preventative maintnance or repair! All receipts adding up to the cost of just under $34K, we have all records!!

The interior is in great shape. There are no cracks in the dashboard, please see pictures. The headliner as well as the sun visors are in excellent condition. The drivers and passenger seats are in great shape, please see pictures. The carpet is in good shape as well, no rips and only a few small stains, please see pictures. The bottoms of the door panels are starting to lift a bit, please see pictures. The power mirrors, power windows and power locks work great, rare! All of the guages work perfect. The windshield is in good shape only a few chips, not in drivers view and no cracks! The tint is original and the two front windows are showing some wear in the film. The AC has been converted to the new system and works good and this van is also equipped with factory power steering! The cruise control works great as well!! All of the camping equipment works great, the stove has never been used to cook on and still has it's original blue plastic wrap, please see pictures!! The canvas top is original and in great shape with no holes, please see pictures. This Syncro is equipped with a nice set of front and rear receiver hitches used for transporting bicycles and kayaks, please see pictures. Also, the van will come with some nice extras including a Blaupunkt Denver 147 CD player, an Altimeter, original blue VW floor mats, a full bus cover, a first aid kit, as well as all VW Vangon manuals/books including the owners manual, VW warranty booklet, VW maintanace book stamped from day one on 1-7-89, first stamp at Carrera Motors, VW camper manual, A Dometic refrigerator manual and the original VW Vanagon sales brochure, please see pictures!

The original motor lasted 235k and was getting tired. This brand new GoWesty motor has just over 1k miles on it and has been properly broken in, following GoWesty's engine brake in procedure for their water boxer engines! The motor was installed at a cost of $7,447.71 including a brand new clutch pack, all hoses, belts&gaskets as well as brand new fuel injectors!! The brand new 4 speed manual transmission from German Transaxle shifts super smooth, installed at the cost of $4,224.73!! Also, at 221k miles this Syncro had all new radiator hoses as well as both coolant hard lines replaced at a cost of $881.27! There has also been a lot of other maintnance, repair work performed on this Syncro over the years, which all adds up to the cost of just under $34K, we have all records!! All 4 tires are almost brand new, Cooper Discoverer Radial, size LT 195/75R14 mounted on stock factory VW alloy wheels!!

Please keep in mind that this is an older vehicle and is not in new condition!! Please expect normal wear and tear for a vehicle of this age and miles, this is not a brand new vehicle and it is not perfect!! If you are looking for a Super Rare and Like New VW Syncro Westfalia Full Camper 4×4, than this is the Bus for you!! This is one of the most stock, original and un-modified Syncro van's you will ever find!

We have many more pictures of this Syncro, please let us know if you would like to see them.

Please view all pictures and ask questions before bidding.

I reserve the right to end auction at any time!

Buyer is responsible for pickup and or shipping.

If you do not plan on buying this item do not bid. NO DEAD BEATS!!

If you have zero or negative feedback you must contact me before bidding.

For any questions please email or call me at 541-941-6754.

GOOD LUCK!!!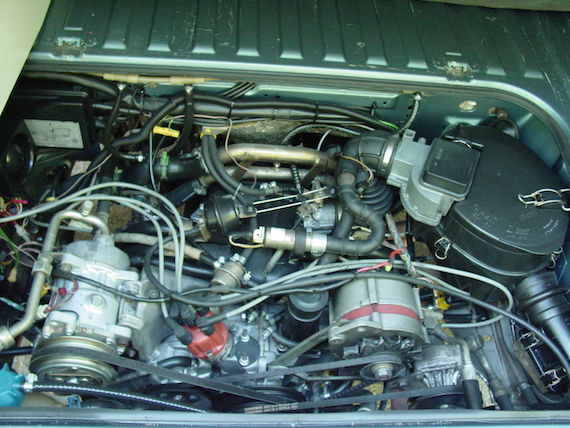 There's a lot of enthusiasts investing lots of money in these rigs lately and the values are showing it. These are truly some of the most expensive 1980s era VWs money can buy. A Syncro with the Westfalia Camper package is the ne plus ultra for many, with some fetching north of $50,000. Along with the super condition and availability of all records, this one should bring strong money.
-Paul