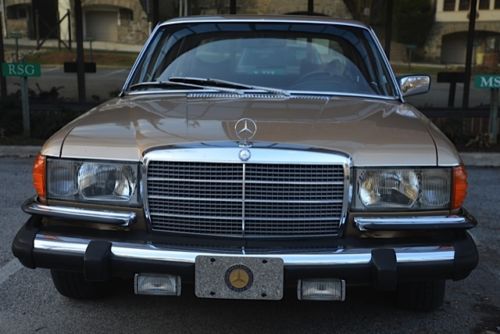 On the surface, the themes were very similar; two movies staring action superstars playing above-the-law criminals with an amazing ability to extricate themselves from seemingly impossible conditions against improbable odds driving large, fast executive cars. Despite this, the movies Ronin and The Transporter couldn't be more different. I watched the former on the edge of my seat, captivated by the mystery, floored by the incredibly filmed stunt scenes, the attention to reality and detail, and the staggeringly awesome lineup of cars. The latter I struggled to get through at all; I managed to make it about half way through before giving up. To this day, I still haven't seen the ending of the first movie, and nothing more than trailers of the second. Is there a third? I'm sorry, I'm sure it made a gazillion dollars in the box office but frankly when I watched the clip of the Audi A8L W12 corkscrewing through the air to miraculously remove a bomb from the bottom of the car on a perfectly placed scrap-metal magnet hanging in mid-air I lost all interest. I can suspend my belief for a movie like Ronin because there was an air of reality to it; the characters were flawed and mortal. Sure, there were problems with the plot and even some of the stunts – I mean, they don't show Jean Reno standing in line at the DMV to register the 450SEL 6.9, for example. But in terms of reality, it was on this planet at least, while The Transporter seemed to be set in some alternate Japanese-live-action-anime reality I'm not sure I want to understand. Nevertheless, the central plot to both is about cars and driving (at least a bit), and today you can purchase just about all of the cars featured in these films for around $10,000 – so which would you have? I had to use a bit of creative with some of the versions, so you'll bear with me I hope – here we go!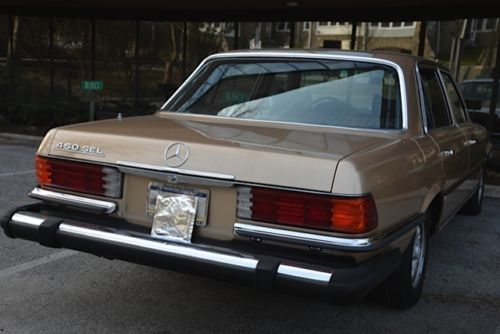 Year: 1980
Model: 450SEL
Engine: 4.5 liter V8
Transmission: 3-speed automatic
Mileage: 84,900 mi
Price: $9,900 Buy It Now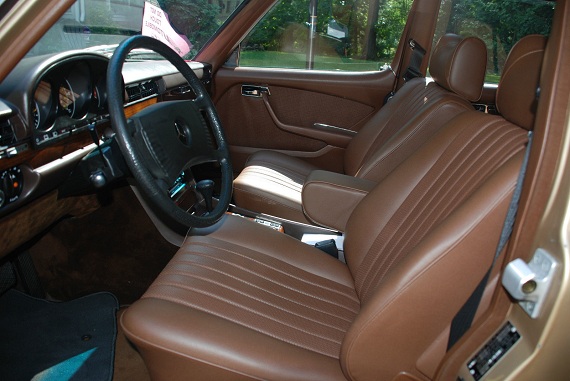 Champagne with tobacco interior, Multiple New Hope award winner including first place. Undoubtedly one of the finest in the country. Mechanically perfect, cosmetically excellent. Garage kept, maintained by MB master mechanic. New MB tex interior. Euro headlights. All accessories work. These cars are getting extremely difficult to find. Don't miss this chance !

I bought this car 5 years ago from a collector. I spent 6k having all of the mechanicals inspected and corrected if necessary by CS Cantlin in Conshohocken PA. Cantlin says it is the nicest w116 he has ever seen. I have since had the seats reupholstered, the wood refinished by heritage. We installed the euro headlights as well. While the car has been used as a show car and for occasional trips, it would make a great daily driver. The car drives like new and always gets attention. We have limited garage space and I need to make room for a new sports car. My 18 yo son wants this car but its too nice and my conscience simply won't allow it. So I'm looking to find it a good home. I have at least 16 k in the car.

There are additional photos at http://www.flickr.com/photos/93455586@N06/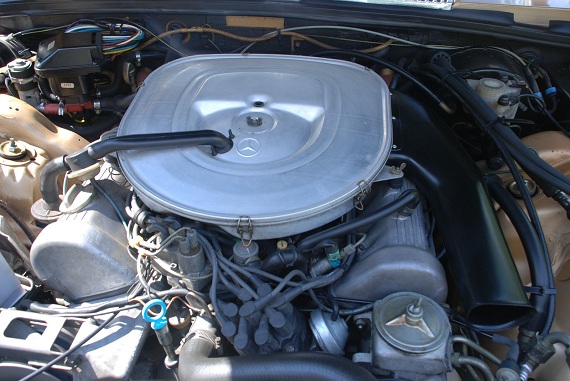 Pretty amazing condition sums up this 450SEL well; overall, this car looks nearly show ready. In fact, the owner claims its won many shows and it's very believable. So why so cheap? Well, it's neither the most desirable S-Class Mercedes-Benz, nor is it even the most desirable version of the 450SEL – that'd be reserved for the 6.9 that was featured in the movie. But, if you're willing for forgo the 6.9 power plant and instead have a stunningly good condition W116 to enjoy heading to shows with the entire family, this is a great option. The seller has obviously cared well for it; unusual to see on these mainly-overlooked SELs. Rather have something a bit more sporty?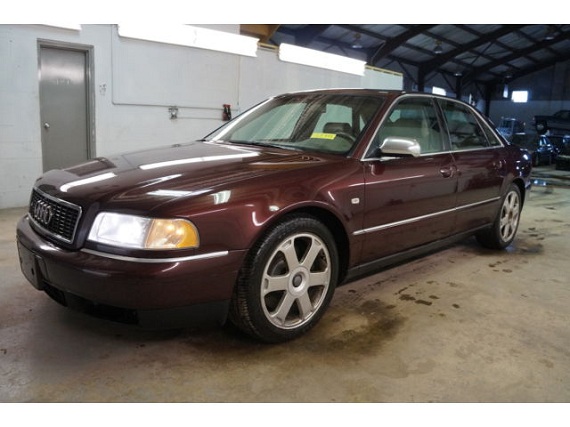 Okay, the S8 in the movie was a Euro-spec car and green (and, a manual…and, with nitrous), but we didn't get those options here, so what we do have is a first-year U.S. spec S8. Finished in rare-to-see Andorra Red Pearl effect with tan Recaro sport seats, it's an unusual combination for these big aluminum sport sedans: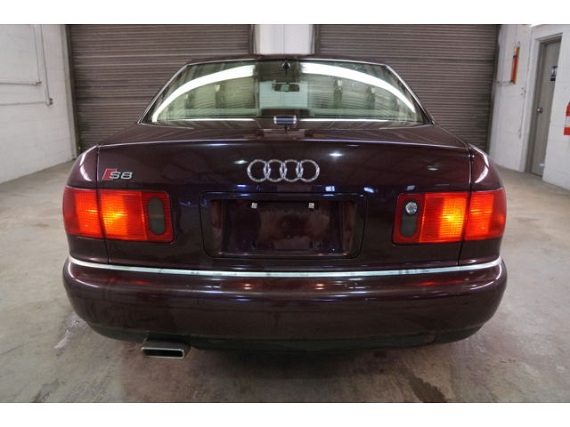 Year: 2001
Model: S8
Engine: 4.2 liter V8
Transmission: 5-speed automatic
Mileage: 121,000 mi
Price: No Reserve Auction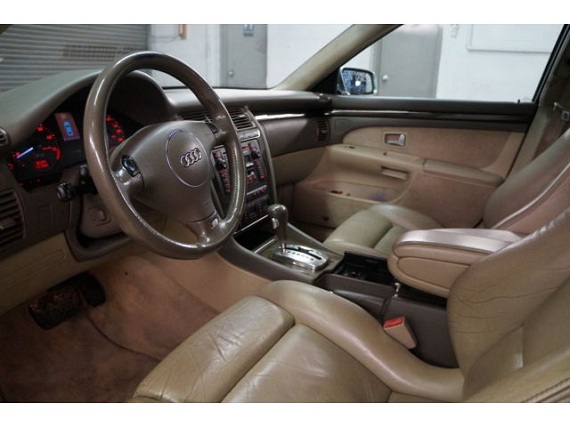 Hello and thank you for looking at my auction. My name is Joe and I sell vehicles differently than most dealers. Buying your next car or truck through one of my NO RESERVE auctions is the best way to take the games out of your next automotive purchase. I personally road test each vehicle before it is offered for sale so I can give you my first hand opinion of how it runs and drives. Please keep in mind that I am not a mechanic. Each vehicle is represented accurately and honestly to the best of my knowledge and ability. Please take the time to read this entire description as well as our Terms & Conditions carefully BEFORE asking questions or placing a bid. An administrative fee of $149 will be added to the final bid of each auction.

Up for a NO RESERVE auction today is one of my personal cars. It is a very rare 2001 Audi S8 Quattro. The S8 is the performance version of Audi's luxurious A8 flagship sedan. Here in the U.S., we could only get the D2 S8 for the 2001, 02 and 03 model years. These expensive performance sedans were imported in extremely limited numbers and are not easy to find. The S8 had subtle exterior differences from its lesser sibling, which included large 18″ Avus wheels, lowered suspension and subtle badging front and rear…so few people know how special these cars are. I would rate the exterior of this S8 to be in AVERAGE CONDITION for her age and mileage. As you can see, this is a great looking car finished in a very desirable color combination. The wine colored exterior shows very well. The paint shines nicely and is free of any noteworthy flaws or damage. As with nearly every older Audi, this S8 is missing a few pieces of plastic exterior trim (lower grille inserts and one piece of lower door trim). The body nices are nice and straight. All of the glass and lenses are intact. The Avus alloy wheels could use cleaned up between the spokes but are straight and not damaged. The tires are a matching set of Continental's with good tread all around. Please take your time and check out each of the photos carefully.

I would also rate the interior of this Audi S8 to be in AVERAGE CONDITION for the age and mileage of this vehicle. The light tan interior contrasts nicely against the wine color exterior. The door cards show some wear, as most older Audi's do. The carpets show well throughout the interior. The dash is clean. There are a few spots where the headliner could use cleaned but it is tight and not worn out. The deeply bolstered sport seats show well for their age and are very comfortable throughout the interior. All four seats are power operated and heated. The rear shades are in excellent condition and all raise and lower properly. The wood interior trim shows well. The Audi/Bose Premium Audio system powers up and sounds good. The climate control system is fully automatic and appears to be working properly. The heater keeps the cabin toasty on cool mornings and the air conditioner blows ICE COLD AIR, too. The trunk is spacious and clean.

Mechanically, this S8 has been very reliable in the time I have owned it. The 4.2L 40V V8 engine starts easily and runs smoothly. I have not seen any leaks and the engine does not smoke. The upgraded suspension feels tight, confident and well sorted. The steering feels light and confident. The brakes are new all around and stop this rocket ship with no issues. These cars are an absolute blast to drive. This is the 2nd S8 I've had the privilege of owning (my other was an Avis Blue/Oxblood 2003). The engine makes 360hp and loves to rev. The all aluminum body keeps the weight down to really make the most of the available power. The transmission Audi used in the S8 was the ZF adaptive drive five speed automatic which is one of the best automatics available in a passenger car. Up-shifts are smooth and crisp…down-shifts are almost intuitive and make these cars incredibly responsive. The Audi S8 has an almost unbeatable mechanical design. The V8 engine makes excellent power and happily revs to its 7,000 rpm redline when you want it to for a very street friendly power range. The exhaust is aftermarket and has a low, smooth humm to it…sounds great without being intrusive and compromising the luxurious nature of the car. All of that easily accessible power travels through one of the best automatic/tiptronic transmissions available in a passenger car… and it then put to the road through Audi's legendary Quattro all wheel drives system…oh, and it weighs about as much as a 3 Series BMW thanks the the aluminum body. In other words, the D2 Audi S8 is an absolute barrel of monkeys to drive. It has the power to really scoot like you'd expect from a full sized performance sedan. Her real treat is that you can put this car through corners like an M3 and it just sticks with seemingly endless grip. This is one of the most user-friendly "super-sedans" on the market…with low maintainence costs, too! The more I write, the more I want to keep it, haha. I've been fortunate enough to own two of these incredible cars in my life so far but I neeed to clear out some room in my garage so it's time to cut this one loose. Thanks for looking and good luck bidding.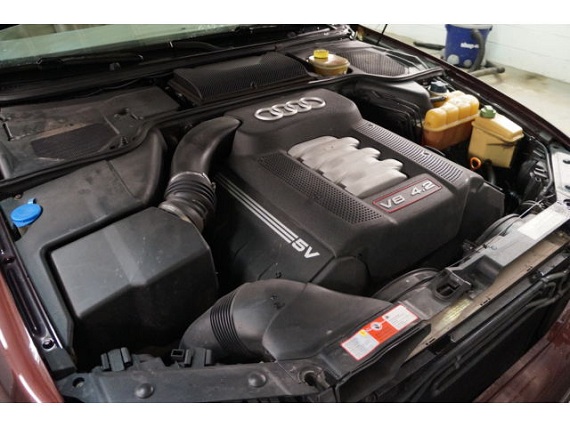 Mileage is about par for the course on these S8s, and so is condition. It's neither impeccable, nor is it trashed. I fail to understand why anyone would put a car up for sale without taking some photos of it clean (and, perhaps in sunlight), but you can't control other people. In typical fashion, those great Avus 6 spoke 18″ wheels show encounters with curbs, the exhaust is some aftermarket unit I'm not familiar with, and I believe the warning light on the dash indicates that the self-leveling headlights may have malfunctioned – though I'm basing that off the Allroad's often-illuminated warning lights. Fixing those warning lights can be deceptively expensive in these Audis, and if you don't you'll be greeted at every startup by the car cycling through the various broken items with a "Hey, idiot – I'm not working" beep. Despite that, you're getting a lot of car for what should top out around $9,000 – $11,000 – 360 horsepower, all-wheel drive and enough presence to woo Hollywood starlets – well, it worked for DeNiro, right?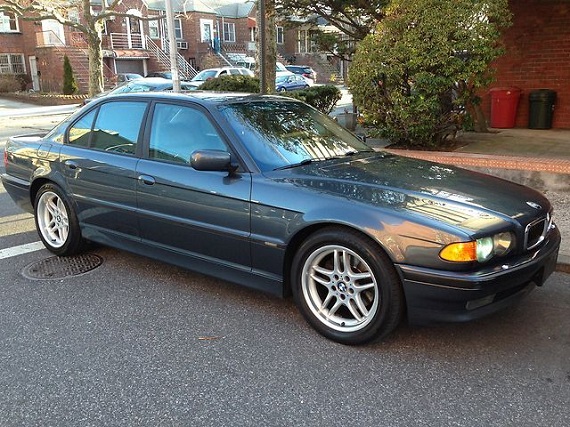 Moving on to Imaginationland The Transporter, we have first the E38 BMW driven by the lead character. I don't really know his name, and I always confuse the actual actor's name with Jason Bateman, so we'll just call him Jason. Anyway, Jason pulls some pretty incredible driving stunts in his BMW – the only one I seem to remember was the improbably smokey brake-stand, though. Honestly, I think the James Bond franchise did better by the E38 when they jumped it off the roof of the parking garage and into the side of the Avis rental facility. But nevermind that, you still love the 740i Sport: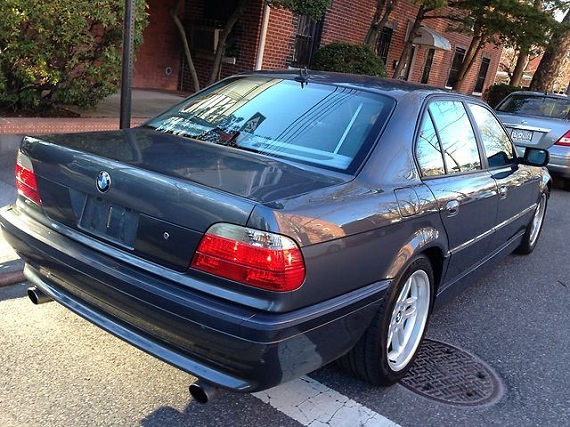 Year: 2001
Model: 740i Sport
Engine: 4.4 liter V8
Transmission: 5-speed automatic
Mileage: 112,000 mi
Price: $10,900 Buy It Now
This is a smoke-free automobile.There is no damage evident on this vehicle.The exterior condition of this vehicle shows that it was garaged.The engine on this vehicle is running properly.This vehicle has no known defects.The mileage represented on this vehicle is accurate.There are no signs of prior damage on this vehicle.There are no noticeable dings on the exterior of this vehicle.This vehicle has a smooth shifting transmission.All power equipment is functioning properly.The exterior of this vehicle is extra clean.Extra clean interior. Absolutely no rips, odors or abuse.There is approximately 75% of the tire tread remaining.195$ DOCUMENTATION FEE WILL BE ADDED TO THE FINAL PRICE..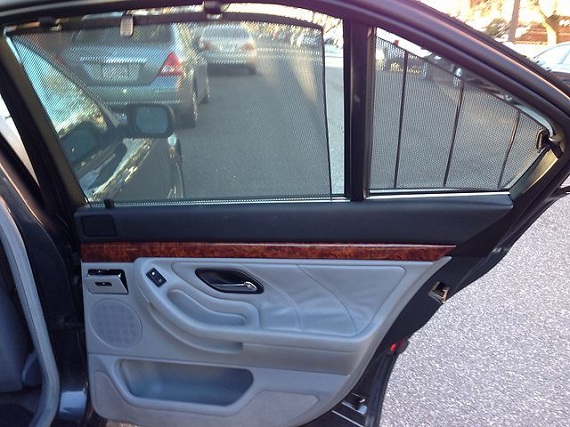 For the purposes of this article, these lower priced Ebay cars fit the bill, but truth be told they wouldn't be the one I'd sport for. While it is exciting to see the car looking shiny and see the price tag at a level you can reasonably afford, the lack of detail, records and telling photos generally mean "stay away". You're rolling the dice on a car like this. Was it well cared for? The budget Nexen-brand tires would probably be a good indication that it wasn't; similarly, the aftermarket exhaust raises a bit of concern as to the caliber of ownership on this particular example. I'm not saying this car is a wreck, but it does look a lot like the examples I see rolling around the more nefarious regions of Providence, Rhode Island – and that's not a good thing in any way. As much as I like the lines of the E38, it's a car that I'd really seek a one-owner BMWCCA member example with extensive records before purchasing, and I'd be willing to front the premium to do so.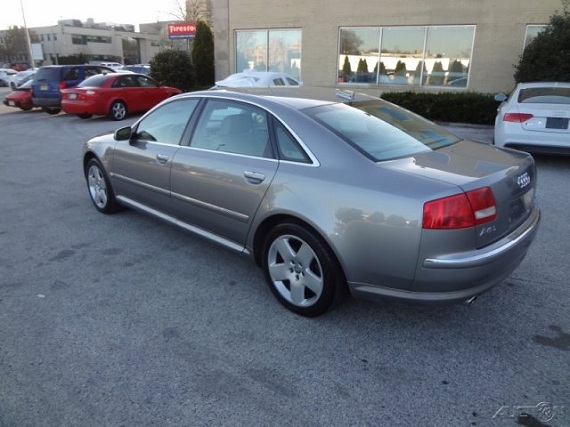 As previously stated, I know very little about The Transporter 2 other than there was an Audi in it that was capable of air travel. And that particular model was perhaps one of the least likely to achieve flight in the Audi lineup – while none of the Audis produced today would be considered featherweights, the massive A8L W12 is without doubt the heaviest entry out there in their car lineup. Lucky for you, then, the W12 can't be had for anywhere near to $10,000, so what we can look at instead is a more plebeian 4.2 V8 powered example.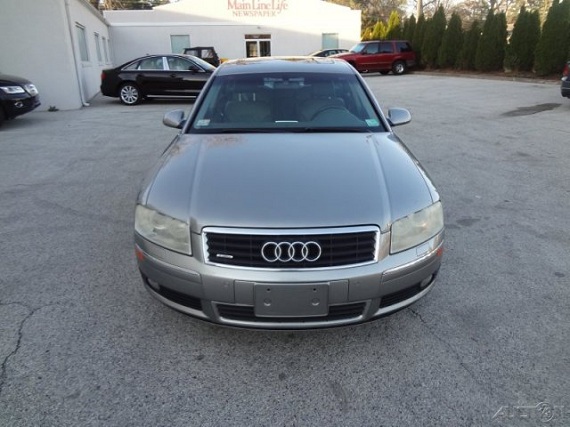 Year: 2005
Model: A8L
Engine: 4.2 liter V8
Transmission: 5-speed automatic
Mileage: 124,351 mi
Price: $9,995 Buy It Now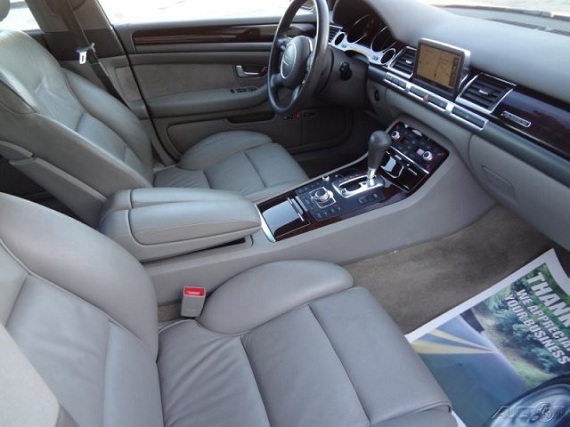 2005 Audi A8L Quattro

ALL WHEEL DRIVE

Clean Carfax

Stunning Platinum Heated Leather Seats

Navigation

KEYLESS START

Call us! We're happy to answer all your questions and help you with anything!

We Are the DealerRater National Dealer of the year 2012

Make us an offer today! Most of our auctions end early so don't wait!

610-649-3200

All of the best options!!
-EVERY ATTEMPT IS MADE TO PHOTOGRAPH ANY BLEMISHES

If you have a request for a specific area to be photographed please just ask!

-VEHICLE WILL BE SOLD AS IS, HOWEVER, FINANCING AND WARRANTY OPTIONS ARE AVAILABLE

…Take note; some of the photos have shadows cast on the vehicle due to the natural lighting conditions in which the photos were taken. If you are unclear on any details provided in the listing, please contact us BEFORE placing your offer…

Our goal is to offer these trade vehicles at the best price on the market. Let our trained sales staff show you the vehicle, disclose issues (if any), and then simply let you make an easy and informed decision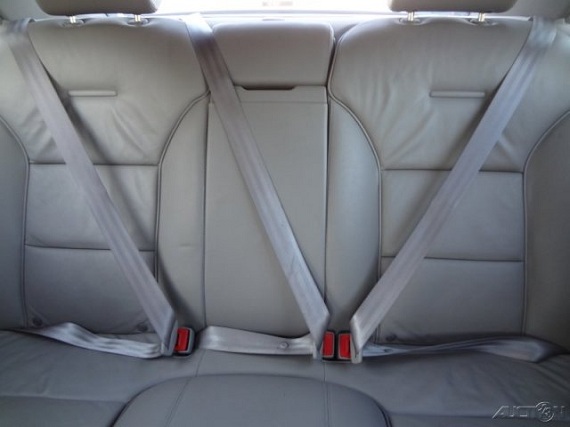 Like the 740i, I'd be pretty wary purchasing one of these Ebay deal cars; on a positive note, at least this one is offered from an Audi dealership. I'm not sure that really improves the standing of the car, but at least it wasn't a second-rate wheeler-dealer that picked the car up at auction, right? It is disappointing then since they undoubtedly have a professional detailer in house that they did not spend to 10 minutes to polish the headlights; it may be a small thing, but it shows they haven't spent time on the car. Not many images are presented to show the overall condition, but unlike the previous two examples it appears this car is completely stock. Mileage is slightly higher than I'd like to see but the price is appropriately low; this car wears the "Fat Five" wheels that suit the design well but truth be told, I don't think this car is nearly as good looking as the D2. While it's amazing to consider you can purchase this level of luxury, power and refinement for less than the price of the cheapest new car in the U.S., I just don't think it would be what I'd do.
Okay, so none of these cars were the match of their on-screen counterparts, but which is the winner? Condition wise, it's hard to argue that any of the much newer cars match the 450SEL. And build-quality wise, I think you could also argue that the W116 will probably out-last the other three if properly maintained and kept from rusting. However, despite this I just can't really get on board with the W116 long-wheelbase lines – it's a car of presence, but not one that I'd like to own. The S8 would probably still get the nod of this particular group for me – but I'd hope the bidding would stay low enough to pay for some repairs that I expect need to be completed on that example. Which would you choose?
-Carter