Warning!
This post is in our archives. Links in this post may have been updated to point to similar cars available to bid on eBay.
There are always E30 M3s circulating eBay with S50/2 swaps, and I'm always cringing at the sight of them. My S38 is my best friend, and hearing of his very special little S14 brothers being discarded hurt my heart. The S50 is lots of fun, but E30 M3s should be left intact. Today's E30 is the perfect solution, or at least as perfect a solution can get without box fenders. The "garden-variety" 325i is a much more appropriate recipient for donor engines, and this one has been further enhanced with E30 M3 brakes, E36 M3 transmission, and many other fun bits. The seller didn't build it, but has worked at a BMW dealer for 28 years so I trust him a little more when he says everything works. This has to be a crazy fun E30!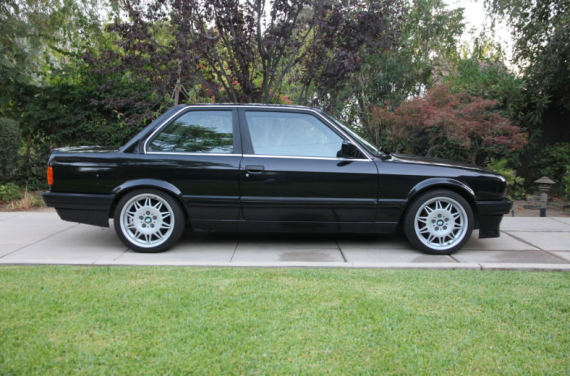 1990 BMW 325i with an S50 engine from a 1995 M3. In addition, the car suspension was swapped to a 5-lug/big brake setup from an e30 M3. The car has undergone an extensive restoration over during the conversion in 2009 and most typical wear items have been replaced. I have a clear title and the carfax comes back as clean with no issues. The car was originally from Texas then Oklahoma before being converted in Nebraska in 2009. I do not believe the car has been driven in the snow and there are no known rust issues. The following are the highlights of the restoration:

Body:
-Was repainted in 2008 – No Rust Issues
-New IS lip and trunk spoiler
-New Right Fender – Prior fender was dented.
-New Smoked Hella Euro Elipsoid Headlights
-New fog/driving lights
-New clear turn signals with stealth bulbs
-New Euro Bumper Trim
-New Windshield
-BMW Z3 Radio Antenna Installed

Engine/Drivetrain:
-BMW S50 Engine from a 1995 M3 (Approx 112K Miles on the motor)
-Front and Rear Main Seals replaced
-New Metal Thermostat Housing and Thermostat
-New Water Pump
-New 140amp Alternator
-Oil Pump nut tack welded
-E34 Oil Pan, pick-up and dipstick
-New Hoses Throughout
-1995 BMW M3 ZF 5 Speed transmission (New Clutch and Pressure Plate Installed 2009)
-New Clutch and Pressure Plate
-New Input/Output Shaft Seals
-New Guide Tube
-New Clutch Master and Slave Cylinders
-Stainless Steel Long Tube Headers to single 2.5" pipe
-Mufflers – Manaflow rear , glass pack and Catalytic Converter
-Silver Label 413 ECU with Turner Motorsport Chip
-Carbon Fiber Cold Air Intake
-Treehouse Racing wiring adaptor
-E30 M3 Engine Wiring Harness Covers
-E36 328 Driveshaft (Balanced) with New Guibo and Center Support Bearing
-MZ3 Limited Slip Differential with M diff cover (3.23 ratio with 23K Miles).
-New Axle Half-Shafts
-Skid Plate (Powder Coated Steel)

Suspension/Brakes:
-E30 M3 5 Lug/Brake Swap – With new wheel bearings, rotors and pads
-VAC Motorsport Stud Kit
-Treehouse Racing Modified Brake Booster with 7 Series Master Cylinder
-E30 M3 Rear Sway Bar and Cabrio Front Sway Bar (14 and 21mm)
-All rear suspension bushings replaced with new OEM rubber
-Treehouse Racing Eyeball Control Arm Bearings
-New Front Control Arms
-Braided Stainless Brake Hose
-Bilstein Sport Shocks
-H&R Sport Springs
-New Shock Mounts (Front and Rear)
-Sparco Front Strut Bar
-DS1 Forged Motorsport Wheels from a 95 M3 with Falken 912 Tires 215/40/17 (15mm H&R wheel spacers)

Interior:
Recaro SE sport seats
Maplight rear view morror
M-Tech wheel and M-Tech shift knob
Aftermarket keyless entry/ alarm
Air conditioning with custom A/C lines converted to R-134 with new seals, expansion valve and dryer.

I purchased this car pretty much as-is from the builder and dedicated BMW fan in Nebraska in 2009. I have serviced it, changed the radiator to a new one (small leak) and changed the final drive to a 2.93 lsd from the 3.23 lsd. I have worked at a BMW dealer bodyshop for 28 years and this car is ready to run. No issues and everything works unlike most conversions. A clean rust free hot rod sleeper that is ready to go as a daily or to show.

There are a few minor issues, not major. 1) passenger side door lock sometimes sticks and does not work with keyless entry. I may fix this before the sale end. 2) airbag steering wheel is off but will go with the car if you want it. When this was done the wiper/cruise column stalks were swapped to the non-airbag style and the window washer did not work. A button was installed in center console to activate the washer. (cruise control works though) 3) A/c sometimes make the idle fluctuate when the compressor kicks in . Not a big deal, just you sometimes notice it. 4) paint is good but not show winner. Pictures look good and so does the car. The right light and a little focus and imperfections can be seen.
This is a great E30. The interior is spot on and, while the E36 M-Sport wheels may not be to everyone's tastes, they provide a nice hint at the beast beneath. The tough question is price on a conversion like this, even if the BMW-working seller assures that all works perfectly. Lots of bidding has pushed the price to a reserve-on $8,100. For $10-12k, I think this would be an exceedingly fun car, but I wonder how high the seller thinks the reserve is. Hopefully, as the second owner, he won't fall into the trap of thinking every receipt needs to be paid for and will pass on this fun machine.
-NR