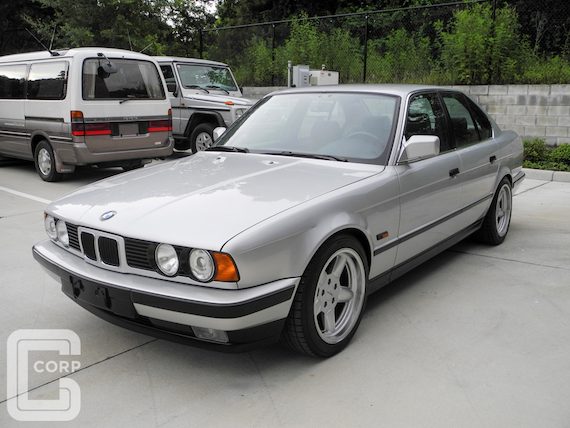 Only yesterday I was lamenting, once again, the dearth of nice condition E34s on the market. Well, as if to prove me wrong, another neat example has popped up on eBay. When these cars crop up in this kind of condition, they serve as a reminder of just how handsome an E34 can be when cleaned up. The lines are crisp and unfussy and the overall impression given off by the well-proportioned design is of a purposeful sport sedan. This particular example is an unusually specified 535i with ultra low miles. Unfortunately, it also has a rather ambitious price tag.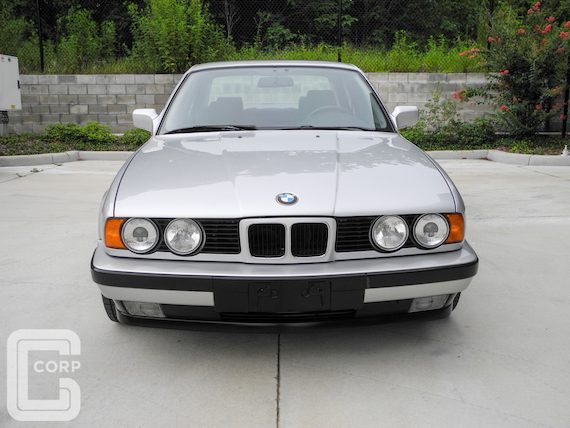 Year: 1990
Model: 535i
Engine: 3.5 liter inline-6
Transmission: 4-speed automatic
Mileage: 18,000 mi
Price: $14,950 Buy It Now or Make Offer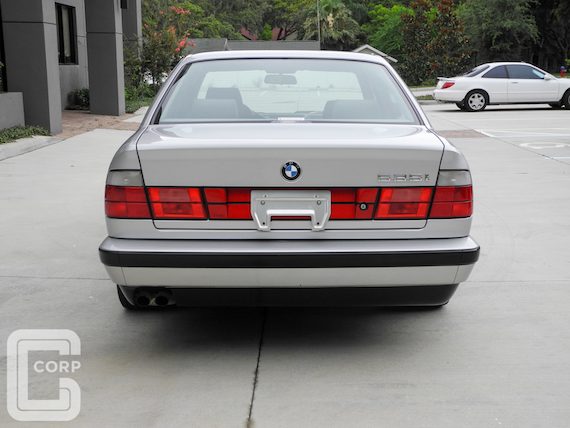 The Car is 1990. Ebay does not recognize vin. I had to put it as 1980.

You can also see other vehicles for sale and previously sold at garanincorp.com

Hello,

You are looking on a very clean BMW535i with only 18k miles on the clock.

I wold like to start this add by saying of how fantastic BMW product used to be and how said it is to look at what have become out of it.

Once you drive this car you absolutely fell in love with it. It is amazing of how smooth it glides down the road over a rough asphalt (our test road in the video) and at the same time having organic, natural BMW precision and charm that is long time gone, dominated by marketing, monthly payments and turned into GMO. This car makes you rethink once again what a drivers car should be.

The condition of the car is very good for the year and considering that only a few of these E34s are left in decent condition, among those that are left this one is a pearl! The car is well maintained example as it shows from every angle. Runs excellent, very smooth and tight, everything works as it was intended from the factory, and air conditioning works well.

Once it is going it feels as new and rides very well. Steering and suspension has no play whatsoever. Drive train has absolutely no play and feels new. Automatic transmission shifts superb and brakes work excellent.

Paint is in very good condition with only a few minor imperfections. As you can see in the photos.

This car has only 18k miles of a verified provable mileage from new and it shows that it was in good hands.

Interior is in very good condition and does not make squeaks or rattles when going down the road.

Serious buyers only!!!

Vehicle has a CLEAN Florida title that is ready to be registered in "any" state. (MAKE SURE YOU CHECK WITH LOCAL DMV & EMISSION REGULATIONS)

I tried to describe the vehicle as accurately as I can and pictures and video speak for themselves BUT,

You MUST contact me by phone if you have any questions, or before assuming anything about the car and anything that I would or would not do.

If I don't answer please send a text message.

I will assist with reasonable time storage which need to be discussed prior purchase.

A non refundable deposit of 500$ is due within 24 hours after the vehicle purchase. A full payment to be received within 7 days of auction end. Will assist with storage and transportation.

PLEASE MAKE SURE TO WATCH THE VIDEO

I would prefer to be contacted by phone or text rather than email.

Sincerely,

Tony.

1-407-480-9777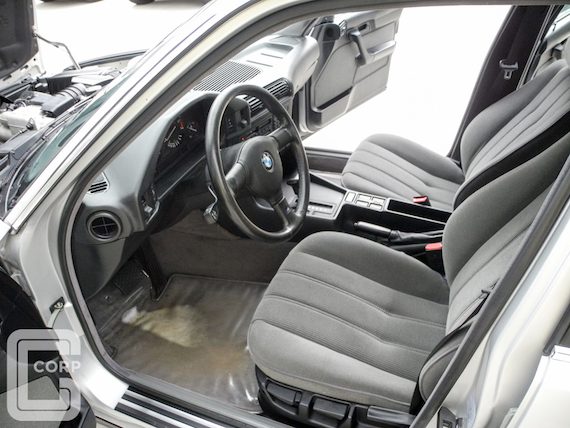 This 535i for sale in Florida comes in sterling silver over anthracite velour. Although it's not stated in the ad, a VIN check reveals this was originally a Japanese market car. That would explain the fender-mounted side repeaters, velour interior, manual seats, rear headrests and unusual climate control layout, features frequently seen on Euro-spec cars but not in America. It may also explain the wonderfully blemish free body and the extremely low 18k miles on the odometer. According to this thread over at Bimmerforums, older JDM BMWs often have low miles and nice exteriors, but mechanically neglected internals. So while the pictures in the listing show a car in mint condition, with an engine bay so clean you could eat your dinner out of it, a thorough mechanical inspection is probably in order.
The 535i is powered by the "big six" M30 engine, a 3.5 liter, straight six unit with a reputation for being bulletproof. Here, the engine is somewhat disappointingly mated to an automatic gearbox. The car has some other redeeming features however: AC Schnitzer wheels, a period correct M-Sport II steering wheel, clear turn signal lenses at the rear and a blanking panel behind the rear license plate holder, creating the illusion of red lights running across the back of the car (not exactly to my taste, but I could put up with it).
This is probably the cleanest and most interestingly specified E34 that I've seen for sale for a while that isn't an M5. It's such shame then that it's not a manual. Still, that hasn't stopped the seller from asking for a lot of money for it: the buy it now is a shade under $15k. The problem is, for that kind of money you could buy a similar era M5, and I think most of us would agree we'd rather have that instead. Still, it's a neat car sure to please die-hard E34 fans. It will be interesting to see what it sells for.
– Craig