When it comes to cars as rare as the E30 M3 Cabrio, of which less than 800 were made and zero for the North American market, it seems more appropriate to go the replica route than it would be to just box-fender a normal 325i coupe. The recently-circulated E30 M3 wagon is another good example of making something that, while sacrilegious, is objectively a pretty darn cool car. M3 convertibles are kind of an oxymoron anyways, so why not go all-out and make one yourself? That's what the builder of today's E30 decided to do and went on to drop an S50 6-cylinder in it with various other modifications. It looks appropriately German-garish in Alpinweiss with M-colored checkered flags on opposing corners.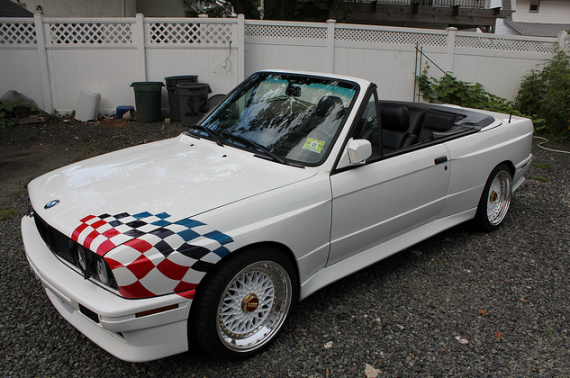 From the seller:
I am listing my e30 m3 vert replica for sale. I have to sell it to help start a business and really have no use for it after my newborn! I will try to list everything about the car but if you are interested and have any questions please let me know!

The body of the car has 178K miles with a complete BMW e30 M3 conversion including Front Bumper, e30 M3 front fenders, e30 M3 side skirts, e30 M3 rear bumper, and e30 M3 rear fiberglass quarter panels. Complete repaint in factory alpine white II w/ e36 lightweight flag decal painted on. Chrome window trim changed to black shadowline trim. New Smoked Euro style smiley headlights with city lights and WIPERS WITH MOTORS non functioning.I also have a brand new set of headlight wipers from BMW not put on. E30 M3 Evo Style Brake Ducts, euro front grills, smoked front turn signal indicators. Car also comes with a hardtop! Completely redone black sport interior,carpet and door panels along with an M-tech II steering wheel. The car does not have an AC compressor but the lines are all there. The s50 engine has approx. 64k miles, new spark plugs, intake, new battery which I put in after the previous one went bad from me not driving the car. New zimmermann cross-drilled rotors with axis brake pads, E30 m3 5 lug suspension swap with all new shock mounts, front control arms and offset control arm bushings. I have always taken care of this car in my hands. Spare tire and all bmw tools come with the car.

-The BBS RS wheels will not be sold with the car, unless me and the buyer workout a deal. Car will be sold with 16″ Borbets Type H with new tires.
-This car just passed NJ inspection!
-NO RUST!
-The hardtop is in fair condition.
-The paint job is not GREAT, but good with some dings.
-The motor runs STRONG with no leaks.
-Car sold as is with no warranty.
-Buyer is responsible for all shipping charges.
-I have a carfax and previous PPI I did before I bought the car.
Bidding has been hot with 22 bids so far. Surprisingly, the price is still at a reasonable, reserve-off $11k. It's nice to see a modified car for sale that for once seems realistic as opposed to a stratospheric Buy-it-Now because someone spent tens of thousands of dollars on a project. Many thousands have certainly been spent on this M3 Cabrio replica, and I'm sure it's a hoot to drive. If you have a taste for the wild and aren't concerned with classic originality, this would be lots of fun. Just make sure you get something to replace the not-pictured-but-included Borbet Type Hs… they will make this car (or any car, actually) look really chintzy.
-NR