The W111 was the car that started my fascination with Mercedes-Benz. Shortly before I was born, my father owned a 1967 230S with a 4 speed manual on the floor. He waxed poetically about this black fintail sedan and after a childhood filled with Hondas and Volkswagens, I was determined to move up the automotive food chain in my adult life.
A decade of Mercedes-Benz ownership came to a close last year for me, but I know that someday, I'll have another one. More than likely, I'll be seeking out a classic one that I could drive on a semi-regular basis, which is more realistic than it sounds. A colleague of my father's bought a 1968 280SE brand new and used it for over 30 years as his daily driver. This 200Sb for sale in The Netherlands is a collector quality W111 with a column shift four-speed manual transmission that looks sharp in this shade of gray.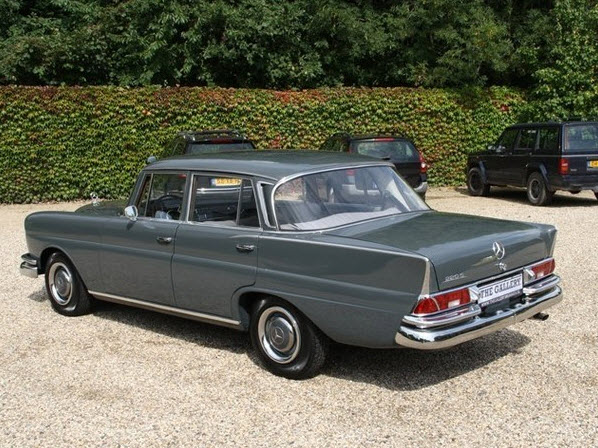 Mercedes Benz 220 in the wonderfully beautiful tail fin configuration. Fully restored and revised in every detail. More information: Transmission: 4-speed manual
Fintails, with exception of the rare 300SE flagship, are some of the most affordable Mercedes-Benzes from the period. Typically, those in good original condition or ones that are restored will bring anywhere between $13,000 to $20,000. Average runners usually exchange hands for $10,000 and under. This car is no doubt one of the nicer examples I've seen and it's appealing to me because of the manual transmission. The asking price of over $28,000 is very strong money for one of these, especially for anyone that may contemplate bringing it stateside.
-Paul