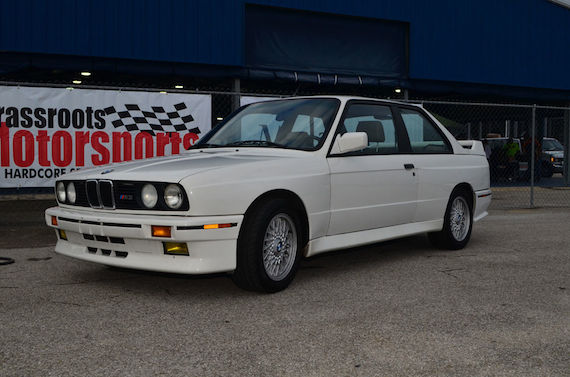 We like to feature as many E30 BMW M3s as we can here on GCFSB. Not only are we fans of this epic modern classic but it helps us keep track of their ever increasing values. But this 1990 M3 is something a bit more special, having been owned by the owner of Grassroots Motorsports. For those not familiar with it, this enthusiast publication is dedicated to the racing hobby, chronicling everything from budget builds to the latest in ready-made, track day vehicles straight off the production line. What better endorsement for your product that it has been a part of a collection associated with this magazine for so long?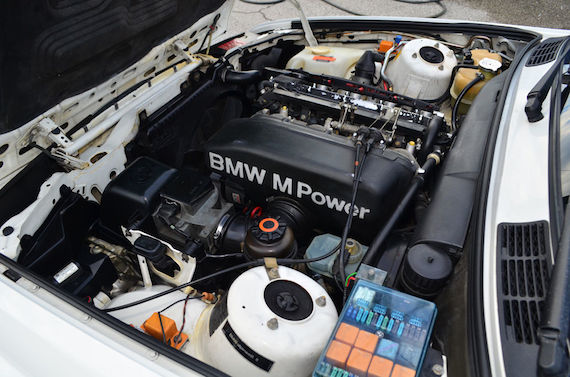 Year: 1990
Model: M3
Engine: 2.3 liter inline-4
Transmission: 5-speed manual
Mileage: 113,167 mi
Price: No reserve auction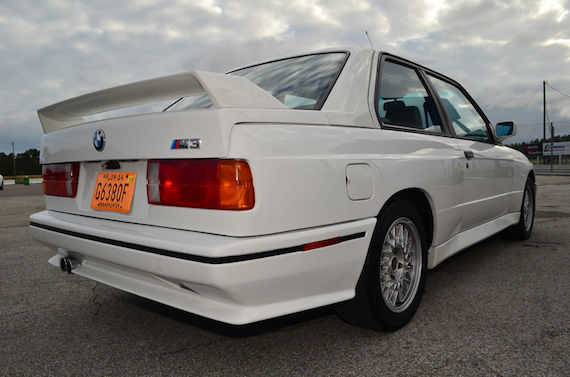 You're looking at a very rare, unmodified E30 M3 in a desirable color with only 113k miles. It's Alpine White (Alpine Weiss) with Natur interior. This was part of my private collection as the owner of Grassroots Motorsports and Classic Motorsports magazines. It's been garage-kept since I originally bought it 6 years ago, and I've never driven it on track or raced it. I bought it because it was original and unmolested. We fixed all its flaws when we bought it, and dyno-tuned it at Balanced Performance in Atlanta for a story in Grassroots Motorsports. It has original springs, shocks, anti-roll bars, wheels (including spare). The Yokohama S-Drive tires need to be replaced soon.

I bought it as a lightly damaged theft recovery with a salvage title and repaired all the small issues it had. It was also damaged on the rear quarter panel. There was no frame damage. This was going to be for my son as a high-school graduation present, but he decided he wanted a 4×4 truck instead.

This is a no-reserve auction because I'm confident in the quality of this car. The repairs were done by The Body Werks in Holly Hill, Florida, the shop that has done all the repairs for every car that has appeared in my magazines. It includes the factory tool kit, which is so original that the BMW-labeled rag is still in the tool kit. A similar car has sold recently at a Russo and Steele auction for more than $40,000. What's more: it's essentially the Shelby of the '80s, but still gets 28-30 miles per gallon on the highway.

The car does have a couple blemishes. There's a cigarette burn on the back seat. The upper seat bolsters on the front have been repaired in matching vinyl. There is one wheel center cap missing, but I will supply a new one to the auction winner. As you can see, my eBay score is untarnished and you know who I am: the owner of Grassroots Motorsports and have access to the best repair shops and mechanics.

Don't miss out on this opportunity to own a good car. It has a salvage title, but has no frame damage. I would drive this car cross-country tomorrow with no concerns. Fly to Florida, take a little vacation, and have a wonderful road trip home in a very rare and desirable car.

A $500 Paypal deposit is expected within 24 hours, and full payment is required within 5 days. Here's a chance to own a very special car at a special price. Bid with confidence.

On Nov-18-13 at 18:04:04 PST, seller added the following information:
Some clarification on the title: It is not a salvage title but a rebuildable title. There is no problem registering this car again.

Rebuilt/Rebuildable Title and Problem Check The vehicle was a salvaged vehicle that was refurbished with new or used parts. An affidavit of repair from the rebuilder or individual making the repairs, stating what repairs were made to the vehicle and that the vehicle is now rebuilt and road operable, may be required to obtain a rebuilt/rebuildable title. These vehicles must also pass a state safety inspection before being allowed back on the road.

Also putting some pictures from underneath to show there is no damage.

Should also mention that the original transmission was completely and recently rebuilt (because the third gear syncho was going bad) by Redline BMW at a cost of some $3600. I also just took the car to the best BMW mechanic in town (Wilson's BMW) who got the air blowing cold again (minor leak from bad line/ fixed correctly) and looked the car all over and determined it to be pretty perfect. I am in way too public of a position to mess around, so bid knowing that this car is pretty darned nice.

On Nov-21-13 at 09:15:17 PST, seller added the following information:
I have added some more detail shots of the seats. As mentioned the rear seat has a small cigarette or similar burn on the passenger's side. The seats are not ripped, but are scuffed up as would be typical in a 23 year old car. The new radio is installed and working. The wheel cap is now installed. Had a few things tweaked to make the car nicer (little stuff like an outside door lock that was loose and new head light bulb) and test drove it 75 miles. Had to go to our county seat to go get the title work finished. Since the car is at a real price now, I want to make damned sure the new owner is very happy. My reputation is worth way more than the money, at this point in my life. As mentioned in the original listing, the tires will need to be replaced soon. The car was featured in the May 2009 issue of Classic Motorsports magazine in a multi-car story on future collectibles. It was also featured in the May 2009 issue of Grassroots Motorsports where we talked about the tires. We alos did a major story in the October 2009 issue where we dyno tested the car and optimized power with minor modification and maintenance. Rear wheel horsepower was 175.6 at the wheels! This car was rated at about 182 at the crank from the factory, so this is a very strong E30 M3. If you do the math and covert rear wheel hp to crank hp, this car is in the 200 hp range at the flywheel now. More importantly, unlike so many M3s, the mid range is awesome on this one with the tuning. I am already starting to regret selling this car. Man what a nice car! I forget how nice these drive. They handle so well and this one has very little of the typical shifter buzz and since it is all stock it rides decent and the air conditioning works excellent.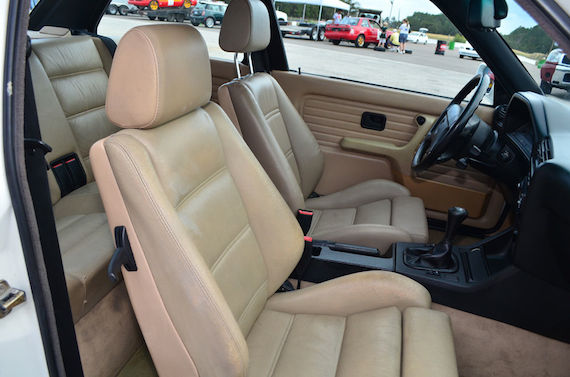 We've already reached the $20,000 mark with plenty of time left in this auction. An unmodified M3 like this with zero track use would certain crest the $30,000 mark. Two things are in play with this car. One, it has a salvage/theft recovery title, so no matter how good the repairs, such things can negatively affect the value. Balancing that factor out is the ownership history. I find it amusing that the owner's son was going to be offered this car as a graduation present and passed on it for a truck. Different strokes for different folks, but you are given the chance to drive a legend and decide to go after something else? Heresy in my book. All of that being said, I'd suspect we may reach around the $25,000 to $27,000 mark when all is said and done with this one.
-Paul