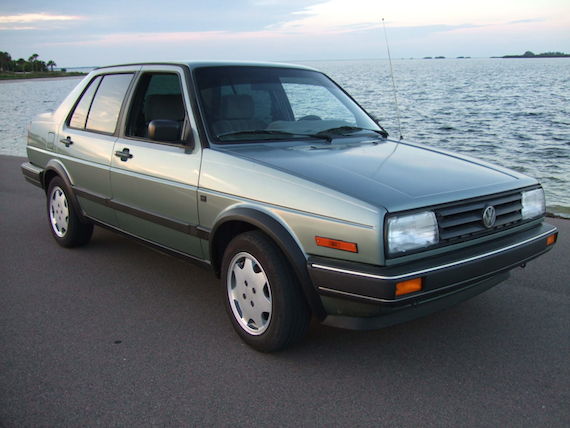 I featured an impossibly low mileage Mk2 Jetta Carat a few months ago and amazingly, here comes another one. I thought this might have been the same vehicle had it not been for the automatic gearbox inside. Anyone lusting after a clean Mk2 Jetta should have a look at this one.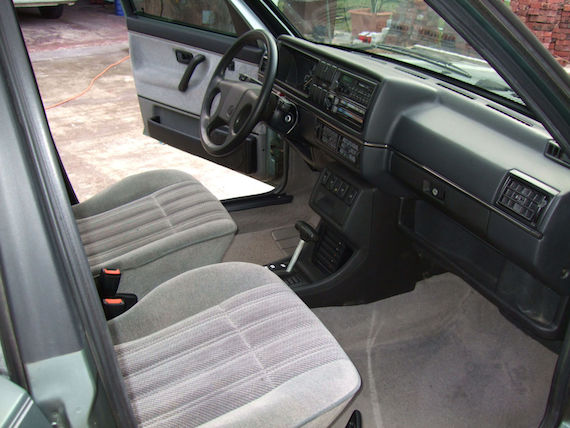 Year: 1989
Model: Jetta Carat
Engine: 1.8 liter inline-4
Transmission: 3-speed automatic
Mileage: 71,000 mi
Price: $4,400 Buy It Now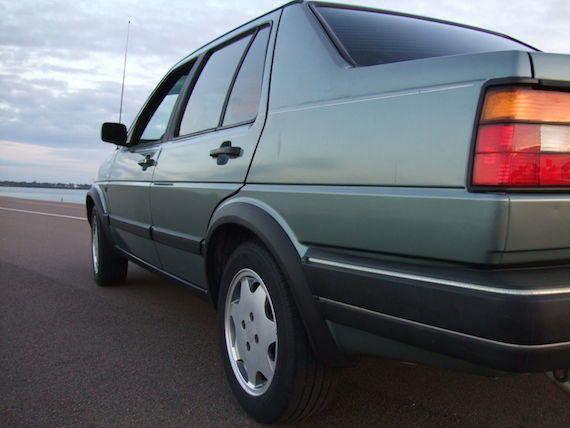 I plan to take this car to Fixx Fest in Bradenton, FL this Saturday so if you're in the area stop by, it'll be parked in the general Euro parking lot. If I get a reasonable offer there, I reserve the right to cancel the ebay auction.

Known issues:
1) FM radio only heard through right channel. Every once in a while when driving on rough road the left channel will work for a few seconds. It's got to be a connection. AM and Tape work fine and come through both left and right channels.

2) The power antenna is suppose to go up and down when you turn the radio on and off. It stays up all the time.

3) The window wash works sometimes. When I first got the car it worked about half the time. For the past couple months it hasn't sprayed at all.

4) There are a few (4-5) light dings on the roof(see picture). The original owner said it was due to a hail storm some years ago.

5) The tires are in good shape. Fronts are at about 60% rears are at around 40%

6) Sap stains on the hood(see pic).

A car very similar to this one sold on Ebay in September for $7500. That car had 34k miles so I know this one is worth a bit less. Search ebay completed auctions to see it. http://www.ebay.com/itm/181213536885

Excellent condition. Always Garage kept.
I bought this car 13 months ago in Melbourne, FL with 64k original miles on it.
The original owner stopped driving it years ago due to her failing eyesight.
She sold it to her neighbor when it became evident that she would never drive again.
I bought it from her neighbor with the understanding that there were some issues with the fuel system. Normal for a car that has sat in a garage for a few years.

The car runs great now I've been using it mostly for trips between Tarpon Springs and Orlando. On I-4 I've had it up to 90mph and it drives perfectly smooth. Not a single vibration.

Here's what I've replaced over the past year:
Fuel pumps. Bosch in-tank prepump and main pump.
Fuel injectors
Fuel pressure regulator
Fuel filter
Pcv valve grommet
Transmission service, seals and filter
Bosch knock sensor
Bosch plugs and wires
Bosch distributor rotor and cap
Bosch ignition coil
Bosch Oxygen sensor
Rear exhaust
Front motor mount
Vacuum hoses
Valve cover gasket
Water temp sender
Coolant temp sensor
Rack and pinion
Timing belt
Cam and crank shaft seals
Belts
Cleaned ignition lock cylinder and cut new keys from factory code

Optional equipment:
Comes with rare original VW 14″ forged alloy rims.

Standard equipment:
Air conditioning
AM/FM STEREO RADIO/CASSETTE W/6-SPKRS/CASSETTE STORAGE BOX/ADDITIONAL AMP PWR/ ANTI-THEFT CODING
AUTOMATIC TRANSMISSION
Black rocker panel mldgs/wheelhouse flares
Carpeted luggage compartment
Center rear armrest
DIGITAL CLOCK
Cruise control
Dome light w/time delay feature
Dual pwr remote mirrors (RH convex)
Dual vanity mirrors (RH illum)
Eurostyle halogen headlamps
Front spoiler
Leather-wrapped 4-spoke steering wheel
PWR ANTENNA
REAR WINDOW DEFROSTER
SKI SACK
Tinted glass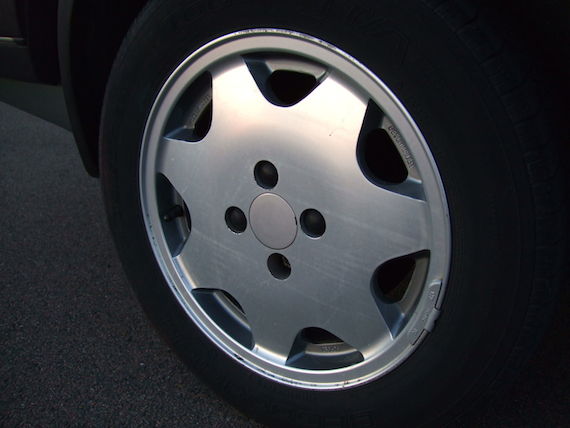 This car presents a dilemma. While it has more mileage than the 5-speed manual Carat we featured a while back, it is still an impossibly mint example of a car you just don't see in good nick, if at all, these days. So would you dare swap out the transmission and engine in this thing to make it something a bit more desirable? Say, drop in a VR6 or a 16V lump? I certainly would. And I would keep the color, trim and wheels about the same as well, just to add to the stealth factor.
-Paul