The last 944 we featured sold almost as fast as I posted it. No surprise, given that car's pedigree and price. Enthusiasts seem to be waking up to the fact that the 944 is a great way of easing into the realm of Porsche ownership. One of our readers, Paul, mentioned he was on the hunt for a red 944 Cabriolet and coincidentally, I stumbled across one this evening. This is possibly one of the lowest mileage examples you'll ever find. I was always a bigger fan of the hardtop, but this cabriolet in red with a pristine black leather interior and the all important 5-speed manual gearbox is a stunning example of a uncommon al fresco Porsche motoring.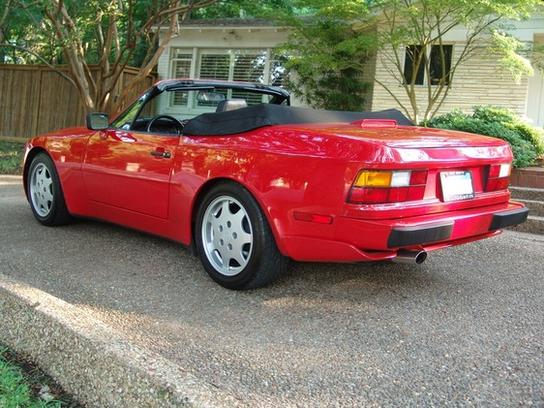 If you're looking for a time-machine 944 Cab to drive and enjoy, this is your car. I am the second owner and it's my fourth 944. I've only owned the car for a short time – the original owner had it until the end of February 2012. There's no such thing as a perfect used car (run screaming from anyone who says their used car is perfect), but this car looks and performs just as one would expect of a lovingly owned 22 year old Porsche with 12k miles. The body is straight as a pin, the paint looks fantastic, the CarFax and AutoCheck are clean, and I can find no evidence of paintwork.

I just performed a timing belt service on the car and installed a new Porsche battery, the Dunlop tires have so few miles that they still have the factory paint in the tread grooves. It's bone stock – no mods. Cosmetically, it has a handful of tiny chips, there's some light scuffing at the bottom of the front bumper cover, and some stitching on the passenger seat has unraveled in the place it always does on 944s. A couple of the wheels have some light curb rash on the lip. The top looks and functions just as it should. I love the car, but bought it on a whim (how often do you get the chance to buy a 12k mile 944?). The problem is I also have a 1988 Carrera 3.2, a Rover, and a 2011 Z4 competing for garage space and I can't be a proper steward for all of them at once. I have the manuals, records of the major services, a gaggle of keys, boot cover, wheel lock key, a Porsche indoor cover, and both the top wrenches. I'm happy to email the AutoCheck, CarFax, and records of the major services on request. Title is clean, lien free, and in-hand.
The owner has provided quite a comprehensive review of his car. Anyone who points out something as small as minor curb rash is certainly paying full time and attention to the details. Hagerty is listing values of good to excellent 944 Cabriolets from $17,000 to $26,000. It's rare that any 944 commands over $20,000 these days, but this is no ordinary 944. If the owner is willing to deal and a bit could be knocked off the asking price, this could be a practical classic worth having.
-Paul