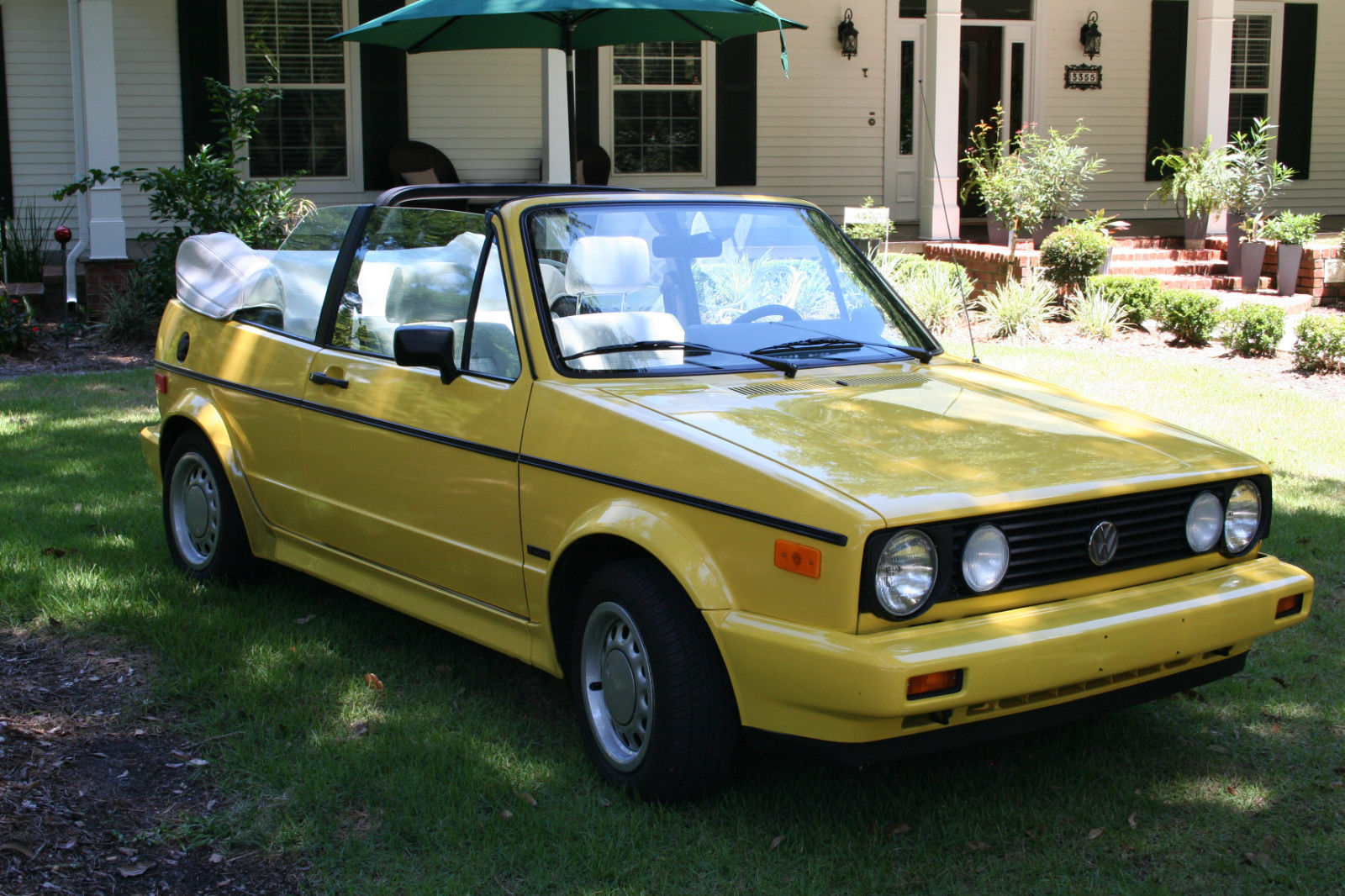 There are some obvious links to yesterday's '86 Golf in this 1990 Cabriolet. Beyond both being Volkswagens and based upon the Golf platform, they both have low mileage. Above and beyond that, they're also both the base models of the lineup for their respective year.
In 1990, the Cabriolet was broken into three trim levels; base Cabriolet, the "Best Seller" we looked at recently, and the triple white "Boutique" model at the top. All shared the basic underpinnings with the 94 horsepower Digifant 2H 1.8 liter inline-4 and 5-speed AUG (010 3-speed automatic was optional) and 9.4″ front vented rotors and rear drums. The only differences came in the Boutique's leather interior and wheel options; the Best Seller having the teardrop 14″ alloys in all silver, while the Boutique's insets were color-matched white. You could also opt for package P24 in the Best Seller, which gave you both air conditioning and cruise control. Option package P60 in the normal Cabriolet only got you the first option – outside of color, the only selection you could make for the 1990 model year to the base model. In place of 14″ alloys, you instead got 14″ steel wheels with trim rings shared with the 1990-1992 Jetta.
But just because this model isn't a higher-specification model doesn't make it desirable, because here condition, color and mileage trump all other considerations: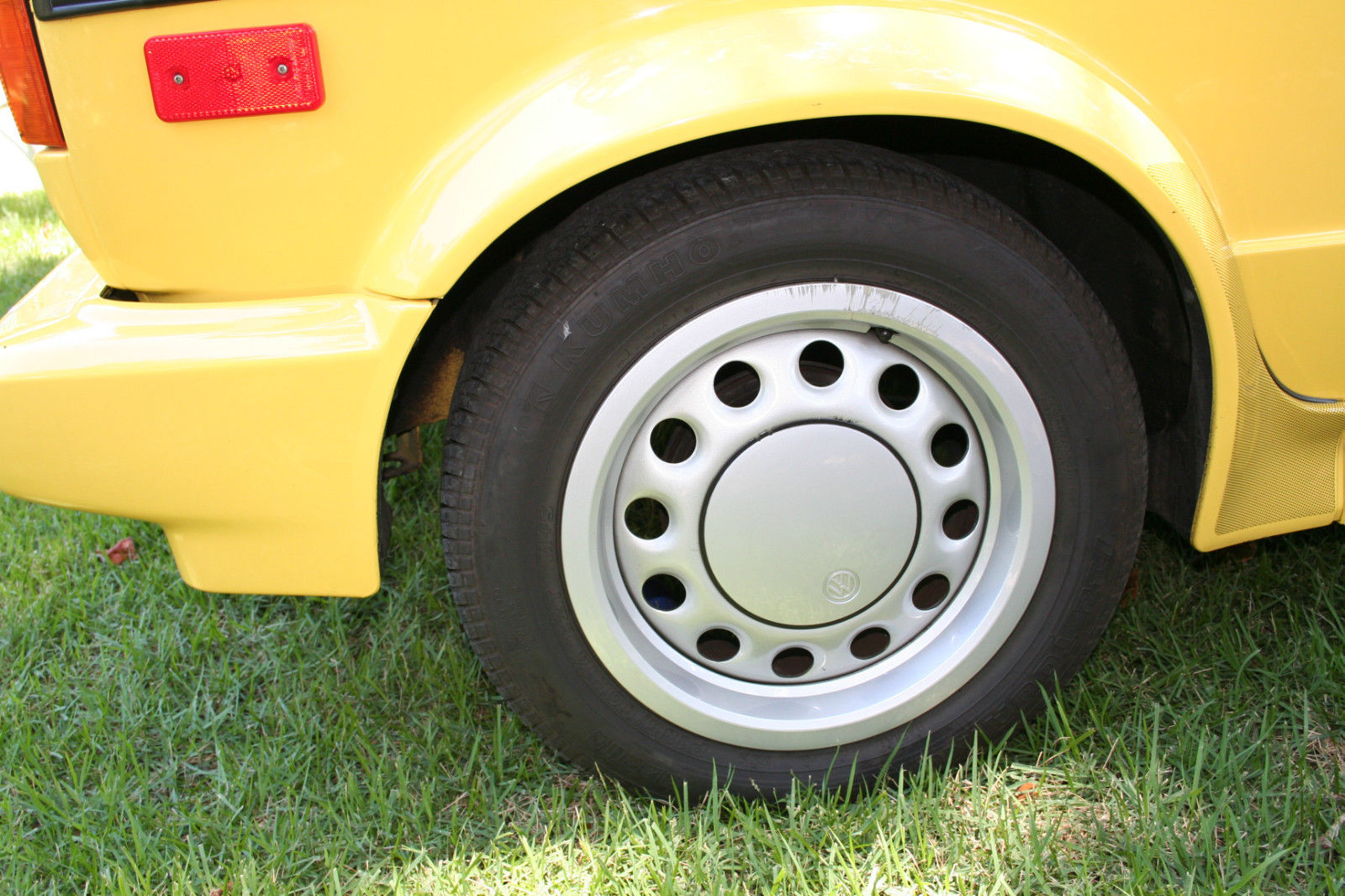 Year: 1990
Model: Cabriolet
Engine: 1.8 liter inline-4
Transmission: 5-speed manual
Mileage: 23,000 mi
Price: $11,500 Buy It Now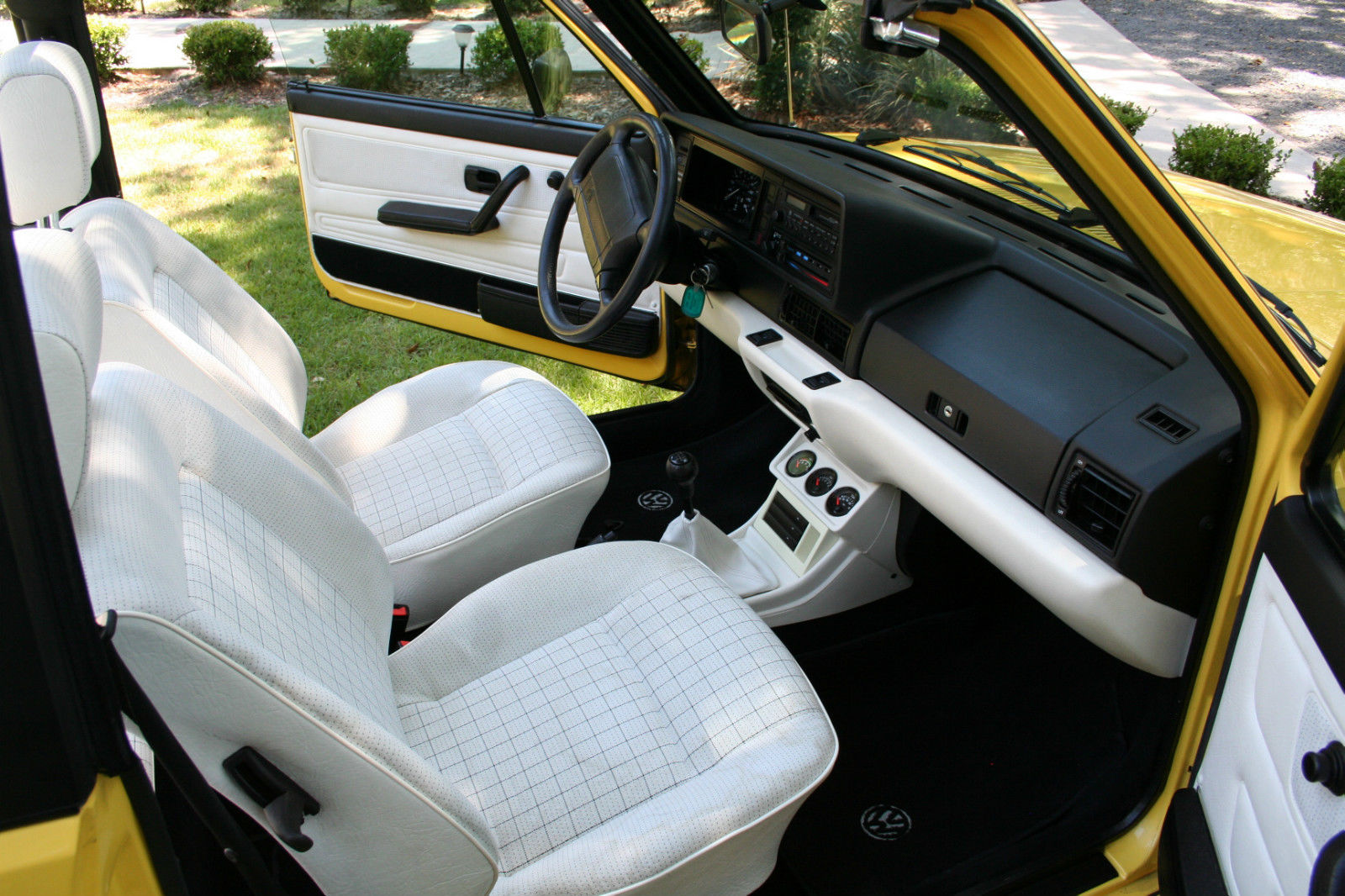 I am selling this amazing collectors item that is very unique. This 1990 VW Cabriolet is in complete original condition. Nothing has been altered or changed. I purchased the vehicle about 6 years ago from a Collector in Virginia. Since then, I have used the vehicle for about 2,000 miles. It was always in a humidity controlled storage and never left outside. There is no corrosion, the Seats are in very good condition. Everything is working including A/C, Power Windows, Heidelberg Cassette Radio.

The roof is like new. No leaks, no tear, just in a fabulous condition. Original Maintenance Records as proof of the Milage are shown on the pictures. If you are a collector crazy about a vehicle like this, then this is your opportunity. I grew up in Germany and always wanted a Cabriolet. Now, I barely have time to drive it here and there and is has not left the Garage since last November. It is time to say Good Bye.
As with the prior Cabriolet Best Seller I saw a little over a month ago, Nugget Yellow was a new shade and used heavily in the marketing campaigns for the 1990 model year, but the triple-white Boutique remained the 'Sixteen Candles' clan favorite. I prefer the look of the Nugget Yellow, personally, and even though the alloys are generally preferable in every case, the look of the trim-ringed 'Steelies' on these Volkswagens is just about perfect. The cloth interior appears to be in near-perfect condition, and this car also has a white rather than black top; beware, they do show more creasing and dirt easily, but this one looks great inside and out. The engine bay is tidy and in all-original condition, this car appears near faultless outside of license plate mounting holes in the front bumper cover and minor scratches on the trim rings.
Pricing is aggressive at $11,500 – almost exactly double the last Nugget Yellow. However, the condition of this example is even better and the mileage is only one fifth. Yet, at $11,500, you're into much headier cabriolet competition from the 1990s; the Mercedes-Benz R129, the BMW E36, even the Porsche 968 isn't a far reach. From that perspective this isn't perhaps the best value out there. But even in the VW world, low mileage and this condition usually don't come this affordably. Plus, I believe that in the not-too-distant future the Cabriolet will be considered more of a collector model than it currently is. For an occasional, fun-to-drive top down fling in near-perfect condition that should retain its value, this Clipper might just be a score.
-Carter