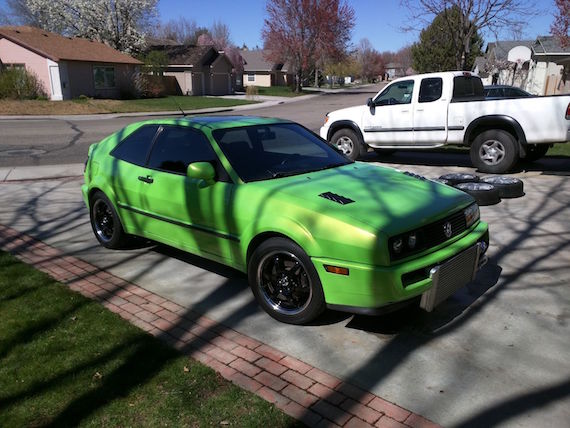 You might not like this Corrado when it's angry. In fact, you may not like it ever. With a face only its builder could love, this G60 has had enough modifications under the hood that the new front-mounted intercooler got pushed outside, like a child reluctantly spitting out chewed metal. I think the seller probably envisions the FMIC as an ersatz lower grille, but it mostly looks like a fragile and expensive snow plow. God help the buyer if they ever see a speed bump – say bye-bye to all that expensive plumbing.
This little Hulkorrado actually has received some good attention to make this a strong runner. Yet while the seller has updated and redone a lot of parts, I'd be wary of all the relocating causing headaches down the line. That's if you don't have a headache already from the proboscis, super-Green pearl, O'Reilly tail lights (both fake AND real!) or hood louvers. However, if you are blind or really good at dissociating form and function, it's actually a decent G60 deal.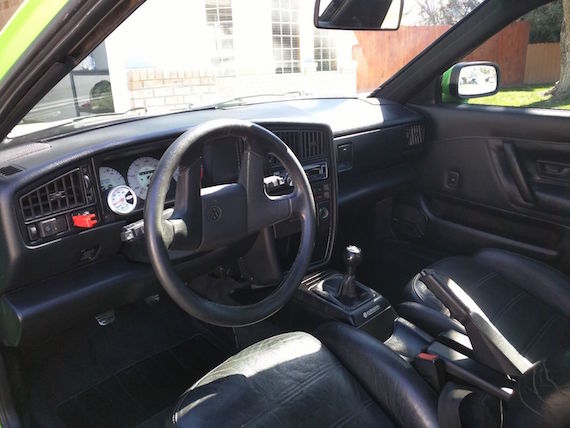 Year: 1990
Model: Corrado G60
Engine: 1.8 liter supercharged inline-4
Transmission: 5-speed manual
Mileage: 108,000 mi
Price: $5,000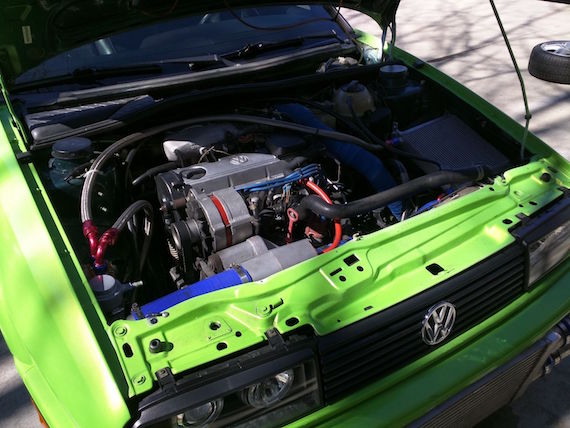 1990 VW Corrado G60, all listed parts were installed in 2015. Front mount intercooler, custom piping, headlights, slim radiator fans, alternator, cold air intake, oil cooler, spark plugs, plug wires, timing belt and seals, connecting rod bearings, oil pan gasket, hydrolic valve lifters, valve cover gasket, supercharger reroute delete, supercharger seal kit, power steering pump and reservoir, accessory belts, belt tensioner, upper radiator flange, oil filter relocation, battery relocation, tires and rims, wired for sub and amp, stereo with bluetooth, aftermarket speakers, taillights, catback magnafow exhaust, stock oil cooler delete, hood vents, interior blower, a/c recharged, performance chip, voltage regulator. I also have a set of 17 inch momo wheels with good tires and a turbo exhaust manifold (pictured on top of extra wheels). Feel free to send me an email with any questions at, aaron.brown03@yahoo.com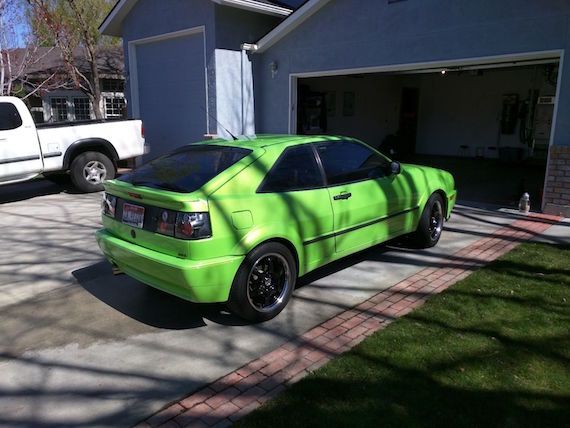 Maybe I'm just ignorant and this is actually the preferred style of Idaho tuners. It wouldn't be the first time my neighboring state harbored an offensive community… Anyway, I think my point has been made regarding the confounding intercooler and aesthetic choices. At $5k, a low-mileage and mechanically reinforced G60 with a good interior is a good value. Perhaps it could be rearranged and the cooling wall relocated back under the hood. Maybe it's primed to be a fun VW track car. No matter its future use, it will probably take a while to find a seller willing to take in this ugly duckling.
-NR