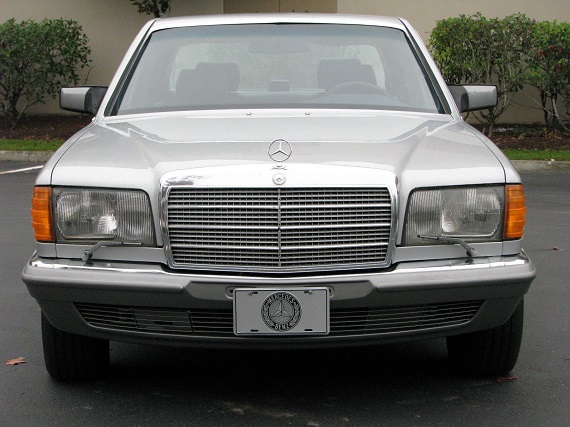 At the risk of appearing like we're recycling a bit too much material lately, I'd really like to take a look at this superb and interestingly equipped W126 from last fall again. A relatively low spec European model never offered here, this 280SE features the M110 inline-6 instead of the normal V8s the American market experienced, but the smart Euro look, low miles and great color combination really caught my eye. It's not the fastest S-Class you can buy, but it'll still leave you feeling pretty rich. Last time around this car hammered at a seemingly unfathomably cheap $2,950, but for whatever reason it's back up for sale from the same owner having covered only a few more miles since the fall. The reserve is still on the auction, but this should still remain a very affordable bit of classy classic Mercedes to pick up!
The below post originally appeared on our site September 7, 2015: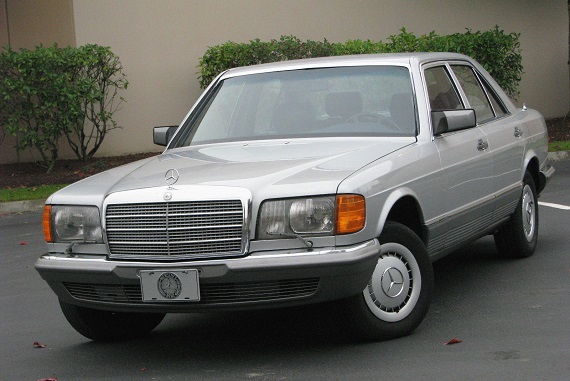 As with the W140 model I covered the other day, the W126 eagerly accepted by the automotive world as the new benchmark in design in the late 1970s. Mercedes-Benz pioneered new safety, aerodynamics and luxury through typical Mercedes-Benz over engineering. Replacing the outgoing W116, the W126 was thoroughly modern inside and out but at least initially carried the same motivation. Under the hood of the short wheel base 280SE was the inline-6 M110 motor, but there were small and large displacement V8 models too. Paul looked at a excellent condition W116 280SE recently, but a high asking price called into question the value of that particular example. Will this grey market import 280SE sing the same song?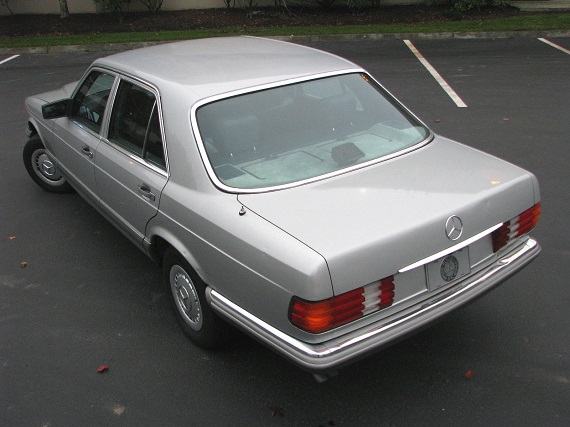 Year: 1982
Model: 280SE
Engine: 2.8 liter inline-6
Transmission: 4-speed automatic
Mileage: 73,804 mi
Price: No Reserve Auction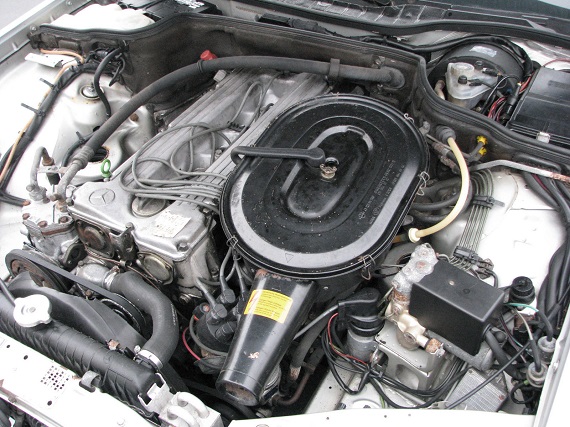 1982

Mercedes 280 SE

Rare 100% European Model still in the factory configuration

Only 73,803 Miles (118,775 Kilometers)

VIN: WDB12602212058881

Here's another great-running & driving, rare Mercedes we've just acquired for our Ebay customers. From the moment I first laid eyes on this unusual sedan, it was obvious that respect and care were given over the years. There aren't many left out there in this condition and brings to mind the old saying in the collector world: "Any car can be restored, given enough time & money, but it can only be factory original once!" Here's a little background history we've uncovered:

In early January, 1983 Benjamin and Olga Smith were on their way back to her native Stuttgart on a mission. Ben had been a U.S. Army Intelligence officer during the war and married Olga before returning home to Seattle in 1946. Both loved German cars and they'd owned Mercedes since the late 1950's. A member of Mrs. Smith's family back in Europe had just secured the two Benz models the couple had been seeking for some time and this trip would facilitate a tour of West Germany and Austria. They would then ship her new 280SE and his 190SL here to Washington state. Mr. Smith used his state department connections to somehow legally allow both vehicles into the U.S. without having to do the usual headlight, bumper and speedometer head modifications. Over the decades both Mercedes were lovingly cared for and driven sparingly. After Mr. Smith passed, his SL Roadster was delivered to a collector owner. Now, after 32 years, it's time to do the same for Olga's beloved 280SE.

VEHICLE DESCRIPTION

So, when was the last time you saw, or have ever come across, a completely stock factory European W126 sedan? I highly doubt you can find another like it here in the U.S. I've always appreciated the appearance of these boulevard cruisers in the form their designers intended with their more attractive narrow bumpers and large headlight lenses (with wipers). To be clear, it is legally titled and licensed here in Washington State and has been for over three decades. Repair parts and service are easily available and are the same as any U.S. version. I've got to tell you, having driven the car every day since its arrival at my warehouse, what a treat! Where else will you find this kind of luxury, vintage style, safety, mechanical reliability, ease-of-maintenance AND decent economy wrapped up in one gorgeous ride? Please feel free to contact me with questions or to make an offer before the auction ends. My name is Mark Thompson and my direct phone number is 206/914-1173. You're encouraged to come inspect and test drive the car here at my Auburn location.

Ever driven a Mercedes with the bullet-proof dual overhead cam 2.8 liter engine? Smooth is the word for sure. Smooth powerful acceleration. Smooth handling in the curves or on the highway, too. While most W126 four doors came with a big V8, these Euro-models routinely were configured with the inline six. I think it's a great pairing and actually prefer it to the larger motors for longevity, economy and acceptable power. Please take a look at the photos and you've gotta agree with me what a great find this is. Climb over, under and all around this car – I know you'll come up smiling!! What you see is the result of a wash and vacuum only.

CONDITION:

In total, this is a clean, well-cared-for, smoke-free car. I take pride in the vehicles we sell and feel you should know as much about them as possible. Accordingly, here is a list of what I've discovered:

Hop in, turn the key, even when cold starting, and the powerful inline six engine fires right up every time! The car idles, runs and drives like a Mercedes is supposed to – instant, strong oil pressure, good battery and charging system, no overheating, no brake pull to either side or perceived alignment issues! Most U.S. versions of this body style came with a V8 engine. Very few Euro-models made their way to North America but could occasionally be sourced from a Benz club member or, as the Smiths did, an overseas contact. Having personally owned more than thirty Mercedes over the years, I've developed a great appreciation for their style, mechanical reliability and overall driving experience. Over the past few weeks my wife and I have put on over five hundred miles including freeway cruising at 65 MPH for several hours down to Portland, Oregon and back. THIS CAR RUNS OUT JUST AS IT WAS MEANT TO. I TRULY HAVE NEVER DRIVEN A VINTAGE BENZ THAT I'VE LIKED BETTER!! I know you'll be proud to own and drive it as well.

We believe the car has been garaged the majority of its life as it appears to still be in mostly original paint. There are certainly no major rust issues because western Washington rarely gets snow and our roads are never salted. I would recommend a new rear window seal be installed as collected water has allowed some surface rust along the rear roof edge above the glass and a pinhole leak at the bottom right corner could allow water to get in. Both front fenders, all four wheel wells and other major surfaces appear solid. There is a small, narrow area above the left rear bumper that has some outside surface corrosion. I'd have spot work done to maintain the originality of the exterior and to secure it for the long-term. The factory wheels are straight and true. They're wrapped with 195/70R14 Michelin Destiny radials with at least 50% remaining tread all around. Both one-piece headlights have mini-wipers and are vertically power-adjusted from the dash.

Take another good look at the interior pics. The original wood trim is about the best you can ever hope find. Hop in and feel comfortable sitting on these firm bucket seats for hours as the springs have held up far better than most. There's no cracked, shrunken, splitting leather or MB Vinyltex here! The matching rear bench hasn't suffered the fates of time either and still has strong underlayment and great upholstery on both the seat base and back rest. All door panels are near perfect as shown. The dashtop & wood trim are excellent as pictured. There's no evidence of water leakage ever on the headliner or factory carpets. Both the speedo and mileage counter work perfectly and are still delineated in Kilometers. I didn't notice this at first glance and just expected the low 118,774 showing reflected miles driven. Then I realized, after conversion, that 118K translates to less than 74,000 original miles! (If desired or if it's required in your state, I can easily have the unit replaced with a miles-per-hour speedometer/odometer). A/C is a bit of a rarity on European models but it's factory installed on this one! The system is complete, but I'm guessing will need a recharge to function properly. The heater/defroster are working well, but the blower fan doesn't come on. European buyers had more interior configuration choices than American dealers offered. It's not unusual to find crank windows, no air conditioning and fabric seats with manual adjustment on a Euro-model. Our car has power windows up front and cranks in the rear. The driver's seat is six-way powered, but the passengers isn't. It's not surprising Mr. Smith had the original tuner changed out for a "modern" pull-out Blaupunkt back in 1983 and it still works great! It's a mystery why Daimler always had difficulty coming up with a quality, long-lasting factory radio for any of their cars. Even modern Mercedes seem to always have troublesome factory stereos. The jack and spare are in the trunk as shown in the photo and you'll find the original Owner's manual (in English) safely tucked away in the glovebox when the car arrives at its new home.

I'm always very happy to work with any shipper you choose and we have experience shipping vehicles all over the world (being a Euro-model, I won't be surprised if this nice Mercedes ends up going home to Germany!). If you live in the western hemisphere, you're also welcome to do what many of my previous buyers from as far away as Alaska, Arizona, the Midwest, Canada, Florida, New York and even the Mexican Baja have done – fly in here to Seattle (We'll pick you up at Sea-Tac International just a few miles away) and then start a road trip home the same day! As a respected Ebay seller with many, many satisfied online buyers, I want you to bid with confidence knowing that this Benz runs and drives as it should AND that it is being properly represented to you! Please don't be upset if I miss a minor flaw or some small issue comes up on the car as NO used vehicle is perfect. Having said that, I won't hesitate to drive long distance in this Mercedes today!

Please check the photos over closely and call me with any questions BEFORE you place a bid! You're encouraged to stop by, inspect the car at my Auburn, WA warehouse and take it for a test drive. As always, it is being sold "as-is, where-is" with a clean, free & clear Washington State title. Because of the amount of money involved with a vehicle purchase, I reserve the right to cancel your bid if you have any negative feedback. I also ask that potential bidders with a feedback rating of five or fewer transactions on Ebay contact me before placing their bid. Please feel free to contact me directly through Ebay's system or, as outlined above, call me at 206/914-1173 anytime. My name is MARK THOMPSON.

A Few Additional Terms and Conditions:

A nonrefundable $500 deposit is due within 48 hours of the auction's end. We can accept PAYPAL, but but ask that you cover the fees they charge for any amount over the $500 deposit. You're also welcome to pay using your MasterCard or Visa, but I will first need send an invoice and ask that the buyer pay the card issuer's 3.0% charge. The total balance is due by cash or certified funds within seven business days unless prior arrangements have been made with me. Please remember you are bidding to buy and I fully expect the winning bidder to fulfill their Ebay contract! You're not bidding to hold or then come inspect and test-drive the vehicle later — You're more than welcome to do this before the auction ends.

If you do decide to have the Benz shipped home, there are numerous vehicle transport companies to choose from. We deal with them regularly and I'd suggest that you get a transport bid from Dependable Auto Shippers (DAS). They're EBay's preferred transporter and will give you a fair quote. Call my designated rep, Brad Simon, directly at (908)290-1575. Give him my affiliate number (2362642) and he can pull up all our information for door-to-door or even station-to-station price quotes.

As an alternative, you might also get bids from the U-Ship.com website and be able to choose a transport broker from multiple offers. The zip code for pick-up is 98002 (Auburn, Washington). The shipping of the vehicle and company chosen are the responsibility of the BUYER.

The Mercedes can be stored free of charge at my location for up to two weeks after the auction ends assuming full payment has been received. After that period storage is $20 per day.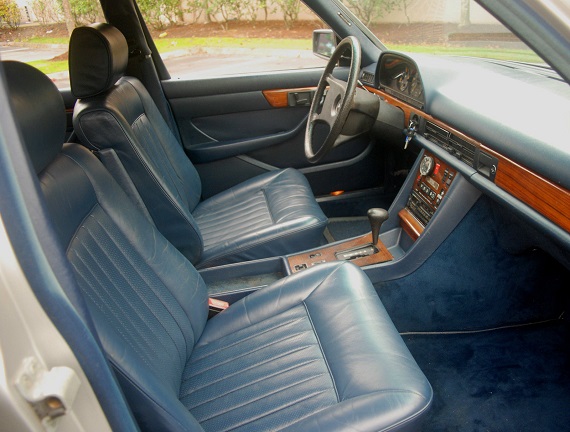 It is interesting that this car came equipped with both leather and air conditioning, because as the seller notes the lower models usually weren't so configured. Also notable are the headlight wipers and no sunroof coupled with wheel covers – pretty unusual on early W126s, and non-existent in the U.S.. Slim bumpers and the glass headlights remind us that this is the better looking European version. There are a few unfortunate additions; the plaque on the dash and thermometer chief among them. Also, in at least one photo the passenger front door appears to be a different shade than the rest of the side. But condition overall is great, the color combination is nice, miles are low and it's a neat and rarely seen model in the U.S.. Unlike Paul's model, though, that doesn't mean a high asking price – it's currently a no reserve auction with one bid below $2,500. If it remains, that is just an unbelievable deal on a classic Mercedes-Benz sedan any way you slice it.
-Carter