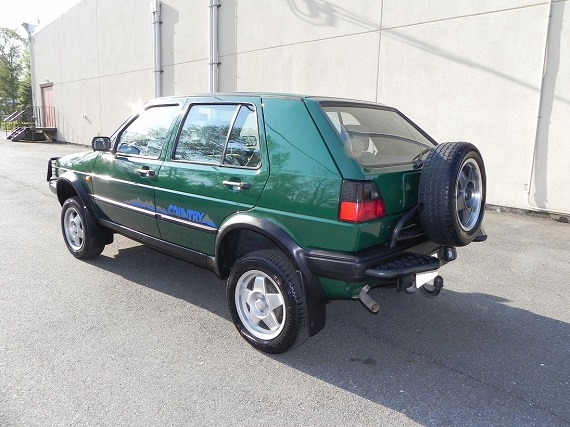 I was in Stuttgart in 1998 when what I thought was someone's version of a good joke rolled by me. It was a dark green Mk.2 Golf; not particularly abnormal since they were still mostly less than a decade old and Germans notoriously care for their cars better than most other nations. However, it was about a half-foot taller than it should have been, equipped with some cool looking Speedline wheels, brush guards and a spare tire mounted to the rear. Germans have an odd sense of humor, so it seemed to fit that this was one mullet short of a Hasselhoff Fan Club. I had no idea that I was looking at a factory model; remember, this was in the infancy of the internet and as an American, knowledge of every single European model of the Mk.2 was hard to come by. But the "Country" graphic scrolled down the side gave me a clue, and after some research I found out that this was more than just a one-off. Underneath the standard looking exterior was a Viscous Coupling all-wheel drive setup shared with the Rallye Golf and Golf Limited, amongst others. The engine was more pedestrian with a standard 1.8 8V, but in total an amazing 438 non-standard parts went into the creation of the Golf Country. Since new, they've always commanded a premium and have been the object of lust for American Volkswagen fans who like to do things just a bit different: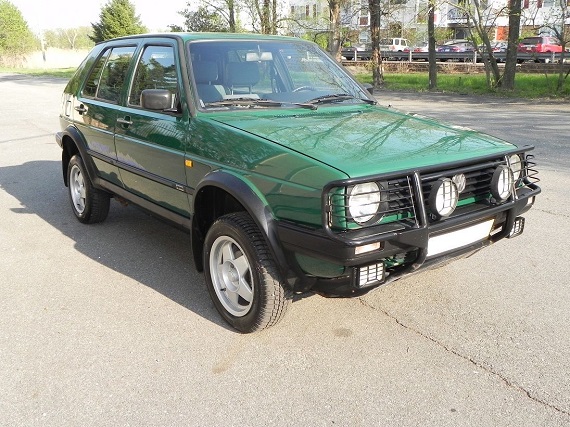 Year: 1990
Model: Golf Country
Engine: 1.8 liter inline-4
Transmission: 5-speed manual
Mileage: 50,741 km (31,529 mi)
Price: No Reserve Auction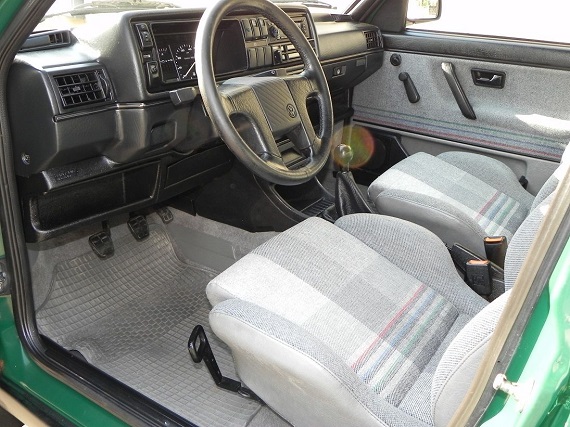 NO RESERVE

Highest bidder takes this car.

1990 VW Golf Country SYNCRO 4WD.
Only 50,741 Original Documented km (just over 31k miles)
All-Original, Unmolested Vehicle. VIN: WVWZZZ1GZLW511545
1.8 Gas Engine.
5-Speed Manual
Skid Plates
Push Bars
Off-Road Lights
SUNROOF
Ect, ect, ect…
Just serviced and ready for the new adventures or shows.
Runs, Drives, and Looks Excellent.
Fresh Alignment
New Tires
Needs nothing.
Free and Clear NJ Title in hand.
No accidents, No stories.
Clean CARFAX and AUTOCHECK Reports
Rustproofed and Undercoated since day one.
Always garaged. Inspected, Maintained, and Serviced as needed with an open wallet after every outing and/or at slightest hint of anything needing attention.

Terms of sale:

$250 non-refundable PayPal deposit is due immediately after the end of the auction. Balance is due in 3 more business days after the end of this auction in cash or bank/certified funds. If you can not or unwilling to follow this terms than please do not bid. Vehicle description represents our subjective and biased opinion. Only manufacturers warranty applies if any. Vehicle sold absolutely as-is, where is, with all faults that it may or may not have. Miles could differ slightly due to occasional use. Buyer is responsible for shipping, however, I will assist in any way I can, just ask me. Please absolutely no "zero" or "negative" feedback bidders (you must contact me prior to bidding). Non-paying bidders will be reported to eBay and collection agency. Inspections are welcomed and encouraged prior to placing a bid. This vehicle is also advertised locally. Seller reserves the right to end/cancel this auction at any time at sole discretion. Thank you and GOOD LUCK!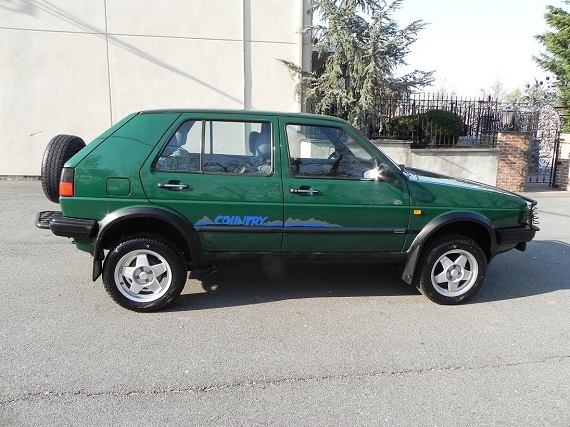 Interestingly, the original name for the Country was apparently "the Montana"; early production shots show lines of the Country all in Montana Green. In terms of limited production vehicles they weren't all too rare; the Golf Limited was quite literally limited, with less than 100 produced – but nearly 8,000 Golf Countrys were produced. If you think about them as the original Allroad, it makes more sense; they actually could go off road, but avoided large engine taxes and the stigma of driving a Land Rover in Germany, along with better on-road manners. This example is absolutely top condition for any Mk.2, and when you couple that with a U.S. title and a rare model, it's certainly going to bring top dollar – and it already has, with bidding already past $13,000 on the no reserve auction. You could find one and import it for less than that, but you're looking at a serious headache in doing so, and matching the condition of the one presented here would certainly be tough. As a result, as a turn key, limited production German oddity from the 1980s, this will likely be one of the highest values we've seen yet on a Mk.2 in the U.S.. Boy, is it cool!
-Carter