Following on to the success of the Mk1, the MkII Volkswagen Golf saw an ever expanding range of body styles and engine options to carry this popular model through to the 1990s. One variant to emerge from the MkII range, which incidentally was never sold in the United States, was the Golf Country. Designed as a light off-roader, it had a raised suspension, Syncro four-wheel drive and other off-road accoutrements such as a skid plate and brush bars. Finishing off the appearance was an externally mounted spare tire. All Golf Countrys were equipped with the stalwart 1.8 liter 8 valve four cylinder, producing 114 horsepower. In total, fewer than 8,000 Countrys were manufactured, with a handful having found their way across the pond. Here's one of those examples for sale in California.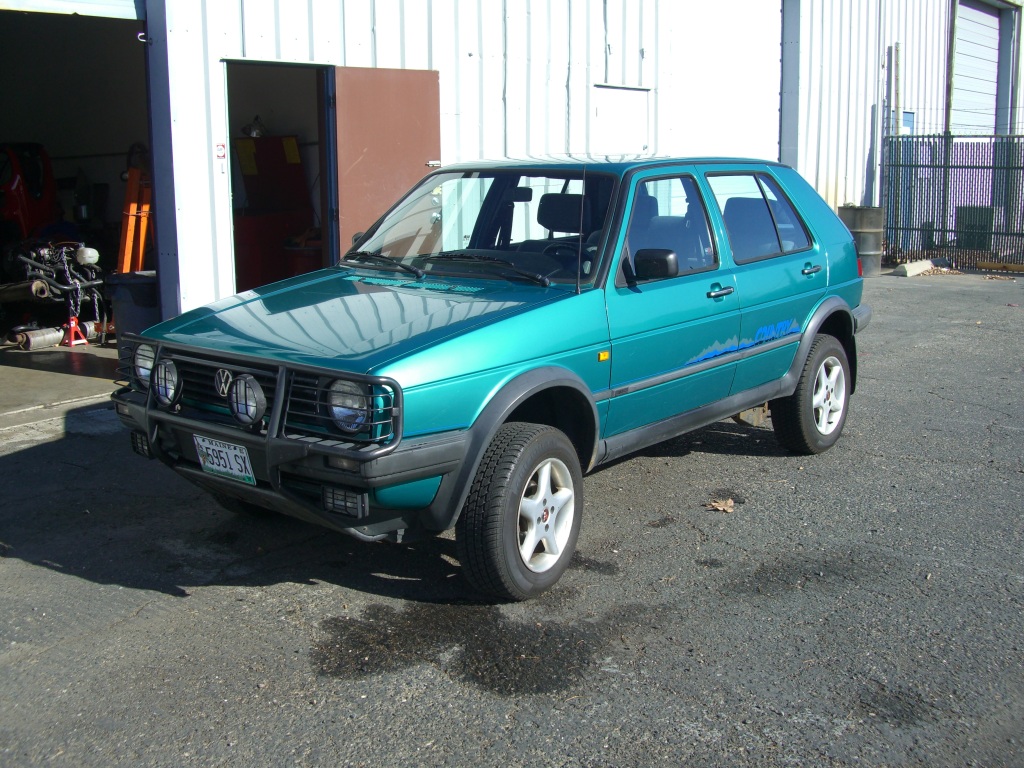 Selling my '90 Golf Syncro Country. This was my car last time I was in Germany and I legally brought it back with me last year. Located in Sacramento, CA and currently registered in Maine because Cali just wants too much money! Nice driver, clean car, everything works. 135k miles. 5 speed transmission. Sunroof. All original except the wheels. Brand new mud & snow tires with less than 1,000 miles. Runs well, but could use a complete service including timing belt. It looks old and I do not have any maintenance history. There's a muffler rattle at idle. Interior is in excellent condition. Headliner is brand new. Body is very solid. No rust execept a small spot on the windshield and a spot on the rear deck where someone had a sticker that went bad. Some scratches on the hood and a light scrape on the passenger-side, rear door. Please see the pics. Asking $12,500.
I'm a big fan of these Golf Countrys. It's an example of "everything you need, nothing you don't" motoring. Crank windows, cloth interior, good ground clearance and Syncro make this an idea car for someone living in the Snow Belt who doesn't want your typical gas guzzling SUV but still would like to get around during the cold months. At $12,500, this is a bit rich for a MkII, but it is in good shape for such a utilitarian vehicle. Given it is missing the factory wheels and needs a bit of service, it would be reasonable to bargain a bit off this price and have folks stare in awe the next time you roll by a Volkswagen dealership.
-Paul