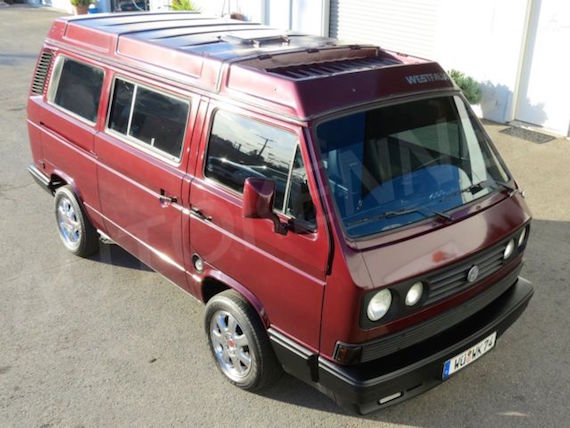 Vanagons can be found for cheap or ludicrously expensive, but today's restored Westfalia seems to be the right van for the right price. From an updated interior (check out those front seats!) to a 2.3 liter GoWesty engine update, it's a fully-functioning camper that needs nothing (except maybe some new wheels). It's not a bonkers Syncro mega-worldrover, but it is clean and well-done. $35k isn't cheap, but it's a reasonable price in the Westfalia world, especially considering the work done here.
Year: 1990
Model: Vanagon Westfalia
Engine: 2.3 liter flat-4
Transmission: 4-speed automatic
Mileage: 3k on engine, 159k on chassis
Price: $34,990 Buy It Now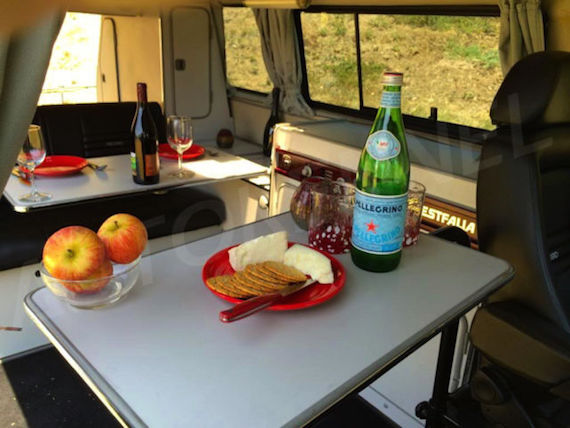 1990 Volkswagen Vanagon Westfalia

Fresh "Go Westy" 2.3L Engine with Warranty

Recent Restoration

Stock #0619

VIN # WV2ZB0253LH023290

Less Than 3,000 Miles on New Engine/Restoration

159,133 Miles on Chassis

Basque Red Pearl on Black/Grey Interior

Automatic Transmission

Functioning Air Conditioning

Non-smoker

Engine Warranty by GO WESTY

No Accidents/Clean Background Check

Clean and Clear California Title

Nearly everyone I've met has some attachment to VW buses…especially the Westfalia campers. They owned one; grew up with one; or, had a friend in college with one. Regardless, the memories attached to these vehicles are always happy and usually bring smiles to peoples faces. Every time I take one out for a spin I get a "thumbs-up" from other drivers. Personally, this era Westfalia is one of my favorites. They still have that vintage look with the upgraded South African round headlight conversion, but with the major mechanical improvements, they actually drive like a more modern car and are much more usable and reliable.

I've known the current owner of this Westy for over 30-years. Growing up in the heart of SoCal car culture, he always had an affinity for restoration projects. He loves taking something old and making it new again. This Westfalia was certainly no exception. He found it a few years ago from an enthusiast who owned a Ferrari/Maserati service shop. Although it had a good history with only a few owners, it had been neglected for sometime. The body was straight/solid and there were no signs of accidents or misuse. However, everything was beginning to show its age. So, what started as a light clean up to make a fun weekend camping toy turned into a full "glass-out" restoration. His ultimate goal was to create something that might come from Volkswagen if they started building these campers again.

Many of the parts were purchased from GoWesty (one of the leading suppliers/restorers of Westfalias). Well over $25,000 was invested. The list is extensive. Here are some of the highlights of this build:

Complete GoWesty 2300 upgraded motor

GoWesty warranty good for 36 months/46,000 miles

Glass out/strip down/complete disassembly repaint in color similar to original

Undercarriage cleaned and rust proofed

Restored fiberglass canopy top

New 3-window pop-top tent canvas (color matched to paint with embroidered Wolfsburg crests)

New rubber seals/moldings

A/C system restored to blow cold

Rebuilt brake system including Brembo rotors and custom painted calipers

Fresh suspension components with Bilsteins all the way around

Mercedes CLK 430 wheels on 215/60/16 tires with custom Wolfsburg center caps

Rebuilt steering rack/power steering system flush/service

Accent paint to match exterior on Kitchen control panel and fire extinguisher

New black carpet and floor mats

Black leather Recaro front seats with custom Wolfsburg logo on back side of headrests

Matching rear bench with custom Recaro stitching

Reupholstered bottom and top bed pads

Custom engineered 12" upper bed extension (up to 7' tall person can now fit above)

New curtains

New rear hatch struts

Interior skylight/vent added

Larger wipers with new rear wiper motor

Upgraded dash lights

New sink pump and variable flow/adjustable Sure-Flo faucet

Sony stereo system with MP3 capability

Solar battery charger system stealth-integration into the factory hook-up

New auxiliary battery kit

Custom chrome Westfalia decal set

Upgraded interior chrome trim to kitchen control panel, cabinet moldings, tables, etc.

New radio antenna

New gas cap bezel, rear fender chip guards, and rear suspension bolt caps

Restored bumpers and air dam including upgraded driving/running lights.

South Africa upper/lower grills with round headlight conversion

Refurbished cooling system: radiator, hoses, water pump, and thermostat

Newer transaxle

Tinted windows

Refurbished LPG tank with new fill and relief valves

The condition of this factory original Westfalia is excellent. It is ready to take anywhere to start enjoying the outdoors. The outside looks great with almost no signs of use. All the lights work properly. The chrome wheels have no curb rash. The interior looks equally as fresh. No strange smells or odors. In fact, it smells like new car leather. All the gauges work properly, even the digital clock. All the switches/buttons function correctly and the a/c blows ice cold (even in the rear unit).

Current California smog certificate and registration.

This Westy comes complete with extra keys, lots of records, owners' manuals, solar panel kit, spare tire, and jack.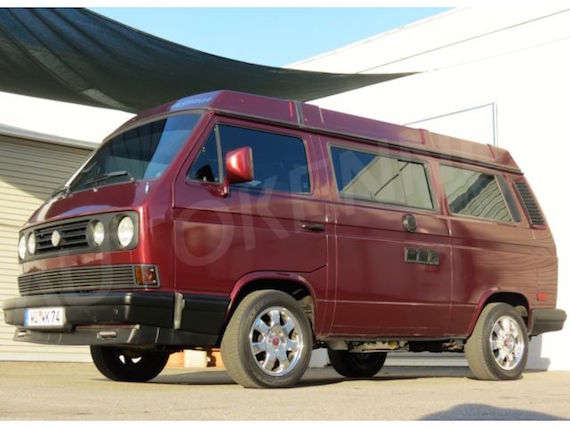 There are many Mercedes rims that fit Vanagons, but these chrome uglies off a CLK don't make sense to me. That's about the easiest thing to change on a van, however, and the big selling point here is the hard stuff that's already been done. The engine is clean and new and should be a healthy improvement over the stock 2.1-liter. The updated leather interior takes the Westfalia package to a new level and looks truly comfortable and useful. If you're looking for a great roadtripper, this one is ready to go and appropriately priced for the market.
-NR