We've had some reader requests recently for some Mercedes featuring their beastly twin-turbo V12 present in "65" models. I'm obviously a fan of all things AMG, but the 65 has always seemed like a unique animal. Viciously expensive, powerful, and fast, they exemplify the "bit more of everything" luxury sports cars seem to be striving for today. Sweet AMG engines of the past wilt at the thrust of the 6.0L V12. Amazingly, the normal observer would have no idea of the engine intimidation factor present, as most 65s look exactly the same as 63s, 550s, and 430s save for some badges and anthracite wheels. Operative word today being "most," as this 65 is the king of all kings. The third Black Series model ever produced, Mercedes went whole hog with more power, carbon fiber wide body kit, and go-fast bits all over. While the CLK and new C Black Series carry that amazing DTM-on-the-street look, the SL65 AMG Black Series looks straight-up Batmobile in dark colors. With only 175 in the US and 350 in the world, you're probably more likely to see a Batmobile replica.
As if 660hp weren't enough, the PO of today's SL decided he might as well throw $27k worth of Renntech bits on so that it produces that much power AT THE WHEELS. You know, for fun. Some normal ecu-etc. upgrades went on, and I'd be interested to see how the locking differential changes the car. This AMG engine is well known for producing toomuch torque and overwhelming its traction control. Maybe the locking differential makes smokey burnouts more possible? Hopefully that ECU upgrade tamed the traction control. That's a moot point though, as the concept of building an engine with too much torque for the car to handle is the thesis of this car. Too much, 100% of the time, everytime.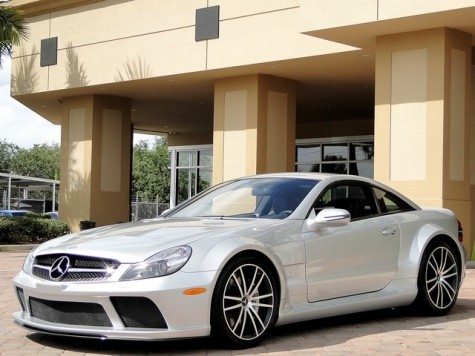 How much does craziness cost? This kind of craziness seems to be right in line with the market (surprisingly, there are 4 SL65 Black Series on eBay currently) at $240k with about 3000 miles. You could get some nice supercars for that kind of change, but you can be sure they won't have the audacious power and fender flares present on a Black Series. No, it's not the precision screamer of a Ferrari or the magic of the fastest of Porsches, but if Mercedes is your style, I'd take this over an SLR McLaren any day.
-NR