Warning!
This post is in our archives. Links in this post have been updated to point to similar cars available to bid on eBay.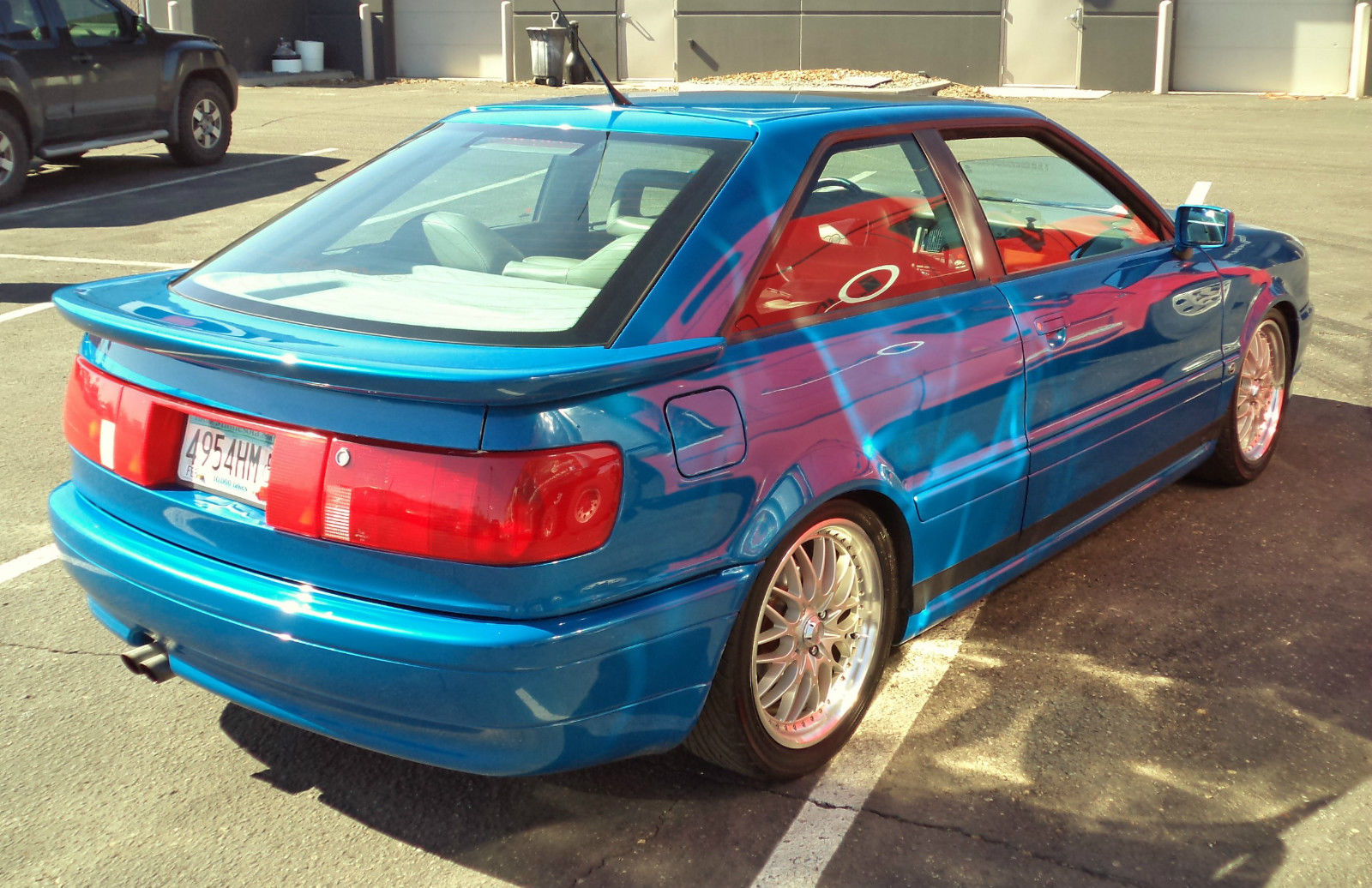 A few weeks ago, our reader John sent me a listing on Craigslist for this car. I immediately laughed. It's not that the car was modified to look like an RS2 in the front and resprayed. On the surface, that's pretty common and overall it looks reasonably done. It's not that the car didn't get a matching engine transplant; the unappreciated 20 valve normally aspirated 7A inline-5 is still there. It's not that they didn't do a 5-bolt conversion with larger brakes. No, what made me laugh was the color – Sprint Blue Pearl. That's a B7-spec color, and while to non-Audi nerds it may not matter, it's the wrong color. Nogaro Blue, technically, would also be the wrong color, since the RS2 was oft-anointed in the special shade of RS Blue. Now, technically that color seems to be the same color as the later B5-chassis shade, but nevertheless the person who repainted this car in the spirit of the RS managed to be 3 generations off in color. It's that kind of attention to detail that always worries me about modified cars: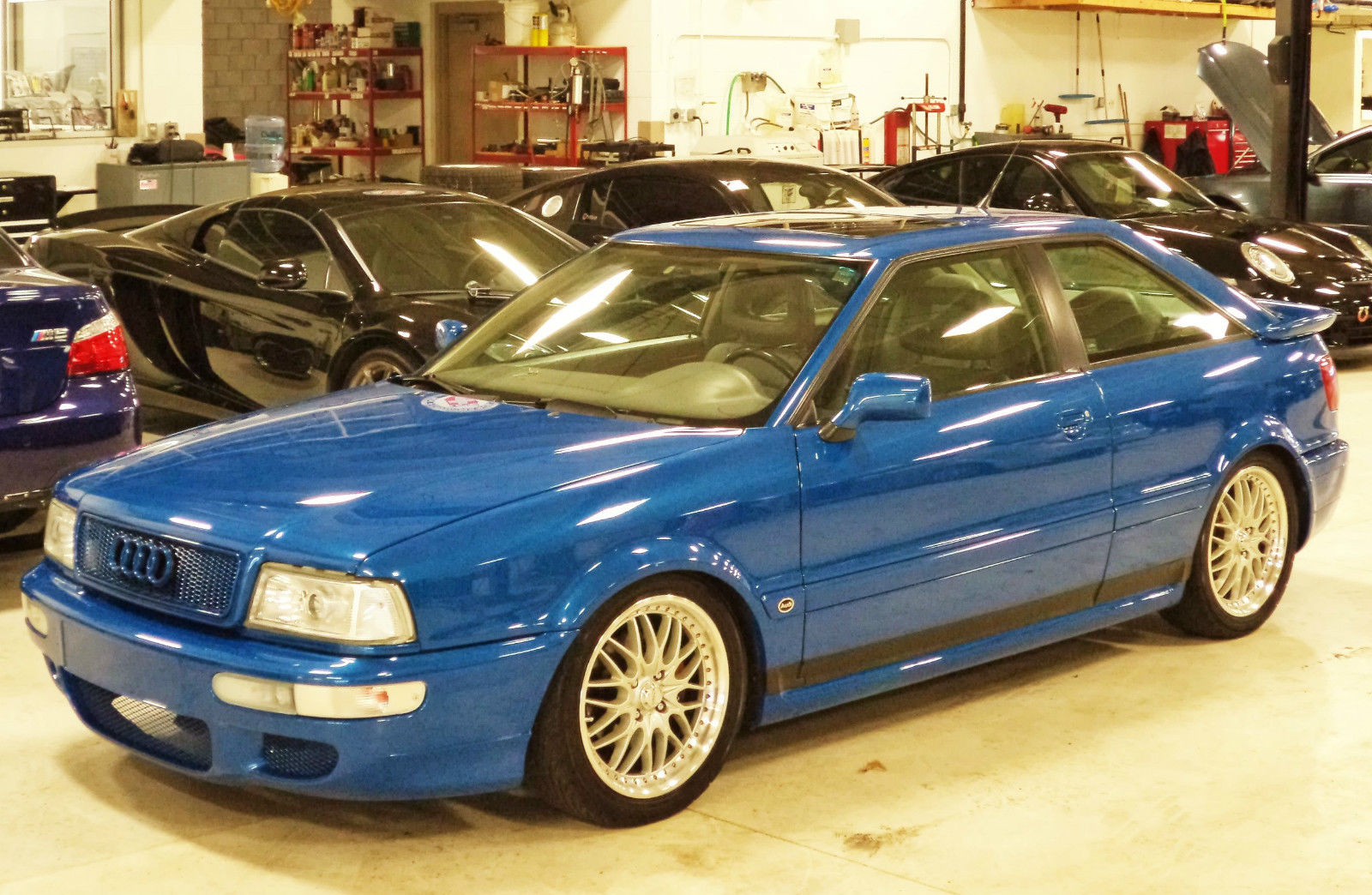 Year: 1991
Model: Coupe quattro
Engine: 2.3 liter inline-5
Transmission: 5-speed manual
Mileage: 127,477 mi
Price: No Reserve Auction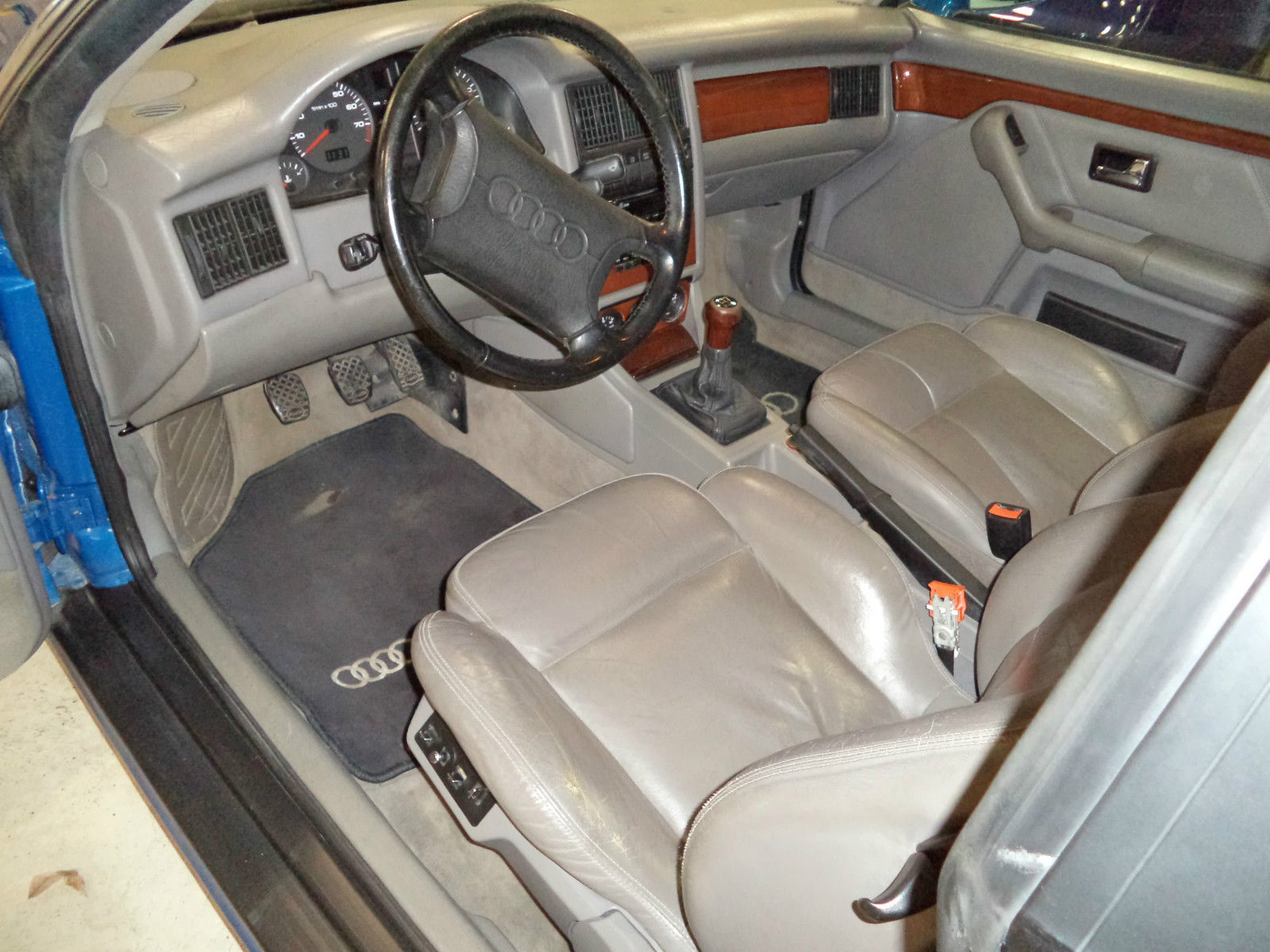 1991 Audi Coupe

Immaculate Car with S2 Upgrades

//// 2.3 liter 20V DOHC

5-SPEED & QUATTRO ALL-WHEEL-DRIVE

LEATHER, RARE POWER MOONROOF! So much MORE! ////

VIN# WAUGE58B6MA007079

This is a cherished classic Audi B3 Coupe that is in remarkable condition. It has been up very expensively upgraded with many S2 / RS2 mods. The special RS2 trademark Sprint Blue paint color has a very, very beautiful finish. Enthusiast-owned and pampered. All of the car's detailing indicates an impeccable show winner.

This car has Generation II Quattro system with Torsen center differential and manually locking rear differential. Everything works, including all gauges, sunroof, controls, switches and lights. Car drives beautifully. Clean and beautiful leather interior with perfect wood trim. The entire list of flaws includes one small paint chip, one small tear in seat bolster, and a cracked seat belt receptacle (belt works fine). These are all shown clearly in the photos. Car is otherwise spectacular in all respects.

Body is perfect, and we couldn't find any rust underneath. There is a set of nearly unused snow tires on very rare OEM Speedline alloys (which are now obsolete and expensive when they can be found at all). There is NO evidence the car has ever seen snow: THIS is a CLEAN, GORGEOUS CAR!

Extensive maintenance file and fanatical attention to upkeep. Car driven only 20,000 miles in last twelve years. This is backed up by the records. CLEAN CARFAX.

Just COMPLETELY INSPECTED & SERVICED. Fresh Mobil 1. Car comes with books, Audi workshop manual, and a can of Sprint Blue paint!

It's estimated that there are only 5 or 6 others cars in the USA configured as an RS2 clone similar to this one. This may be the only Coupe. It's doubtful that any are nicer than this one, and it would cost much more to create a copy, making this car a unique opportunity for any German car fanatic.

Very tough to find a car in this price range that turns the heads of knowledgeable enthusiasts and wins trophies like this car does! MANY MORE PICTURES AVAILABLE! http://s1317.photobucket.com/user/Kowalski111/slideshow/1991%20Audi%20Coupe Over, under, sideway, down!

S2 UPGRADES INCLUDE:

S2/RS2 Front Bumper, S2/RS2 Steel Grille and Lower Grille Set, S2/RS2 Air Dam, S2/ RS2 Hood, S2/RS2 Projector Beam Headlights & Driving Lights, and RS2 Rear Bumper. 2Bennet coil-overs all around. (About $7500 in parts in 2005)

Correct RS2 Sprint Blue paint, correct RS body-matched paint on grille, mirrors & trim.

2 SETS WHEELS & TIRES for WINTER & SUMMER PERFORMANCE!

Summer: PERFECT 17″ x 7″ Konig alloys with 215/45 x 17″ ZR Yokohama AVS. No curb rash!

Winter: FACTORY ORIGINAL Speedline alloys with almost new 195/65 x 15″ Yokohama Ice Guard Snow Tires.

EQUIPMENT INCLUDES:

AC / Climate Control; very rare factory Power Tinted Glass Moonroof; Cruise Control; Power Windows; Power Steering; Power Locks; Power Mirrors; Leather Seats & Steering Wheel; Tilt & Telescoping Steering Wheel; Power Driver's & Front Passenger's Seats; Memory Seat Position; Heated Seats; Wood Trim; Driver's Side Airbag; Alarm System; Trunk Mounted JCV Disc Changer.

STARTING BID – NO RESERVE! $10,000

Owner open to interesting trades + cash

GOOD LUCK! Please bid to the value this car may hold for you. Please feel free to ask questions or add comments. Please ask questions BEFORE you bid. We will respond quickly and honestly. This car is located in Minnetonka, Minnesota 55305. INSPECTIONS are WELCOME and ENCOURAGED!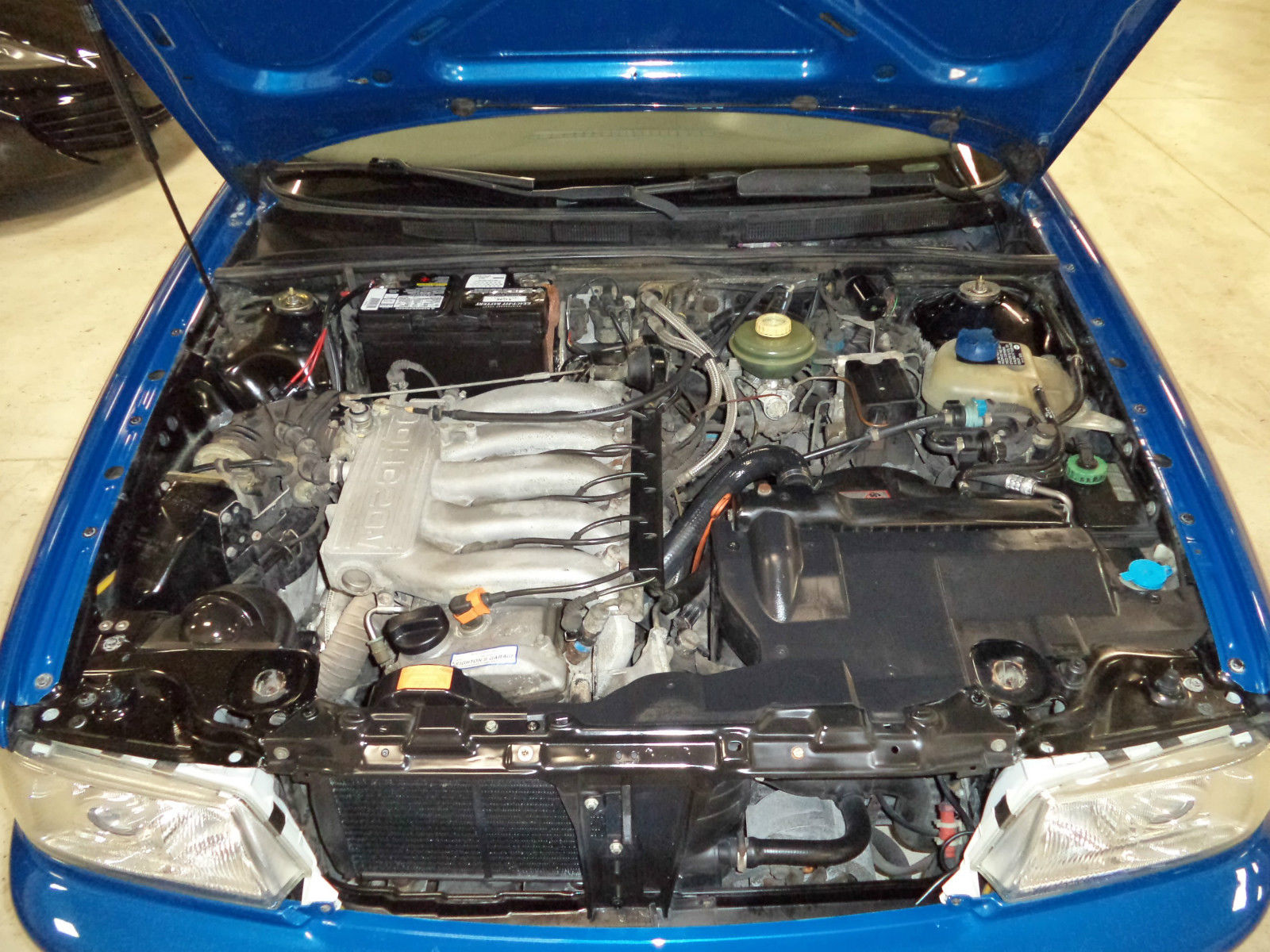 So, the seller is selling this "correct" blue coupe with "S2″ upgrades. I wasn't able to find what those upgrades were, unfortunately. The front is RS-spec and the painted grills look a bit off, as do the painted moldings which give the overall appearance – perhaps unwarranted – of a cheap paint job. Inside there are no S2 details. In typically and poorly researched internet bravado, the car is misrepresented. Now, that said, it still appears to be a pretty nice example. The paint job overall looks decent and the jams were done, but from the engine bay it appears the car was originally black. Inside the grey leather is far above average and the car has the glass moonroof. The suspension is 2Bennett coilovers (which are rebadged Ground Control units) which provide plenty of adjustability. The wheels are pretty horrible in my opinion, but there are plenty of options that would make it look better. Thankfully, the original Speedlines are included. Personally, I'd source some of the 16" sport Ronals from the late cabriolets, or perhaps a set of the Team Dynamics race wheels to really make the car pop. Despite this, overall the car appears presented at a high level and much cleaner than normal. Audi only sold 364 of these Coupes in 1991 in the U.S., making it one of the most rare Audi models sold here. Despite that, this just isn't a $10,000 car in my opinion. Perhaps if all the details were right and more tasteful, I'd agree. With a proper S2 bumper and headlight setup, along with the correct color, this car would really be a standout. As is, it appears slightly off and a little disappointing with the wrong details executed poorly. I'd cap my spending at $6,000 on this example, personally preferring a more stock and original clean slate
than one that was built to someone else's tastes.
Thanks to our reader John for the original listing!
-Carter