At first glance this may appear to be nothing more than a very clean E34 525i, but look inside and you find out that this car is quite unique. It's not the pristine cloth interior that I bet still smells good or the OEM tape deck. No, what makes this ultra low mileage E34 so unique is that it's a import from the Land Of The Rising Sun. That's right, this is a LHD BMW Japan E34 525i. I'm not an expert on BMW interior history but from what I've been able to find, the steering wheel in this vehicle is also unique to foreign markets as is the leather surrounding the shifter. Someone please correct me if I am wrong but so far as I can tell all the U.S. spec E34 5 series had a hard shifter surround, not padded leather which I think is a very nice touch.
Aside from those things the interior is the same low key environment you'll find in any E34, simple ergonomic design that is focused on the driver. It's always such a pleasure to see vehicles of this era with such sharp interiors because it really exemplifies how on point they were. I've been in a bunch of E34's and never really appreciated the cabin as most of them had been well worn, sticky surfaces from spilled coffee, cracked leather, that stale smell of two decades worth of shutting people around. I hope that the person that takes this thing home realizes how special it is to break in 26 year old car and really enjoys the process of doing just that. It's great that this 525i has such low mileage but I'd say it's time for it to be somebody's daily driver.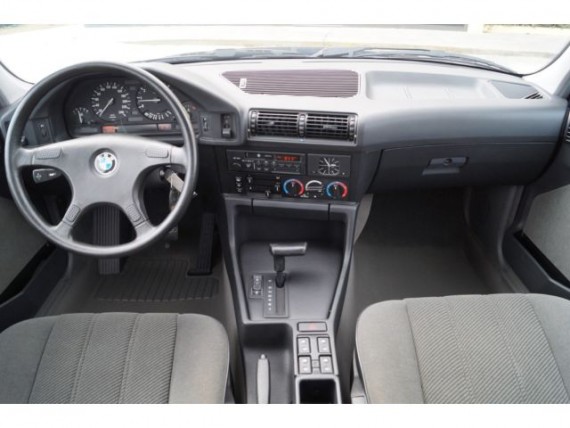 Year: 1989
Model: 525i
Engine: 2.5 liter inline-6
Transmission: 4-speed automatic
Mileage: 17,917 mi
Price: Reserve auction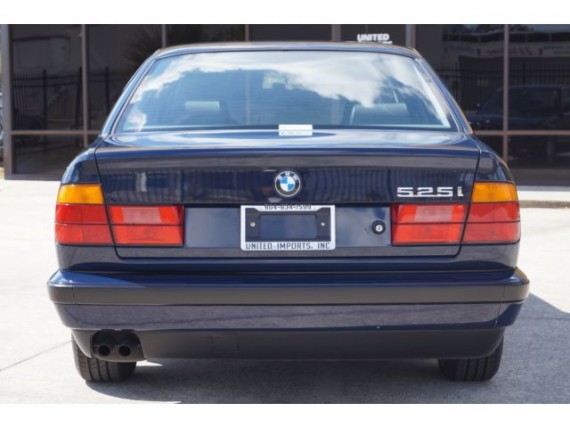 You may call this car a "time capsule" or say it is "museum quality", but the fact is that this BMW is as clean and original as a 26-year old car can get. It still has a new car smell from 26 years ago; simply amazing.

It is a 1 owner car that we imported from Japan. Garage kept since new. It is a Euro spec car so the seats are velour with manual adjustments. It has power windows, mirrors and locks as well as automatic transmission.

We have some service records that came with the car. We know timing belt was replaced in 2010 due to age. Also, we installed brand new tires (old ones were dry rotted), changed spark plugs, distributor cap and the rotor. Despite ultra low mileage, we felt like these items may have had to be replaced due to the age of the car.

This car looks brand new from every angle. The undercariage is still covered with cosmoline, which is what the Germans used to protect the car before shipping outside of Europe.

This BMW has not been sitting for years. It has been regularly driven but on very short distances. It had active registration until was shipped to the US, which means it was actively driven and serviced.

This BMW has clean FL title and now it can be titled and registered anywhere in the US with no issues.

I dare this car could not be duplicated or found in similar condition with similar mileage.

Please, not the odometer is in kilometers, not miles.

FEEL FREE TO CALL 904-755-5890 WITH ANY QUESTIONS OR REQUESTS.

WE WILL BE HAPPY TO ACCOMODATE 3RD PARTY INSPECTION OR TAKE ADDITIONAL PHOTOS FOR POTENTIAL BUYER.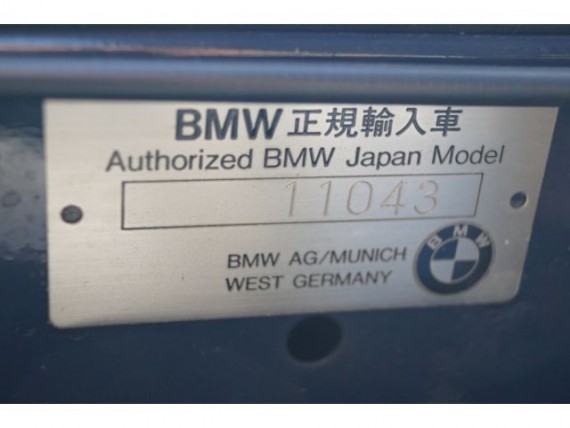 With proper care these cars will crest 200,000 mi without breaking a sweat. They might break a timing belt every 60k or so but that's an easy fix as are most of the parts on the M20 motor. The '89 525 saw a bump up to 170 hp and with an performance chip and tweaked air intake system you can squeeze a little more juice out of the 2.5 liter inline six. Of course flat out speed isn't what this car is about, it's about efficient, stylish transportation. Again, I think you'd be hard pressed to find a better color combo than this blue over grey cloth. It's grown up without being stiff and with a 5 Series that's what I'd be looking for. Of course it would be infinitely cooler if it had a 5-speed manual but as with the E28 535i I wrote up, but I don't think that it's a deal breaker. Ultimately this car would make a very solid ride for a commuter and there's nothing wrong with having an auto for the daily grind. Bidding currently sits at $5,200 and I would expect the reserve to be set somewhere around $7,500 or $8,000. Even with the extremely low miles and the added uniqueness of its Japanese origins, I don't think this car will start a bidding war. It is a cool car but it's a very niche market that would see it as such and therefore I wouldn't think it'd go for more than $8,000.
Cheers,
-Andrew