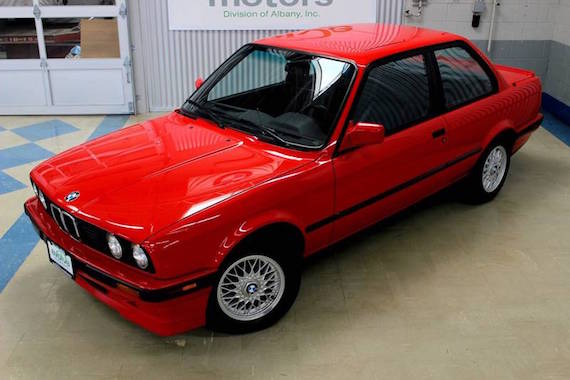 For all the desirable //M cars over history, there's one classic BMW that has always stood out in my mind that hailed from the end of the E30 production run. The 318is. This was a curious model, pairing the popular but aging 3 series with the new DOHC M42 inline-4. Sold for one year only in the US market, this car offered the style of its bigger brother, the 325is, at a reduced cost of entry by way of a the smaller engine and the omission of a few features. While I have fond memories of my 1988 325is, I would almost prefer a car like this mint, low mileage 318is for sale in Chicago from Evolve Motors. Somehow, this coupe speaks to the simple pleasures of motoring. This has been a BMW theme over the years that, in my opinion, has been clouded in recent years but somewhat fussy styling and an overkill of technology and the added weight that comes with it.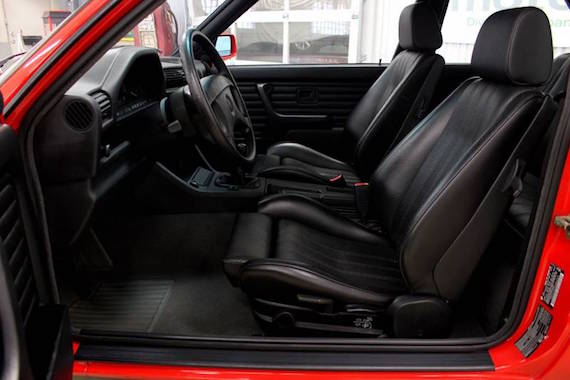 Year: 1991
Model: 318is
Engine: 1.8 liter inline-4
Transmission: 5-speed manual
Mileage: 41,809 mi
Price: $29,500 Buy It Now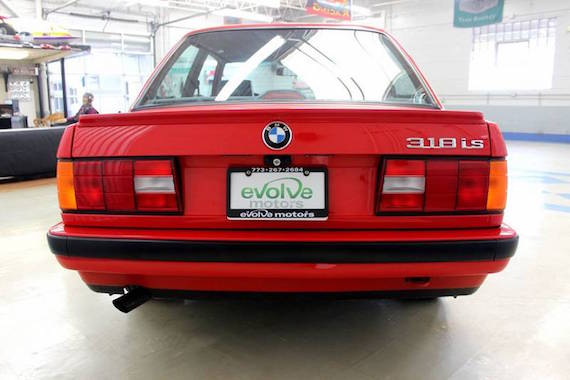 1991 BMW 318is

All Original – ONLY 41,809
MILES

2 Owners / Clean Carfax

Pristine Condition / Showroom Quality

RARE E30 –
Only Year for the 318is!!

Extremely Well Preserved Survivor

ALL ORIGINAL PAPERWORK
*INCLUDING*
WINDOW STICKER
BOOKS
KEYS
SERVICE RECORDS

*Vin # WBAAF9310MEE66371

Type – AF93
Model – 318is – USA
Development Code – E30
Chassis – LIM
Steering – LL
Doors – 2
Engine – M42
Displacement – 1.80
Power – 103
Drivetrain – HECK
Transmission – MECH
Color – Brilliantrot – 308
Upholstery – Schwarz Kunstleder – 0166
Production Plant – REGENSBURG
Production Date – 4 / 24 / 1990

*Options Tag

209 – Limited Slip Differential (25%)
242 – Driver Air Bag+series Steering Wheel Rim
281 – Lm-rad 6½ x 14
300 – Zentralverriegelung Elektrisch
400 – Sliding Roof – Manual
410 – Window Lifts, Electric At Front
481 – Sport Seats F Driver / F Passenger
530 – Air Conditioning
556 – Exterior Temperature Display
675 – BMW Sound System
925 – Shipping Protection Package

After "M," the two most important letters in the performance BMW alphabet are "i" and "s". The changes that come with those two little letters are anything but drastic – they've usually included such things as a sport tuned suspension, seats and trim accoutrements, and sometimes different wheels – but those two little letters have resulted in some of the German manufacturer's most coveted automobiles. For 1991only, BMW offered the 318is, which was powered by a 1.8-liter M42 inline four cylinder engine producing 134 hp at 6,000 rpm and 127 lb-ft at 4,600 rpm. Sure it's no powerhouse, but it does rev quickly once underway. What it lacks in refinement it more than makes up for in sheer enthusiasm! Trouble is, the cars are now at least two decades old, and they're so fun to drive that many have been flogged nearly to death, with few left in good, original condition. We have one of the few, and it is a most gorgeous example! Scroll to the end of this description for all pictures.

This 318is was originally won in a raffle by a gentleman back in 1991. It appears to me as if he never would have expected to own a BMW otherwise, so when he had his chance to win one, he took exceptional care of it. Included with the original paperwork and window stickers is a small "diary" of every service, detail, fill up, etc. It truly is remarkable that every detail is noted in this small notebook. You can see as time passes by his hand writing gets worse and worse, almost to the point it's illegible. As his health failed him he was forced to sell the car. A premier BMW auto group in the Midwest purchased the car from him. A gentleman from Chicago was able to buy it from them not much more than a year ago, and decided to part ways with it. He loved to car very much, but was ready to move on to something new and fun to drive. This car has been handled with kid gloves its entire life, and needs an owner who can appreciate what a clean and unique vehicle they have. These are sure to go up in value, as all of the E30 cars have in the past few years. Here's your chance to get your foot in the door of investment car buying!

This 2-owner E30 is sitting comfortably draped in it's original Brillantrot (Bright Red). The pictures of this car really don't do it justice, as it is just as clean, or cleaner in person. With a clean Carfax in hand, and a thorough top-to-bottom inspection, we can safely say that this car has never seen a collision or repair facility. The door, hood, fender, and trunk gaps are factory perfect. The spoked aluminum wheels show nicely, with very little scarring or scrapes, and are wrapped in brand new Yokohama tires. I think the car speaks for itself in the pictures and the documentation that accompanies it, but we're here to give you the meat and potatoes. We do note the few small "chips" in the hood just right of the BMW emblem. There are various small imperfections in the lower front valance below the bumper, but none that would raise a brow. To see a low mileage "is" car like this is unheard of, to find a low mileage one in this well preserved state, needs to be appreciated by the right person. The exterior walk-around scored an 8.5 out of 10 in my book.

Climb aboard the 318is and be ready to be taken back to an era when BMWs were a lot simpler and purer than they are today. The E30's generous greenhouse offers great visibility, while the attractive Sport seats hold you firmly in place. So basic; all you get is all you need with this gorgeous time capsule. Don't expect the navigation to tell you where to turn, or the adaptive cruise control to help you out in a pinch. This car commands to be driven, and although the 318is needs 9.8 seconds to cover the 0-to-60 gap, it feels quicker, especially on a winding road. You'll be thankful of those well-bolstered seats. The Schwarz Kunstleder (Black) leather is in perfect condition, with absolutely no wear marks, tears or stretching. All of the "M inspired" gauges are in good order, and light up nicely during night time driving. This was a rare car, not just in the fact that it's an "is", but that it came with the option of a steering wheel airbag safety system, making it one of the first in the BMW lineup and in the American auto industry to offer such a safety option. The floors on this car look as if someone hung a "no shoes allowed" sign on each door handle, as it appears to be in showroom condition. The leather wrapped "M" shifter knob even shows well, with very little wear on the leather knob or boot. The manual sunroof slides open and close with ease, and no unexpected rattles or clunks. This car is a true example, and easily scores a 9.5 out of 10 in my book, and I'm picky! Scroll down to see all pictures of the interior.

Mechanically there is really only one word for this car. Fun. This car is just plain fun to drive, and it's built to do just that. Again, don't let fact that there is a little four-banger engine under the hood fool you: What this car lacks in sheer power, makes up for in playful drive-ability. Even though 54% of it's 2,602-lb curb weight is over the front axle, that's still only 1,405 lbs, making the BMW's nose light and pointy, quick to respond to steering inputs. The anti roll bars keep all 4 wheels on the ground during spirited driving, although there is a fair amount of body roll to contend with. Once the car rolls over and takes a set, it corners with impressive stability. The great news is that this car is just as clean mechanically as it is visually. We have a small booklet that came from the original owner, much like a diary, documenting dates of oil changes, major services, even car washes and fill ups! There is nothing negative to note about this driver quality time piece! This is easily one of the most fun BMW's I've ever driven, despite it's modest output.

Although the car has spent most of it's life in Minnesota, it is 100% rust free. The undercarriage shows just as nice as the engine bay, and really the rest of the car. As we mentioned before, we were told that the car was won at a raffle way back when, and that an older gentleman won it and basically only brought it out on nice days, and mostly for short Sunday trips. If you're concerned that this car may be "too nice" to be original, you will be mistaken. This is a show quality driver, that with the right care and preservation, will be a sure collector in no time. As these climb past that 20 year point in age, they are starting to gain a cult following, much like the 2002's have over the past couple decades. Call Evolve to put your offer in today, I can promise you this one won't last long!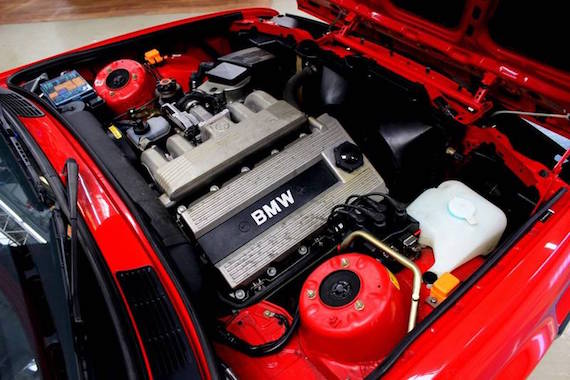 E30 popularity is no secret amongst the enthusiast community. It seems just like yesterday that you could get a clean E30 M3 for about the asking price we see here. However, at almost $30,000, this figure made my eyes water when it comes to the 318is. It would almost be an impossible task to go and find one in similar condition, as the last really nice 318is we saw here on GCFSB was back at the end of 2014. This is one of those cars that is hard to price down to the scarce number of times such a vehicle comes up for sale. We'll see if someone bites at this price. If so, it would probably start a trend of four-cylinder E30s following in the 2002's footsteps.
-Paul