Let's visit one of the unloved: a 1977 Porsche 911S Targa, located in Nevada, with an interesting Tan interior with tartan inserts and 96,000 miles on it. The mid-year 911 showed some gains in appreciation over the past year, but still tends to lag behind most other models. The drop-off in values from the long-hood 911s that preceded them is significant, but they even tend to lag behind their successor, the 911SC, for all but the best examples. A combination of reliability issues, lower performance, and the design aesthetic of the impact-bumper cars all have contributed to those lower values. Yet, there is still appeal to these 911s and like anything else when the value is right, the appeal increases as well. This one is up for a no reserve auction and barring something unexpected I suspect this Targa should represent one of those nice values.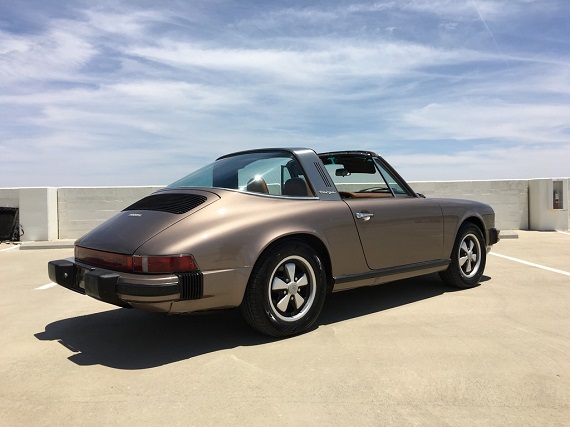 Year: 1977
Model: 911S Targa
Engine: 2.7 liter flat-6
Transmission: 5-speed manual
Mileage: 96,000 mi
Price: No Reserve Auction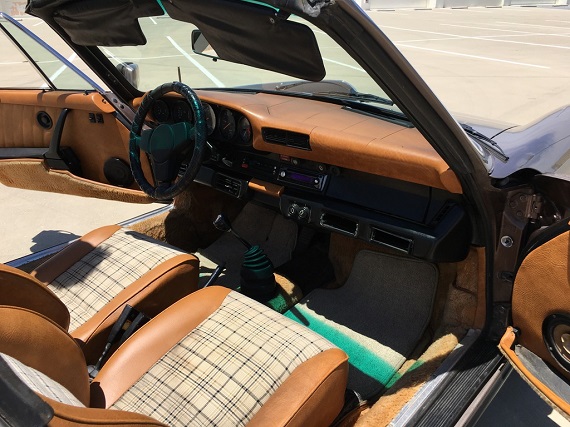 OFFERING AT A RARE 5 DAY AUCTION AT NO RESERVE

SOLD TO THE HIGHEST BIDDER

BIDDING STARTING AT $100.00

OVER 40 PHOTOS AND VIDEO UPLOADED
_____________________________________________________________________

VERY RARE EARLY PRODUCTION CAR #222 OFF THE ASSEMBLY LINE
____________________________________

YOU ARE BIDDING ON A NICE AND CLEAN DAILY DRIVER 1977 PORSCHE 911 S TARGA WITH 96K ORIGINAL MILES

THIS CAR IS A 2ND OWNER CAR

VERY RARE COLOR COMBO WITH RARE TARTAN INTERIOR

CAR IS ALL NUMBERS MATCHING ORIGINAL ENGINE AND TRANSMISSION

CAR IS A RUST FREE CAR WITH ALL ORIGINAL SHEET METAL AND PANELS

CAR HAS FACTORY A/C THAT DOES NOT WORK BUT STILL ALL EQUIPPED AND IN TACT

ORIGINAL PORSCHE WHEELS STILL REMAIN

THE CAR IS A SURVIVOR AND ONLY 1 TIME REPAINTED

PAINT AND BODY IS NICE AND CLEAN WITH NO DENTS

INTERIOR IS NICE AND CLEAN AND ORIGINAL BUT WILL NEED SOME TLC ON THE DRIVER DOOR PANAL AND DASH HAS SOME CRACKES

CAR IS TURN KEY DRIVER THAT RUNS GREAT

ENGINE DOES NOT KNOCK OR SMOKE TRANSMISSION SHIFTS INTO ALL GEARS AS IT SHOLD

THIS CAR IS THE REAL DEAL AND VERY RARE

PORSCHES ARE JUST CLIMBING UP EVERY DAY ONLY VALUE AND RARE ONES LIKE THIS CAR JUST CRAZY ON PRICES

HAVE A CLEAN AND CALIFORNIA TITLE IN HAND THAT MATCHING ALL THE VIN NUMBERS ON THIS CAR

CAR IS NOT A SHOW ROOM CAR BUT A CLEAN DAILY DRIVER CAR

DONT MISS OUT ON THIS CAR PLACE YOUR HIGHEST BID RIGHT AWAY

IF I MIST ANYTHING IN THE AD CAUSE THERE IS TO MUCH TO LIST FEEL FREE TO CONTACT ME ANYTIME WITH ANY QESTIONS

FOR ANY FURTHER QUESTIONS FEEL FREE TO CONTACT ME ANYTIME AT (702)862-0095 OR DROP ME A MESSAGE I REPLY QUICK

SCROLL DOWN TO VIEW AN ADDITIONAL 40 PHOTOS
IF YOU CANT VIEW ALL THE PHOTOS AND VIDEO BELOW USE A COMPUTER TO VIEW THEM I ADVISE YOU TO VIEW VIDEO IT WILL MAKE YOUR BIDDING MORE CONFIDENT AND MORE PLEASING TO YOUR THOUGHTS ON THIS 911S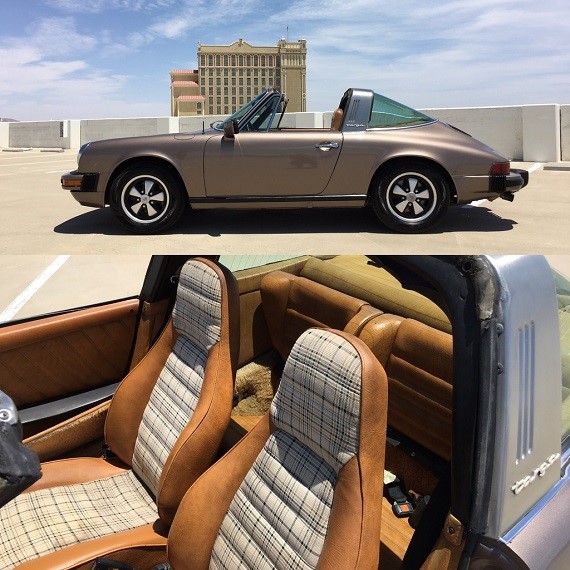 This strikes me as just the sort of car that we should see on auction with no reserve. It's in good condition, but not pristine and the interior certainly shows some needed work. Add to that the general lack of popularity of these models and you have the recipe for an auction where removing the potential of an overly ambitious seller setting a very high reserve makes a lot of sense. I do think there is a lot to like here too. It's very much a period correct look with its metallic brown paint offset with a Cork (?) interior and tartan seat inserts. The combination is probably pretty rare and most definitely from the '70s. Fans of such a 911 should find a good deal of appeal here. Bidding currently sits at $20,100 with a couple days left. That's a very reasonable price and I expect it to rise some, but we'll have to see just where it ends.
-Rob