The 318is usually receives praise for being the entertaining baby of the E30 family, underpowered but a handling master. This Wee30 has received the popular S52 swap from an E36 M3 automatic, thankfully mated here to 5-speed from a 328i. The modifications don't stop there as the seller went OEM+++ with items like E36 M3 front control arms, E30 M3 rear suspension and brakes, and a tight Z3 steering rack. The list continues with great non-OEM upgrades like Ground Control coilovers and a custom intake on the cold side with new headers and a straight pipe on the hot. The slicktop body is straight despite a rear-end collision in its history, and the whole thing received a decently-done fresh coat of Brilliantrot two years ago.
With a reserve auction and Buy It Now of $10,500, this extremely well-done E30 will likely go for less than $10k.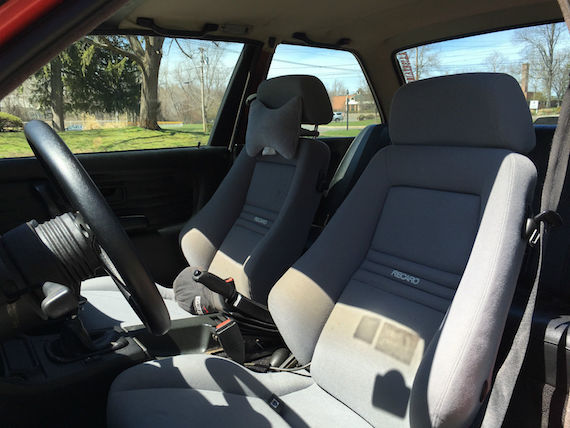 Year: 1991
Model: 318is
Engine: S52 3.2 liter inline-6
Transmission: 5-speed manual
Mileage: n/a
Price: Reserve Auction, $10,500 Buy It Now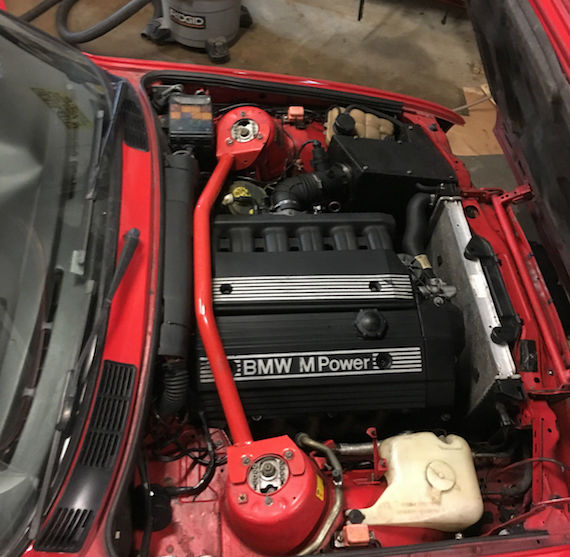 Hello,

You are bidding on a 1991 318is with the S52B32 motor from a 1998 BMW M3 automatic. The transmission is a ZF-320 which was pulled from a 1997 BMW 328i. Both the engine and transmission are in good shape with no funny noises or leaks.

The motor modifications and recent maintenance during my ownership includes:

-98 S52 from automatic M3 with less than 3% leakage on all cylinders at 60psi, new valve stem seals
-Good shifting, noise-less ZF320 with no fifth gear lean
-Brand New Clutch Master and Slave Cylinder
-M50manifold.com kit, with fresh OEM OBD2 CCV and valve cover
-Behr E36 M3 Radiator
-New Massive Spal Pusher Fan
-Working A/C w/ 134-a conversion
-New valve cover gasket, grommets
-New oil filter Housing Gasket
-New crank position sensor
-Custom intake with heat shield above ABS Servo
-Unknown headers with 2.5″ straight pipe exhaust (2 resonators)
-Custom OBD1 tune by myself, Chip Programmer Included (CEL on for ECU checksum which doesn't effect drivability or performance at all)

To help tame some of the additional power, the suspension and brakes have been upgraded as well. The current list of parts on the car include:

-96+ M3 Front Control Arms, spindles, and complete brakes w/ brembo rotors and BOSCH pads
-Full E30 M3 Rear Suspension incl. brakes, Polyurethane raised subframe bushings, brembo rotors
-E30 M3 offset control arm bushing
-Z3 2.7 LTL Steering Rack Powered – Awesome gokart feel
-GC Coilovers, 450 lb/in spring front, 650 lb/in spring rear, Custom Valved Koni Yellow Struts from GC
-Raised polyurethane subframe bushings
-3.25 LSD that is nice and tight + 2.93 LSD Included that is beginning to have pinion whine
-New meyle HD rear strut mounts

The interior is in good shape, with an un-cracked dashboard and following additions:

13 Button OBC
Black Died Carpet with OEM E30 Floor mats
Custom 3D printed shift knob
Matching Recaro Lx-F Seats with 'pump bulb' bolstering
MOMO Prototipo Wheel with matching MOMO Hub
JVC Headunit with Planet audio 5 channel amp powering full crossovers in front and aftermarket speakers in the rear premium housings, 12″ subwoofer in trunk – Full iPod/ iPhone integration
It is a slicktop (non-sunroof) vehicle, which is very rare in the E30 body style.

Outside, the car presents well and includes:

Brilliantrot respray 2 years ago – Paint is not a top of the line job, but is definitely better than a run of the mill respray. All the exterior surfaces of the car are smooth and scratch free, and the paint has excellent shine and luster. As stated in the condition section, the paint does have a few imperfections, mostly in the trunk sill (where the quarter panel was replaced and the tail-panel welded back to the new quarter panel), and along the rocker panels where road debris has started to knick the finish. Additionally, the windshield has a filled chip and scratch on the passenger side from a previous owner running the windshield wipers without a blade.

Overall, the car presents and drives very well. A lot of time and money has gone into the car over the past two years and I have personally driven 35000 miles over the last year and a half. While not an original example, or a show car, this vehicle would make an excellent daily or weekend car for someone who doesn't want to be concerned about every little knick or scratch every time it is taken out. Currently, the ABS computer is uninstalled and there is no cruise control module or actuator. Car will come with a few extra parts from various E30's that I have owned including an extra ECU and 'tuned' chip and ABS computer among other smaller items. Please contact me for more details and pictures.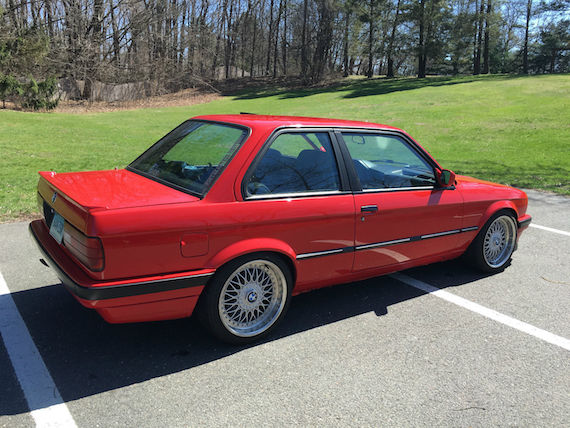 In a strong E30 market right now, this 318is is the car I'd get. It is well-sorted and brings major performance without any real drawbacks. The flaws are few – a chipped windshield, a few nicks in the paint – and given the level of modification it looks perfectly subtle and clean. Despite the massive increase in displacement and horsepower, it really does embody the original spirit of the 318is – no pretense, just get in the driver's seat and enjoy the ride.
-NR