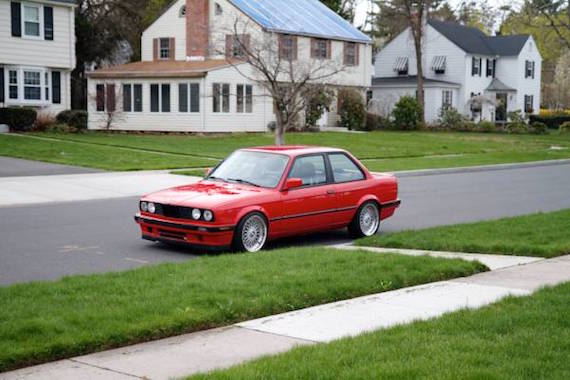 I've been daydreaming about the lightweight tossable treat known as the 318is a lot recently, fueled by a couple of nice examples that didn't end up selling on eBay. While those were higher-mileage, driver-quality baby E30s that retained their M42 four-cylinder, this beautiful Brilliantrot example has the swap most E30 owners dream about with an E36 M3's silky S52 3.2-liter inline-6 shoehorned into the earlier chassis. This one's running gear has been tweaked all around to supplement the extra 110bhp with coilovers, 3.25 LSD, brakes from both the E36 and E30 M3s, etc. We don't get any pictures of the inside, but it sounds nice with aggressive Recaros and other racy touches. Small OEM+ touches spice up the rare slicktop exterior, most notably some almost-too-big but always sexy 17″ Style 5s. The main flag is previous collision damage, but all panels were professionally replaced with OEM parts. All in all, it sounds like a well-sorted little rocket.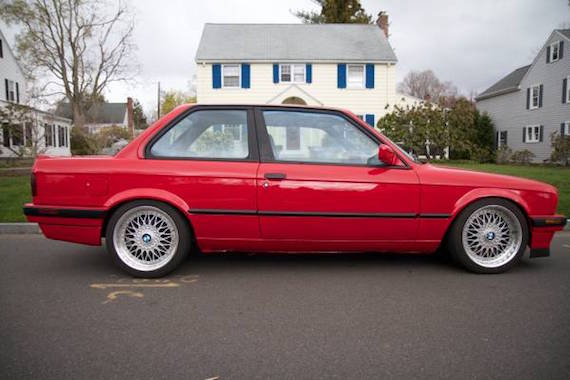 Year: 1991
Model: 318is
Engine: S52B32 3.2 liter inline-6
Transmission: 5-speed manual
Mileage: N/A
Price: $12,994 OBO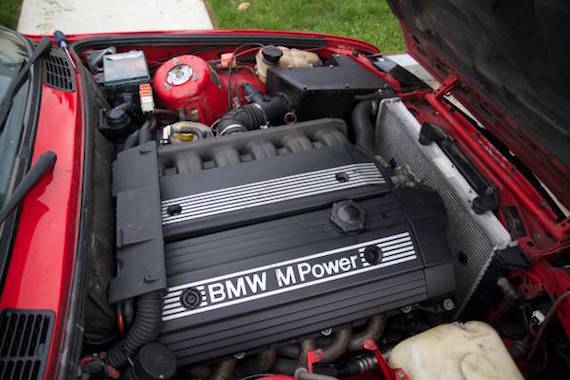 1991 BMW 318is — E30, Slicktop (no sunroof, RARE!), Brilliantrot Red – True mileage unknown. Clean Title, ZERO Rust, but evidence of old collision damage in the rear – right rear quarter and right front fender replaced with OEM DOT approved pieces. Nice driver/ daily that runs and looks awesome, gets compliments all the time.

Drivetrain:
98 S52 from automatic M3 with <3% leak down on all cylinders, new valve stem seals Good shifting, noise-less ZF320 with no fifth gear lean Brand New Clutch Master and Slave Cylinder M50manifold.com kit, with fresh OEM OBD2 CCV and valve cover Behr E36 M3 Radiator Huge Spal Pusher Fan Working A/C w/ 134-a conversion New valve cover gasket, grommets New oil filter Housing Gasket New crank position sensor Custom intake with heat shield above ABS Servo Unknown headers with 2.5" straight pipe exhaust (2 resonators) Custom OBD1 tune by myself (CEL on for ECU checksum) Suspension: 96+ M3 Front Control Arms, spindles, and complete brakes Full E30 M3 Rear Suspension incl. brakes E30 M3 offset control arm bushing Z3 2.7 LTL Steering Rack Powered GC Coilovers, 650lb/in spring, Koni Yellow Struts Raised polyurethane subframe bushings 3.25 LSD that is nice and tight New meyle HD rear strut mounts Custom valved rear GC yellows with 650lb/in springs Interior: Crack Free Dash 13 Button OBC Black Died Carpet with OEM E30 Floor mats Custom 3D printed shift knob Matching Recaro SE Seats with 'pump bulb' bolstering Moms Prototype Wheel with Hub JVC Headunit with Planet audio 5 channel amp powering full crossovers in front and aftermarket speakers in the rear premium housings, 12" subwoofer in trunk Exterior: New brilliantrot paint two years ago Euro Grills Shadow line Trim Euro Smileys with Morimoto H1 6.0 Retrofit (huge upgrade over stock ellipsoids) iS lip w/ Ryan G. Splitter Absolutely No Rust, Florida Car 17" E39 Style 5's with Fresh Dunlop DZ101 Summer Tires (less than 3k miles) Bads: Slight Rear Main Seal Leak Evidence of Previous Collision Damage Loud Exhaust No ABS - I removed computer because stock ABS is terrible Overall this is an extremely well sorted E30 that is fast, fun and dependable. I personally drove this car over 35,000 miles last year with no issues or breakdowns. The motor is incredibly tight and transforms this light chassis into a rocket-ship. I wish I could keep this car after so much time, effort, and money has gone into it, but unfortunately a move across the country makes this unfeasible for me at the moment. If there are anymore questions, please feel free to contact me. I have every receipt available for the purchased and installed parts. I will consider trades with cash on either end for E46 M3's and 135i's / 335i's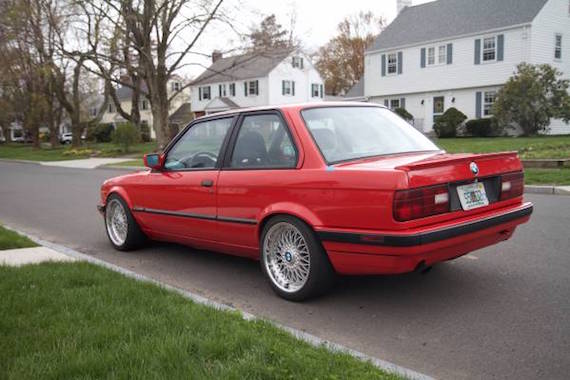 The seller's claim of 35k miles in this car last year seems extreme unless he was commuting 500 miles per week and threw some road trips in to. Maybe a casual mistake, or maybe this guy is full of it. He seems quite knowledgable about the right way to do E30s, but there's no question that the buyer will be inheriting a setup that is far from stock and is going to require some creativity and know-how to keep it running well. However, if you can keep it running well, it's going to be a lightweight little monster that will blow the doors off much more powerful and newer sports cars. About $13k seems like a reasonable cost of entry for a car that looks this good and goes this well.
-NR