Warning!
This post is in our archives. Links in this post may have been updated to point to similar cars available to bid on eBay.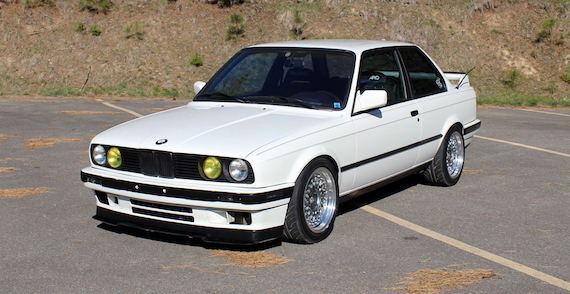 As the supply dwindles, I've been spending time looking at various clean, mostly original E30s. Today, however, we have a 1991 325i that has received the business under the hood, namely an S52 swap from an E36 M3 plus an Active Autowerk supercharger. That heady combination puts out 357 horsepower at the wheels and 411bhp at the crank, plenty to make this 2800-pound coupe punch well above its weight class. The mechanical build is too plentiful and thorough to fully recount here, but it has Raceland coilovers, Stoptech brakes, and just about all the bushings, mounts, and miscellaneous performance parts you can stuff under an E30 to help handle 250% of its original power. The interior looks ready to rumble too with black suede Recaros and NRG wheel and some other subtle racy bits, but this car is about go, not show. The exterior has a little clear coat peel and dents but the deeper front lip and M3-esque Zender spoiler should distract any passerby. It all adds up to a package that looks pretty standard-modded-E30 good but will smoke just about any non-exotic on the road.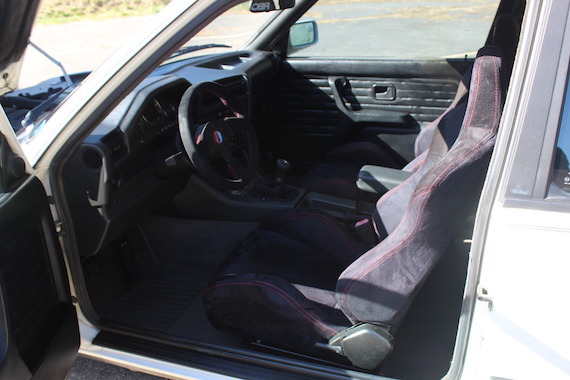 Year: 1991
Model: 325i
Engine: Supercharged 3.2 liter inline-6
Transmission: 5-speed manual
Mileage: 125k mi on chassis, 99k mi on engine
Price: Reserve Auction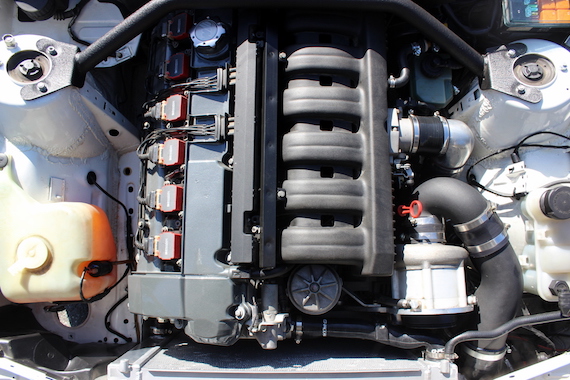 This car was built meticulously and done right! My goal was to build a late model E30 with 400hp that was dependable and could be driven comfortably every day and this is it! It was put on the dyno 3/1/16 and pulled 411 crank hp, 357 WHP & 295 lbs Torque! The car with a full tank of gas weighs in at 2840 lbs so this thing moves! It should be noted that was on the AA tune and it is now on a much better TRM tune and should put down more power than that with the better AFR. Both tunes are included with the sale though. This car will leave e30 , e36 and even e46 M3's in the dust all day long and at the low supercharger psi its not harsh on the engine so will last for a very long time.
Since I have owned the car it has been in the shop under a car cover every day. Never outside in the elements. I spent almost 2 years collecting and gathering parts to do the swap and then started the process 01/16 and finished 03/16. I have only put about 1k miles on it since the swap, It's basically a new car at this point and i wouldn't hesitate to drive it across country if needed. I think the pictures and the modifications list will tell most of the story but i highly suggest checking out the build thread to really get a good understanding of the amount of work that went into this car!!
build thread link – http://www.nwbmwforums.com/viewtopic.php?f=20&t=16461

Im extremely honest ( sometimes too honest lol ) and am trying to be as transparent on this sale as possible. I want to make sure the buyer is absolutely satisfied with the car so please read the ad thoroughly, study the pictures and look over the entire build thread so you have a full understanding of exactly whats going on, If at that point you have any questions do not hesitate to ask! i will be glad to help!
CAR-
08/1990 build BMW 325i coupe
Alpine white II with black interior
125K on chassis
Clean & Clear title in hand

ENGINE SWAP-
99k mile S52 ( verified miles! ) OBD1 swapped
All new sensors – Cam, Crank, Knock x2, coolant temps x2, oil temp & o2 sensor.
New rear main seal
C38 Active Autowerke supercharger kit
TMS tuning ( also have the AA tune if wanted )
Tuned for 91/92 pump gas
New Bav Auto ignition coils
Condor engine mounts
Stewart racing water pump
Powder coated obd1 valve cover
Oil catch can
NGK Iridium plugs
Spal electric fan
Aluminum thermostat housing w/ 75 degree thermostat.
Aluminum radiator w/ Silicone hoses
540 MAF & New K&N filter w/ water guard in custom built box.
RED46 oil pan/sump armor plate
All wiring is tucked nicely behind M3 covers for a very clean look.
A/C was deleted

EXHAUST-
Stainless steel ebay headers
Full custom built exhaust- dual 2.5″ off headers to X pipe straight to Hamann muffler.
NO cats or resonators.

TRANSMISSION, CLUTCH & SHIFTER-
ZF 320 transmission with 99k. Filled with Redline fluid.
New output shaft & shifter shaft seals
Grip force stage 3 clutch- light weight flywheel and 6 puck clutch (sprung)
New throw-out and pilot bearings
Steel pivot pin
Condor trans mounts
New clutch master & slave
New UUC steel clutch line
Stock M3 shifter w/ Gargaristic delrin front and rear shifter mounts & new pivot cup.NO slop.
Re-built driveline – New alignment bushing, lock ring, CSB & guibo.
Clutch stop for pedal

SUSPENSION-
Rolled fenders
Raceland coilovers. 375# front springs and upgraded Eibach 550# rear springs.
New wheel bearings front & rear
IE rear subframe bushings (street/green)
AKG differential bushing
KMAC adjustable rear control arm bushings
New front control arms & drop links
Solid front control arm bushings. ( treehouse style fcab's )
3.23 LSD w/ finned diff cover. 88K on unit. Filled with redline fluid.
ST sway bar set 22mm front & 19mm rear. Rear links are adjustable.
IE front & rear strut bars.
Re-built both rear axles. New boots x4, new grease & mount bolts.

STEERING-
Z3 steering rack w/ new boots
Aluminum power steering delete block.
IE poly steering knuckle connector
New inner & outer tie rods
Power steering is deleted

WHEELS & TIRES-
16×8 et20 ESM 002 w/ grey centers w/ lip.
Dunlop Direzza Star spec 225/45/16 brand new less than 500 miles on them
Full four wheel alignment was done 3/1/16
Bullet nose wheel studs

BRAKES-
All 4 calipers re-built with new seals and painted silver
Stoptech slotted rotors and pads all around
Stainless steel lines x6
ATE high temp brake fluid
New E-Brake pads and hardware

EXTERIOR-
lamix yellow high beams
lower iS front lip w/ Ryan G splitter
Depo smoked markers & turn signals
REAL Zender evo spoiler with adjustable flap

INTERIOR-
2x Recaro SRD (reps. Made in Canada) black suede seats w/ red stitching
2x Planted seat brackets
NRG black suede steering wheel w/ red stich & momo hub
Shifter boot and brake boot both suede with red stich
ZHP shifter knob
New dash cap to cover cracked dash
Oil pressure, Oil temp and Volt guages replaced the ashtray
AEM 30-4900 data logging AFR/boost dual gauge replaced the clock
Re-built cluster with new gears, silver rings, red needles & all new bulbs.
Black M pedal set
Center console arm rest / cup holder
Alpine head unit with usb/aux inputs on face.

THE BAD- ( pics of all these are at the bottom )
Clear coat is peeling in a couple small places on driver fender and passenger door.
Couple dings / dents here and there that are all very small. Center of hood is the only one that cracked the paint.
Scrape/scuff under driver side door.
Radio has a short somewhere. Sometimes it works perfect and sometimes it cuts in and out.
Driver door seal has shrunk and is now 3″ to short and split at seam.
Passenger side grab handle is missing and the headliner is slightly torn where it mounts up. ( I have a handle i can supply to replace it if wanted )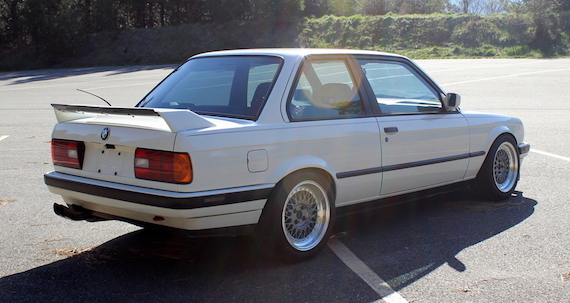 I love that the 16″ basketweaves actually have some meat on them as opposed to the punctre-prone rubber bands we see too often. The Zender spoiler is a little much for me – I'd prefer something a little more sleeper like an OEM 325is spoiler – but it probably provides a little help when this little bulldog is tearing apart a track day like dad's new slippers. It's no surprise that bidding is hot and heavy; nearly 40 bids have pushed the price close to $12k as I write this. The reserve is still on, and I'd guess the seller is looking for at least $15k after a couple years of bringing this project together. That's big money for any E30 that isn't an M3, and while I can't say he doesn't deserve it, I'd guess the market will try to compromise in the slightly lower teens. A little cosmetic clean up to back up the pants-soiling amount of power and this might be the coolest E30 on sale right now.
-NR