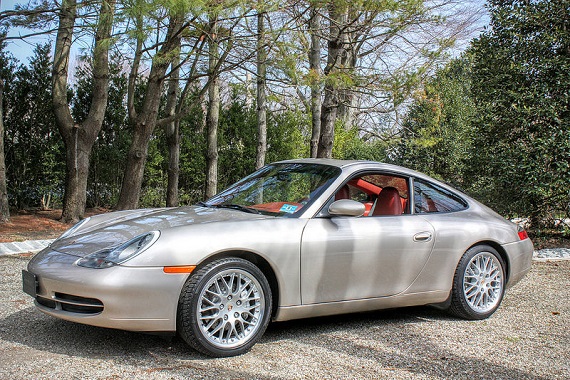 Here's something kind of rare. And I mean that not necessarily as referring to this car in its own right, but rather as a rare appearance on our pages. For a variety of reasons we don't feature the 996 very often outside of the 996TT and the GT2. That's in part due to some of the reliability issues that have plagued 996 engines and in part (truthfully, in large part) to the incredible performance value that those two models, especially the 996TT, represent. But the 996, even in standard form, is itself a bit of a performance value when compared to its air-cooled predecessors so unique examples should still attract our notice. Any quick internet reading will tell all that most need to know about potential reliability issues of the 996, especially of the earlier examples like this one, but it's not as if every 996 is a time bomb waiting to go off. So they should be approached with caution, but for the right price not outright ignored. Here we have one in a fairly interesting and rare color combination: a Mirage Metallic 1999 Porsche 911 Carrera 4 Coupe, located in New York, with a Boxster Red leather interior and 37,000 miles on it.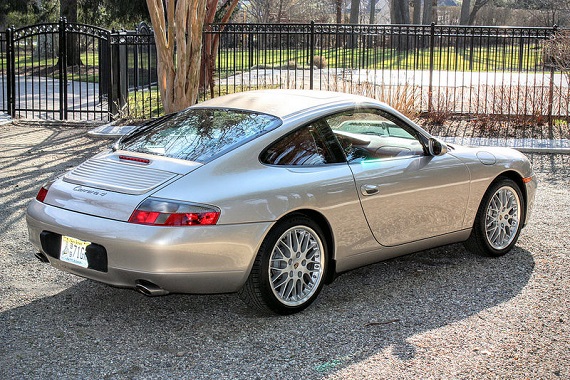 Year: 1999
Model: 911 Carrera 4
Engine: 3.4 liter flat-6
Transmission: 6-speed manual
Mileage: 37,000 mi
Price: $36,800 Buy It Now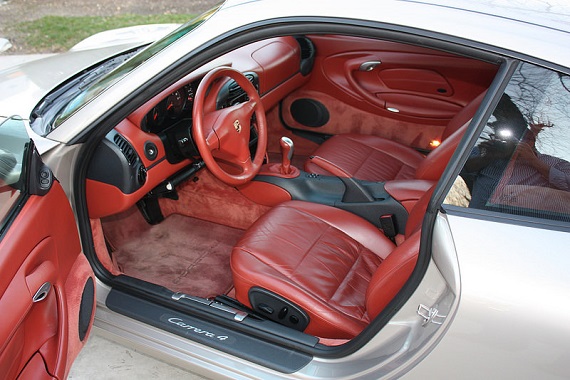 This Porsche Carrera 4 Coupe is nearly flawless with an impeccable history and in an extremely rare color combo – it does not get more honest for a Porsche. Everything is in top condition and almost showroom new.

Aside from the Exterior Color and Interior Leather selection this Carrera 4 911 sports the following factory installed options;

18″ Sport Classic wheels – just put on brand new tires
Colored Center Caps
Xenon Headlamps
Rear Wiper Addition
Self Dimming Rear View Mirror
Heated Self Dimming Side view mirror
Full Leather Front and Rear Seats
Electric Seats w Lumbar Support
Heated Front Seats
3 Spoke Steering Wheel in matching Boxster Red Leather
Matching Carper and Floor-mats
Trunk mounted CD Changer
Upgraded Hi Fi Speaker/ Sound System

It also has a K40 Radar System installed (hide away – behind the front and rear bumpers $2000)
Factory Radio will be included the current Pioneer has bluetooth ( w remote microphone), pandora, sirius/xm and is USB/iPhone compatible.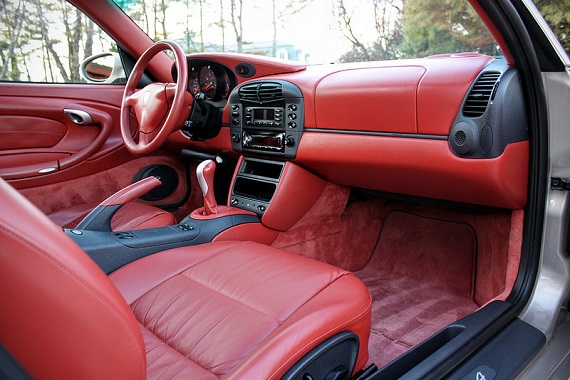 I will start with the admission that this one isn't currently at the right price, but hopefully that can be remedied. Also, most publications I've read will tell you to avoid a '99 so we aren't really starting off on the right foot here. But I do like the general look of this 911. The interior has perhaps gone a bit too red given that it's got the dash, the steering wheel, pretty much everything covered in red, but as a contrast to the exterior it does work pretty well. It's the type of subtle and vibrant juxtaposition that I always find alluring and interesting on many cars. The exterior provides a heavy dose of elegant class, while the interior shows a bit of a wild side. It works. This 911 also looks well cared for which may help to stem some of the reliability concerns that arise with these models. Given the way a '99 is typically viewed the asking price is too high. That doesn't mean this isn't a nice 911, just that you should be able to get one for less than this. Just where it should be priced I'm less sure, but I'd suspect we'd be looking at something at or just below $30K. For a 911 in an interesting color combination with good performance that's not a bad value.
-Rob