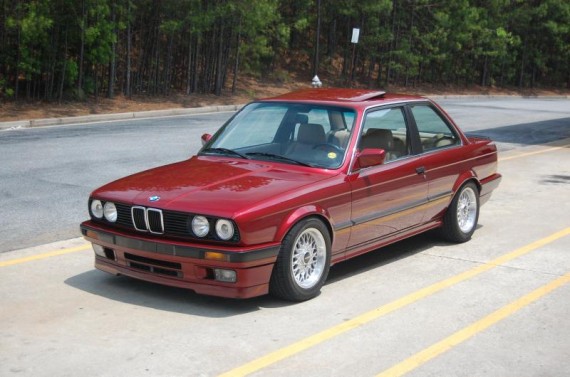 Today we have an extremely clean 325i from the final year of the game-changing E30 chassis. An impressively original exterior and interior hide a trump card, the 211hp 3.5l M30B35 from the E34 535i. The owner is clearly detail-oriented and has spent much time and effort making an even better E30. No track day monster or daily beater, this is just a well-loved cruiser with plenty of grunt to surprise much newer competitors.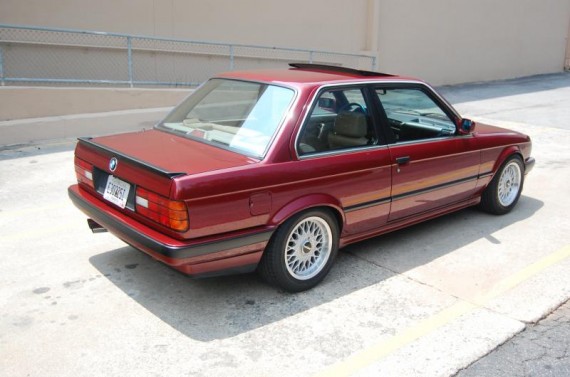 Year: 1991
Model: 325i
Engine: M30B35 3.5L inline six
Transmission: 5-speed manual
Mileage: 119,500
Price: Reserve-off bidding at $7,500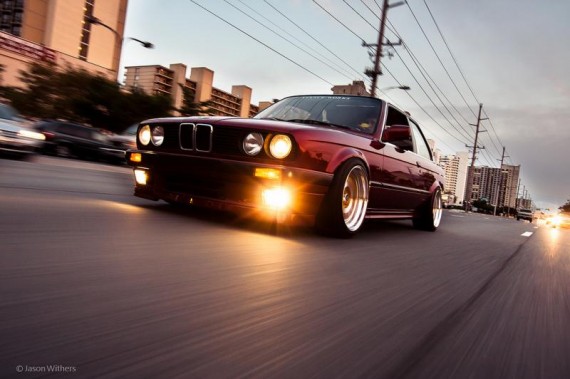 Deciding to sell my 1991 E30 325i. I bought the car from Texas with 93,000 miles on the clock 4 years ago. The man I purchased it from was the second owner, who purchased it from the original owner (an elderly lady from Las Vegas) with 75,000 miles on the clock. This makes me the third owner. The car has always been garage kept and never been in an accident. Always been meticulously maintained. The paint is all original aside from the added "iS" lip and the rear bumper which I had repainted because it was faded by the sun. I have always been a freak about keeping the car clean, often washing it multiple times a week with the two bucket wash method and drying with compressed air to make sure I don't harm the paint. I have spent countless hours and dollars on detailing the car to make sure it is the cleanest I could possibly make it. I have always used top of the line detailing products (menzerna, lake country, chemical guys) to ensure the best results.

It was my daily driver up until this past fall as I did not have covered parking at my new apartment and I did not want the car to get damaged. The car has sat in my parents garage and probably been driven about 1,750 miles this past year and has rarely been driven in the rain. The car is 110% reliable and I would not hesitate to drive it across the country. I have driven many 8+ hour trips to Tennessee without a hiccup and even drove a 26 hour round trip (1,370 miles) to Maryland and back with no issues. I have always bought the best parts I could and always did every job to the best of my ability. I always reference the Bentley manual (using both E30 manual and E34 manual for the new engine) for proper torque specs and do everything as specified. I often get made fun of by my friends for doing everything by the book. That car has been featured on multiple websites and is well known in the BMW community.

A year and a half ago I decided to pull the original M20B25 out and swap in an M30B35 from a 1991 535i. The idea was to create the perfect E30 as it would have been made in 1991. The M30B35 makes 211hp and 225 ft/lbs of torque in stock form; a 43hp increase and a 61 ft/lbs of torque increase to the M20B25. The engine was disassembled and all parts inspected and cleaned. The head was sent to the machine shop to be hot tanked, resurfaced, valve guides replaced, valve seals replaced, valve seats recut, and pressure tested. The cylinder walls in the bottom end still had the factory cross hatchings so I did not replace anything on the bottom end. The motor has great compression test numbers. The firewall was pushed back to make room for the bigger engine. The M20B25 and M30B25 run off the some Bosch Motronic 1.3 engine management system. This means that all of the sensors and the ECU boxes between the motors are the same. The original M20 harness was used with minimal modification and re wrapped in OEM Certoplast harness tape. The E34 ECU was put in the factory E30 location and the E30 harness plugs right in.

All gauges work 100% perfectly; even down to the MPG meter (SI board went out but will be replaced before sale). No check engine lights and the car starts up perfectly every time. No smoking and no burning oil. The A/C system, cruise control, and washer fluid systems were removed to keep a clean look in the engine bay and allow the use of the factory E34 airbox. On my trip to Maryland, I got over 27mpgs on the highway. On average, I can get about 22mpg around town. The engine swap looks 100% OEM and is period correct. The only people that notice it is engine swapped are BMW enthusiasts. All silver parts on the engine are raw aluminum, not painted. Every single nut and bolt was cleaned with a wire brush or replaced and torqued down to the proper spec. I have all receipts available and pictures of most of the process. By the time all the kinks were worked out, I have over 5k invested in the engine swap alone.

The car is in very good shape. It is very hard to find an E30 this clean both inside and out. I can count on my hands how many cars have popped up for sale this clean in the past 4 years. The color is Calypsorot Metallic and was only offered in 1991. This known for the clear coat failing, making this a true survivor. The main compliment I receive on the car is the cleanliness of the paint. I am often asked where I had it painted and they are very impressed when they hear it is original paint. 1991 is the last year that the E30 sedan was offered. There was no option for a 325is in 1991, however this car had almost all of the sport options from the factory. Including sport seats, basketweave wheels, the iS rear spoiler, and iS side skirts.

A limited slip differential was added by the previous owner and an iS front lip spoiler was added by me to complete the iS package. OEM euro parts were purchased new to help set off the OEM+ styling. Never been tracked/drifted/autocrossed; strictly a cruiser with an occasional run through the mountains. Car rides and handles great with no shakes or shimmies. I really do love the car; however I have another project that won't be able to get underway until this car sells. The car has been through many phases but its final form is with the Ronal LSs. It is time to move on to something new. I have now realized I care more about actually building the car itself rather than the finished product. I really hope it goes to an enthusiast that cares for it in the same way I did. Clean E30s are few and far between and this is one of the cleanest and most complete cars around. It is very uncommon for one to pop up this nice and complete. If you have been paying attention to the market, you have seen that E30s have been steadily rising in value for the past few years. I have well over 25K invested in the car.

What I have done in the past 15,000 miles:

Suspension/Steering/Brakes:

– Ground-Control complete E30 coilover kit (400f/550r) with shortened strut housings and adjustable Konis. Can adjust ride height and dampening
-Ground-Control touring camber plates
-Ground-Control High Rise reinforced RSMs
-Ground-Control adjustable M3 front sway bar end links
-Power Flex rear subframe bushings
-Power Flex control arm bushings
-BMP/Korman rear trailing arm bushings
-Lemforder rear sway bar end links
-Lemforder tie rods
-Lemforder control arms
-Power steering hose replaced
-New power steering fluid (ATF)
-New front wheel bearings
-UUC vented and slotted rotors all around
-PBR brake pads

Wheels and Tires (about 500 miles on the setup):

-Ronal/ACT LS mesh wheels 15×7.5 +25 (direct E30 fitment with 4×100 pattern and 57.1mm hub bore)
-Falken Ziex 912 225/50/15

Drivetrain (about 6,000 miles since the engine swap):

-M30B35 swap (pictures of the whole process available)
-E34 535i ECU with Dinan chip
-Every single gasket replaced. 100% leak free
-Valve cover powder coated by Renewed Finishes
-Head removed and resurfaced, pressure tested, valve seals replaced, valve guides replaced, and valve seats recut. All components chemical dipped to look like new
-Intake manifold chemical dipped and cleaned out
-Good & Tight E30 M30 motor mounts in the rear position
-AKG M20 motor mounts
-Rubber M20 trans mounts
-E30 rear drive shaft with E28 front. Shortened and balanced with all U-Joints replaced. New center support bearing and guibo. Done by Driveline Services of Atlanta OEM hardware everywhere I could get it.
-Getrag 260/6 with Redline fluid
-All shift bushings replaced. Stock E30 shift lever with E24 carrier (shifter does not line up like factory)
-Spal pusher fan wired to E36 318ti temp switch so it automatically kicks on(runs very cool)
-New Behr E28 radiator
-Resurfaced E34 M5 flywheel (20lbs lighter than stock)
-Sachs E34 M5 clutch kit (~400 miles on clutch and flywheel)
-New throw out and pilot bearing
-New clutch slave cylinder
-New 19lb Bosch design 3 injectors from fuel injection connection (balanced and flow tested)
-Full custom exhaust manifold back exhaust system. Down pipes to Y-pipe, single 3 inch pipe with E34 oxygen sensor to catalytic convertor all the way back to muffler and Magnaflow exhaust tips. (passes emissions with flying colors)
-M20 engine harness
-New crank sensor
-New coolant temp sensor
-All fluids and filters up to date. Using OEM BMW coolant and Castrol GTX with Mann filters.
-100% leak free
-3.73 Limited Slip Differential

Exterior:

-iS front lip (has some chips in it)
-New roundels
-Front plate filler
-Euro rear plate filler
-Euro trim all around
-Euro grilles
-US projector lights
-New lenses for headlights and fog lights
-Lots of detailing
-Fenders rolled flat, no pulling
-Front and rear valences straight as an arrow
-No cracks in bumpers or trim
-All original paint

Interior:

-MB Quart speakers all around (the sound is great)
-Pioneer DEM-4300UB headunit (blends nicely with the screen a perfect match color-wise)
-Monster Cable all around
-Coco floor mats
-Leather shift boot
-Leather e-brake boot
-Leather e-brake handle
-New center console
-Maplight mirror
-Houndstooth door cards (have originals I can include)
-Natur color interior
-Rare trunk storage boxes with battery cover
-Tool kit has all the tools there
-Factory jack kit is all there
-Headliner in great shape
-Dash 100% crack free
-All door and window seal rubber supple and like new
-All original carpet and seats (minor cracking in driver's side seat piping)

While the car is in very nice shape, it is not perfect:

-Minor clear coat failure in some spots. The biggest one if from taping up the fender to prevent damage while doing the engine swap. See pictures. The paint is 22 years old, while it is in amazing shape, don't expect a perfect show car. Minor chips and dings. Nothing major.

-Shifter does not line up perfectly. This is only aesthetic. Mechanically shifts perfectly.
-Sunroof sometimes leaks only when washing the car, never during regular rain.
-I do not have the means to fabricate radiator brackets, so it is held in with industrial cable ties. Very solid and never had an issue with it.
-Gauges not working at the moment as the batteries on the SI board have died. A new one is on the way and everything will be working upon sale. Reverse lights are also intermittent but will be repaired before sale.

I try my hardest to keep it as clean as possible and do not skimp out anywhere. Every modification I have made has been done to the best of my abilities with no expense spared. If you are looking for the perfect OEM+ E30, this is it. Original paint and no wrecks means this car is perfectly straight and has nothing to hide. What you see is what you get. With the current state of the E30 market, this car is truly a rare find and you would be hard pressed to find a nicer one for sale.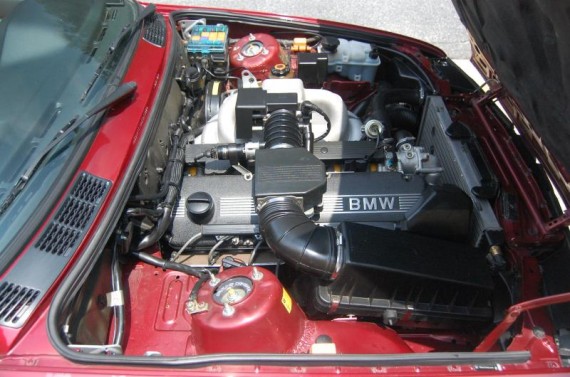 Once the playground for scrappy tuners on a budget, E30 swaps are becoming much more respectable as the tide of the E30 rises in general. It takes some work to get everything squared away, but a torquey OEM+ engine in the epic E30 chassis checks a lot of boxes. The Calypsorot is an intriguing hue that, as the seller points out, is rarely in this good of condition. I think a little over $8k is a fair price for a clean and well-sorted E30 swap with tens of thousands invested in it.
-NR