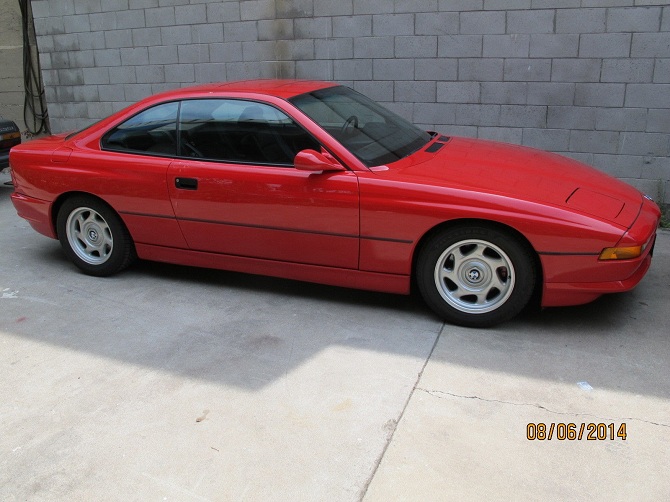 Yesterday, Paul wrote up a very clean, low mile and celebrity-owned 850Ci. There were some serious positives to that example: the condition of that car is pretty spectacular, it has the later M73 5.4 V12 pumping out an extra 40 horspower, it has the better wheels and a great color combination. However, even though this morning's example has ten times the miles and the condition admittedly is not as good, it also has some things going for it. First off, it's a 6-speed manual – the package most enthusiasts who want this car would like. Second, unlike the 97's CSi-high pricetag, this model can be bought on a serious budget if you're willing to accept some flaws: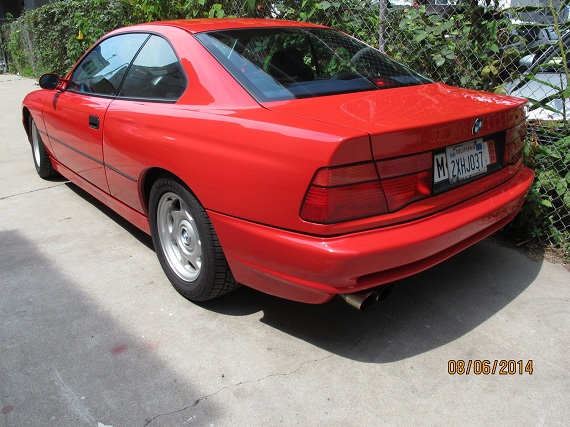 Year: 1991
Model: 850i
Engine: 5.0 liter V12
Transmission: 6-speed manual
Mileage: 142,465 mi
Price: $12,500 Buy It Now
1991 BMW 850i

2 door super coupe from the 90s era

This is the V12 model.

RARE MANUAL
RARE MANUAL
RARE MANUAL

Low 142K miles

records from practically when new available.
Clutch and radiator recently done.
Car was only serviced at BMW of Mountainview, CA or Dinan (in mountainview also)

The GOOD—-
1. Rare Manual, RARE manual, RARE MANUAL, RARE MANUAL!!!! LOL
2. Low Miles about 6K per year.
3. No accidents
4. Records available since new
5. No Dents
6. RARE DINAN CHIP INSTALLED
7. RARE DINAN SUSPENSION INSTALLED
8. RARE DINAN EXHAUST ( I put straight piping with twin DTM tips on instead of the dinan mufflers which I like better, remember what was considered sport in the 90s is very different from what we would call sport today, all the 8 series guys love love love the way my car sounds, but the DINAN exhast will still be included in the sale)
9. RARE 850CSI side mirrors INSTALLED (I dont have original mirrors)
10. A full roll of MATCHED gloss red vinyl is included, once you get the car wrapped at your local installer, the car will look brand new.
11. A brand new $400 waterpump in included
12. Leather interior has been restored.
13. Unless mentioned here, everything absolutely works!
14. All Maintenance up to date.
15. Car does not act "funny" in any way
16. Wheels were recently refinished
17, Tires are brand new

No accidents, Clean title..
Car has original paint which I had the car vinyl wrapped in flat white, then I got it removed. Original paint was delicate since he car is 23 years old so when removing he Flat white vinyl, it caused some damage to the paint, paint missing from edges, some pits, clear coat missing in some spots… look closely at the pics please. TO REMEDY THIS, I will include a $700 roll of MATCHED Gloss red Avery Vinyl For the new purchaser to have their car wrapped to look like new, Any premium local wrapping place should be able to do this for $500 and your car will look brand spanking new!

Defects I can think of (remember this car is 23 years old) are –
1. the paint we talked about, please look at pics slowly and carefully
2. Headlight height needs to be adjusted (a free fix)
3. Some idiot the other day pulled off one of the roof drainage channel covers (this is an easy buy and replacement is it just snaps right in)
4. Not original rear view Mirror
5. Headliner is sagging
6. Shift knob Worn a little
7. although the interior leather was restored, the passenger seat acts funny moving up and down sometimes
8. there are maybe only 2 small dings on the car.
9. 1 key only
10. It could use a new love box lid as the heat has made it curl a bit.

This is all I can think of, I'm sure there are more positives and more negatives if someone were to comb the car with a microscope. If you are one of those people, I suggest you do not buy this car nor should you buy a car on eBay for that matter. I don't want to have someone bid and win the car on eBay, then come to pick it up and come complain about every little thing that I forgot to say in the description, look at my feedback and look how I'm trying to describe every minor defect I can think of.

This car is perfect for an enthusiast project as all the fixes are pretty much easy.
Please look at all the pics carefully and slowly, ask all questions you can before bidding.

Mark your calenders , this auction will end Sunday August 17th at 11PM at night Eastern time or 8PM Pacific time.

Any questions about the car please email me or call me at 4l5-425-Ol25

$1000 deposit via paypal within 48 hours

Rest due upon pickup in cash, we will meet at the local bank during business hours and they will verify the funds/cash, if you would like to do cashiers check, I can do Citibank, Wellsfargo, or First Republic , again we will meet at these banks during their business hours so they can verify the funds.

Again I'm a personal seller not a dealer, title is paid off, clear, and in my name.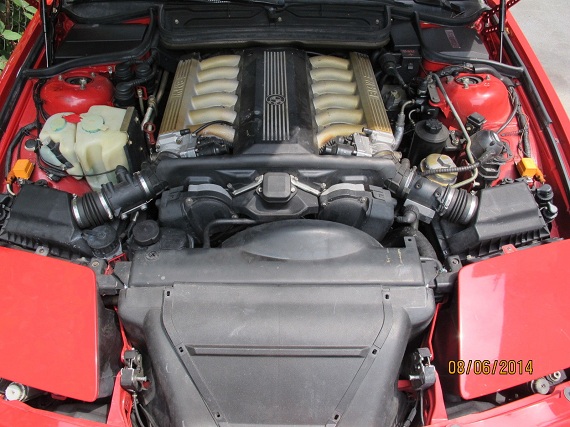 So, the upsides first: it's a manual car, if you didn't notice. The wheels have been refinished and while they're not as popular as the M-System wheels or the M-Parallels, the look of the original wheels has actually grown on me, and it's a manual. The insides look fairly clean where the manual gearshift resides, there are some nice and harder to find Dinan bits that help that manual be more….manual. Maintenance is claimed up to date and dealer/Dinan serviced, including a newer clutch for the manual gearbox. The downsides are pretty evident without looking too hard; the paint is failing, though in the photos it appears better than in the description, and the miles are higher for what is a very complicated car. But the price is right for a driver-quality E31 with the all-important manual gearbox, so if you're less concerned with looks and low miles, this could be a great pickup at a bargain price – especially if you have a bodyshop connection.
-Carter