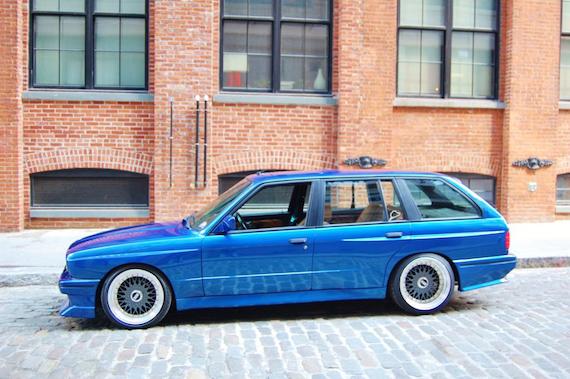 DISCLAIMER: This M3 has caused a lot of commentary today, both on the site and our Facebook page. You can read the build thread here, if curious and make your own conclusions. As always, the cars featured here on GCFSB are not our own, rather, we provide a forum for enthusiasts selling their German vehicles. We try to be as fair as we can in our posts and provide as much background information as possible.

-Ed.
Well, close the search engines: I think I just found my dream car. I don't know who will buy this off eBay, because I certainly don't have the cash right now, but this is the direction I want to go some day. An E30 Touring has been through a thorough transformation, now sporting E30 M3 fender flares and the S50, Estoril blue, and caramel interior from an E36 M3. That's a pretty serious combination of BMW all-stars. The conversion looks well done and cost-is-no-object, which is great in terms of overall package but tough on the wallet. The asking price is the main detraction here unless you care about E30 M3 provenance, in which case your panties are in all probability already in a tight bunch. But unlike the M3 convertible conversions, which are imitations of a rare-but-real car, there was no M3 wagon. This makes this extra awesome, irreverent, and understandable to me.
This is my favorite eBay find in a long time. I covet this car.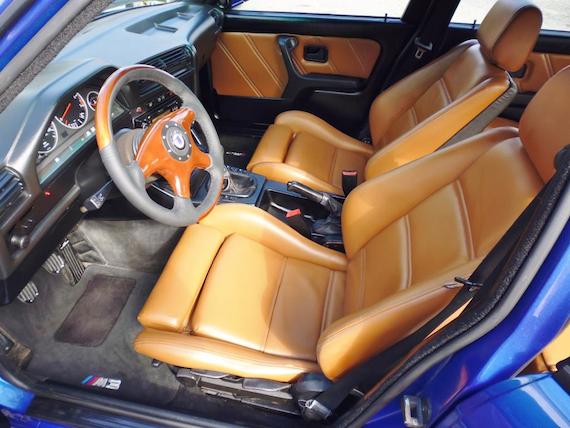 Year: 1991
Model: E30 Touring with M3 body elements
Engine: 3.0 liter S50 inline-6
Transmission: 5-speed manual
Mileage: 105,000 mi
Price: $43,500 Buy It Now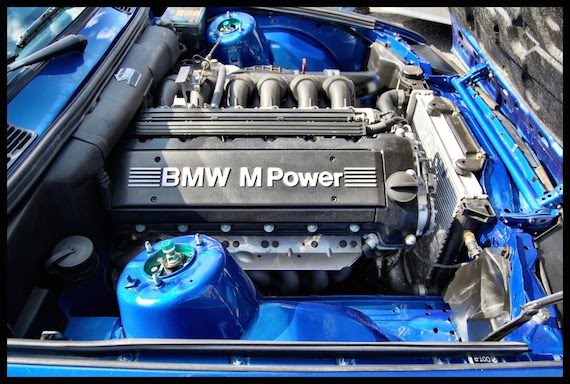 One of only a few in the world – BMW E30 M3 Touring tribute! All custom made on e30 US chassis using Euro e30 Touring parts and US E30 M3 Body plus Euro 282 HP E36 M3 s50b30 engine. There is nothing left original on this car except for the floor, roof, side glass and rear gate. Everything has been completely modified – body, interior, suspension, engine, wheels etc. This Touring has been featured in Performance BMW Magazine (April 2013 issue) It also won numerous awards at different BMW shows! This car can be enjoyed as the show car or as a new daily driver depending on owner's preference. One thing for sure, the new owner will not be disappointed and most likely will never see another e30 M3 Touring on the road! I have all the receipts and documentation from the restoration as well as the documentation for the donor cars (US chassis, Euro Touring Body & US E30 M3 Body used in the conversion) plus all the parts that were used. I have clean title in my possession.

ENGINE:

Euro 282 HP S50B30 (Euro E36 M3 3.0L OBD1) engine with about 80k miles, all new gaskets, water pump, seals, hoses etc at the time of swap. Super Clean Swap – all wires are tuck + engine bay shave – very nice look! One of the cleanest swaps you will ever see in an E30! Brand New Radiator, Custom cold Air intake, 5-Speed transmission with New Clutch, 3:46 LSD, Vented Z-Roadster rear cover, Custom Headers and Exhaust. New M3 Harness covers. All New power steering and reservoir lines. Engine runs super smooth and pulls like a freight train! Mobil1 Synthetic oil always used! Engine Needs Nothing! There is no AC in this car. Heat is disconnected as I never drive it in the winter.

BODY:

All Metal OEM BMW M3 parts, custom work + custom paint, only the best materials are used, quality primer, paint and clear! This car is stunning in person! There is pretty much nothing original left on this car except the side glass, everything else was modified, updated and replaced! New windshield, Shaved hood, shaved front bumper (EvoIII style). Rare carbon fiber front brake ducts, evo II hood gasket seals, Euro grills, Euro Smoked smileys with HID slim Xenon 6k, Auto art smoked turn signals, AC Schnitzer pedals. All new door seals, hood seals, bumper seals, sunroof seals (all OEM from BMW) at the time of repaint! Custom Porsche Rennline front tow hook. Very RARE original. Euro e30 MHW tail lights! Euro rear license plate holder. Euro front headlight wipers (for looks) and many many other unique & rare parts!

INTERIOR:

Fully custom e30 M3 sports interior in Audi Cork color with blue stitching! New Shift and Emergency brake boots, E34 leather hand brake, BMW ZHP weighted shift knob, New M3 Mats, custom instrument gauges: red needles, titanium rings, Euro e30 clock, custom cup holder with 2 outlets for 12v supply. Headliner was dyed black (has few pushpins to hold it tight). Over $2500 was spent on Music and Entertainment system + alarm: Nakamichi CD 400 head Unit, Kicker box, JL Audio and Alpine speakers, Alpine pdx SUB, custom wiring, Remote control alarm system with DIGITAL remote display (lets you know in case of an alarm what caused it and which part of the car was tempered with)

SUSPENSION/BRAKES/WHEELS:

Everything is NEW ! Front control arms with M3 bushings, front links, rear control arm bushing! Megan racing 34 click adjustable coilovers with adjustable CAMBER PLATES, Euro 320 brake booster, stainless steel brake lines,
Rebuilt front calipers, new cross drilled rotors, BBS RS style wheels: 17×8.5 front with 205/40/17 tires and 17×10 245/35/17 rear tires, new alignment! The adjustability of the suspension can make this car from race machine to city cruiser in just a few clicks, you will also have the ability to raise or lower the car according to your liking!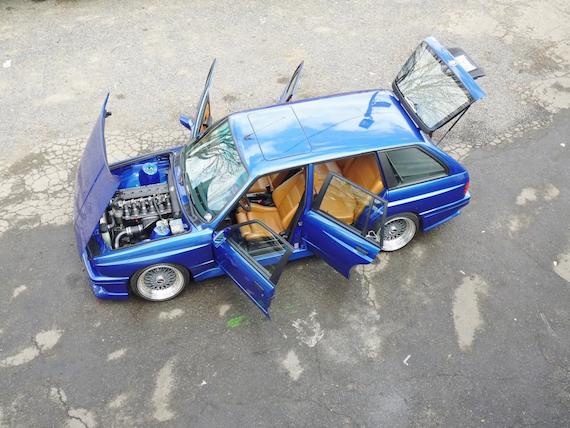 I love, love, love the body, the interior, and the color, the latter two of which were the exact combo on the first M I ever drove – my childhood best friend's dad's E36 M3 Sedan. Qualms: I dig Alpina, but the steering wheel is weird. I'd rather have Alpina wheels. Most importantly, with how much money went into this car, I'm not sure why this would be the ///M engine chosen. At the very least go for the S52, but ideally I'd throw an S38 in there. If you're spending this much money, might as well go big, and the buyer can continue the project to their heart's desires. The adjustability of the suspension underscore the myriad talents present in this car; for godssakes it's a RWD, manual, inline-6 powered, box-fendered WAGON, people. When I look at the impressive sum of the piecemeal parts, this whole is even greater – and I can't think of where I'd rather spend $43,500 if I had it.
-NR