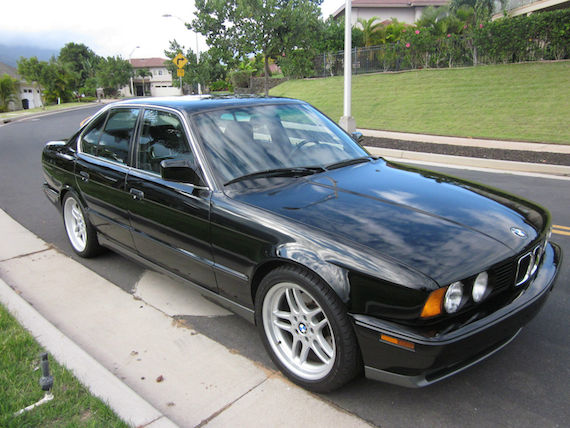 It seems that few M cars, save for a few later model examples, are escaping the collector craze that is driving prices up. The E30 M3 was the car that started the mayhem, and much like air-cooled 911s, everyone and their brother seem to be clamoring to get into one of these machines. One of my favorites of the early M genre is the E34 M5. While I love the original E28 M5 and the V8 brute that is the E39 M5, the E34 has a really reserved nature about it. It's as if someone dressed an Olympic athlete up in a Savile Row sourced suit, especially when it comes to a black on black example like this stunning example for sale in Hawaii. The thought of taking a trip out to warmer climates and coming back with a souvenir like this is what I would consider a trip of a lifetime.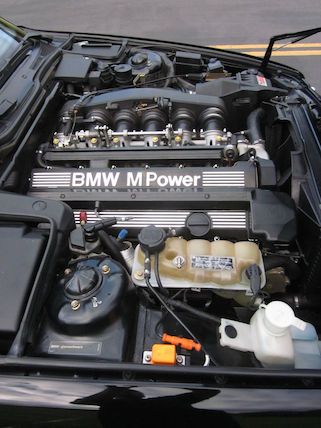 Year: 1991
Model: M5
Engine: 3.6 liter inline-6
Transmission: 5-speed manual
Mileage: 52,000 mi
Price: $26,900 Buy It Now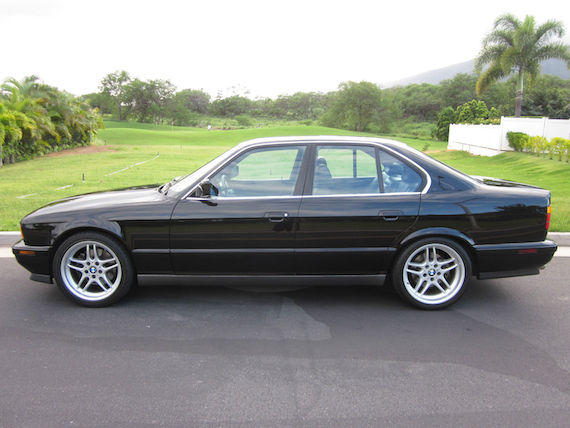 Location: Kahului, HI (Maui).
Number of Owners: 3rd owner since Nov 2013.
Length of current ownership: 5 months
Reason for selling: Need money and space for another BMW.
Accidents: None during my ownership
Title status: Clean
Maintenance Records: Some maintenance records from early on, and then some recently during my ownership
Work done since ownership: Valve cover gasket, valve adjustment, Guibo, Pitman arm support, power steering seal and hose, alternator belt, a/c belt, power steering belt, spark plug and wires, Oil filter housing seal, A/C inspection
Original MSRP: $57,600. Original sticker included
Production Date: 12/1990
Factory Options: Dual climate control, ABS, 10 speaker sound system(needs servicing), heated mirrors, sunroof, electric windows and sunroof with one touch
Original Dealer: Poinsatte motor, Inc in Fort Wayne, IN.
Car History: Car was originally purchased in Indiana but lived in Kansas most of its life. In early 2003 during the 2nd ownership, the car sustained some minor body damage and the front driver's side quarter panel was replaced with a BMW DOT-R. I do have the paperwork on this repair. The car was sold to a dealer in Mar 2013, who then sold it to me in October.
Aftermarket Modifications: 18″ M parallel wheels, K&N air filter
Current Condition: Mint
Manuals: Original, all included
Price: Will consider all offers below reserve
PPI: 28 point inspection available from a local indy shop
Shipping: Will help assist in shipping process but at buyer's expense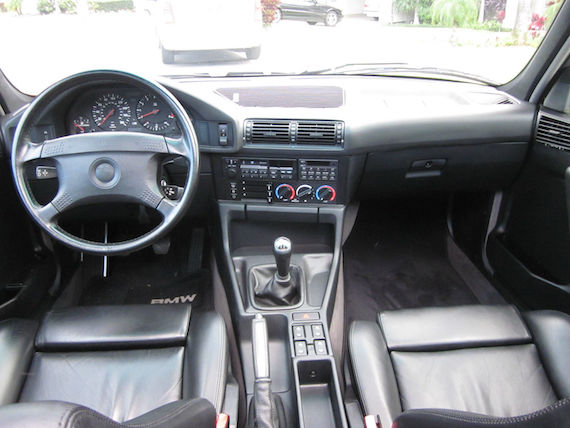 The asking price here is pricey considering where values are settling currently, but with it's contemporary, the Mercedes-Benz 500E regularly pulling over $30,000 for good examples, is this M car not far behind? One would assume the big hurdle here would be shipping costs, as most people do not live in Hawaii. But, if you find yourself out in the middle of the Pacific, this could very well be the best E34 M5 in your locale. What price perfection?
-Paul