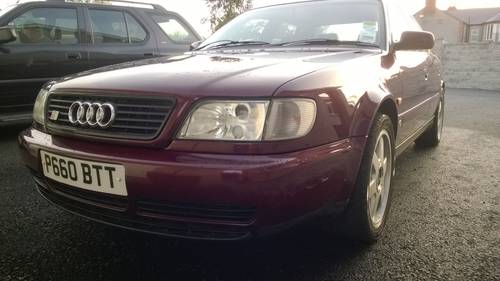 A few weeks ago, we saw a nearly perfect low mile 1997 S6 quattro. I say nearly perfect, because it was in England and right hand drive. Well, today, we've got another one thanks to some searching by our reader John. This one appears to be in similar shape from what can be seen, and is another of the great rare color combinations we didn't get much of in the U.S.. Finished in Cyclamen Pearl with S6+ wheels and that great two-tone Recaro interior, this right driver 1997 sure looks awesome to me: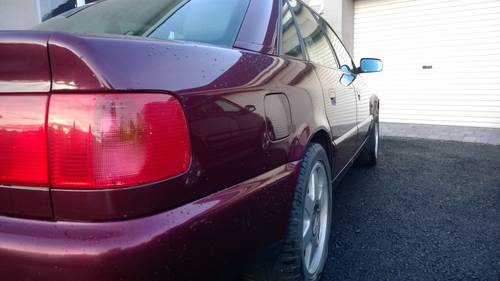 Year: 1997
Model: S6
Engine: 2.2 liter turbocharged inline-5
Transmission: 6-speed manual
Mileage: 75,000 mi
Price: GBP 4,000 ($6,602 today)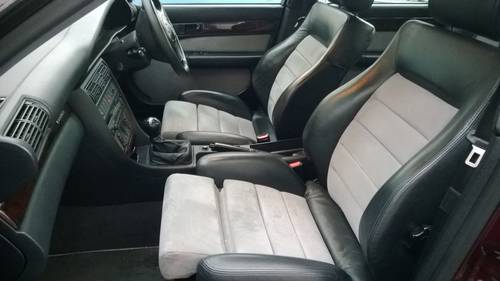 1997 Audi S6 2.2 20valve Turbo (Quattro – Great in snow)

75,000miles. Yes that's 75k on a 1997 with Full Audi Service History

Timing and auxiliary belts changed by Belfast Audi

old MOTs and tax disks

MOTd to December 2013

303bhp – Stage 2 MTM @ 50,000 miles – by KIM COLLINS @ QST , receipt for £1400, so drivable you would think it was factory. (25 mpg average and 30-33 on motorway)

Pirelli p6000s on rear – can't get these any more.
Kuhmo's on front.
New pads and disks at 70k. (EBC disks and pads on rear – OE on front)
New rear brake calliper
New handbrake cables
New Header Tank

The interior and engine are immaculate

The exterior has a few minor blemishes & marks.
It is a 1997.

Beautiful leather and suede interior

Electrically adjustable heated seats

6 speed manual gearbox

Original Audi Delta stereo, Audi 6 disk CD changer

Audi – Detachable Tow bar, in packaging, never fitted

Electric front and rear windows, Electric adjustable and heated door mirrors

Factory tinted windows and sun strip, Factory fitted mats, Map lights, ABS, PAS, Air Conditioning

Price: £4000.00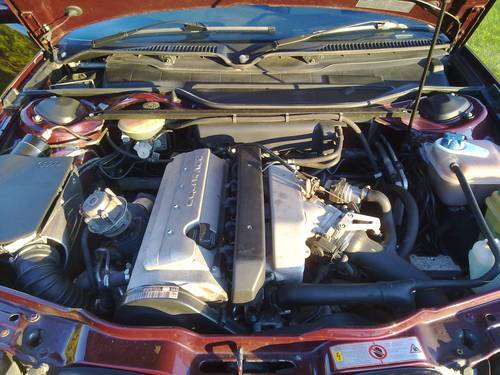 While the last car was bone stock, this car has been lightly modded. With double the miles of the last car, it's still well under half what even good condition C4 S4/S6 models in the U.S. turn up for sale with. The modifications are limited to the wheels, which look to be factory S6+ 17″ units that are some of my favorites, and the MTM chipset – good for a healthy bump to power. In both cases, I find those mods completely acceptable and the ones that I'd likely do. The rest appears original and in great condition. At half the asking price of the last model, it's about as good of a value on one of the C4s you'll see – assuming you don't mind driving on the "correct" side of the road.
Thanks to John again for this great spot!
-Carter